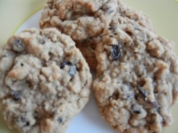 Best Recipe Oatmeal Raisin Cookies


After many tries (and a few fails) I've found the Best Recipe for Oatmeal Raisin Cookies EVER!
Because you see…the cookie jar is empty again. Really? Where the heck do the cookies go? Ok, sure, there were 7 teen aged boys in the house last night, and they are all athletes, and as far as I can tell, they are hollow… but STILL, you'd think there would be crumbs. (Actually it's nice having them around, they will, in fact, eat anything that's not nailed to the floor, so they are great to experiment on with new recipes.)
Asked the family what they wanted, Oatmeal Raisin was the almost universal response (I say almost, because the baby only likes chocolate chip cookies).
Now… those of you who know me.. know that I'm not crazy about raisins… we have a 'live and let live' relationship. I think it's because they were my Go-To snack for the kids when they were small. After years of scraping raisins out of the carpet, off of the car seats, out of my purse, and off of my pants, I kind of lost my desire to ever touch them again.
But…I love my family, and if it's Oatmeal Raisin they want… then I'll make the best darn Classic Oatmeal Raisin cookies I can make.
Classics are classics because they work, but these… they go to a level above. Chewy, sweet, with a touch of cinnamon.
What is it about Men and Oatmeal Raisin Cookies?
The Universal Guy Favorite
I find it amazing… whenever I ask a man…"what kind of cookie shall I bake for you?" The universal response? Oatmeal Raisin Cookies. Either at home, on the soccer field, for the volunteer book sale, even for pot lucks.
Makes me wonder.. what is it about these cookies, these Oatmeal Raisin Cookies, that make men want them so much? Is it an old memory from childhood and mom's cookies? Is it a misguided belief that they are healthy? Face it, with all that butter and sugar, "healthy" is a stretch.
Whatever the reason…
Even an Angry Baker knows that baking for people is an expression of love and caring. Nurturing them, feeding them, and making them happy. It's what it's all about. So… even if they want their Oatmeal Cookies with (yucky) raisins… that's what I'll make.
Substitute Cranberries for Raisins
Of course…you can add cranberries instead of raisins… if you want to… In my opinion, it makes a much better cookie!
Just reduce the amount of cinnamon by half.
Yummmmmmmmm
Best Recipe Oatmeal Raisin Cookies
This is a simple drop cookie that can be put together in no time at all. They work well as an after school snack... AND... coaches and teachers firmly believe that oatmeal is healthy, so you can bring them to school or sporting events. And you know what? By tomorrow, the jar will be empty again....
Ingredients
• 1 cup Butter
• 1 cup Brown Sugar
• 3/4 cup white Sugar
• 1 Egg
• 1 tsp. Vanilla Extract
• 1 Tbl. Ground Cinnamon
• 1 tsp. baking soda
• 1 1/2 cups Unbleached Flour
• 2 cups Old Fashioned Oats
• 1 1/2 cups Raisins (or dried Cranberries)
Instructions
Preheat oven to 350 degrees F
Put the butter and sugars into a mixing bowl of a stand mixer. Mix until completely combined and a bit fluffy.... about 4 to 5 minutes. Just put it all in and walk away a while (assemble the rest of your ingredients, go get the mail, put a band aid on the 5 year old's knee...just kill some time while the mixer does its job)
Scrape down the sides of the bowl with a spatula... add egg and vanilla, beat , and scrape bowl
Add Cinnamon and baking soda, beat together, then scrape down the sides of the bowl
Add Flour (slowly, unless you like to be covered in flour) beat until completely blended.
Add Oats... beat until combined
Scrape the bottom to get all the bits from under the beaters.
Now add the Raisins... mix until a few seconds. Done
Scoop cookie dough onto cookie sheets... about the size of a large walnut or small ping pong ball.
I love to use a small cookie scoop...looks like an ice cream scoop, with a thumb release... makes the cookies all come out even.
Bake at 350 degrees for 10 minutes
Let on cookie sheet for 2 or 3 minutes, then transfer to a cooling rack.
now eat...
Notes
!Oatmeal Raisin Cookies Freeze Well: Freeze the dough as a lump in a container... Freeze cookie sized lumps on cookie sheets, then store frozen in zipper bags... or Bake and store airtight... All will keep for 2 months Don't forget to LABEL the package!
https://angrybakery.com/best-oatmeal-raisin-cookies-2/
Find Raisins and Craisins Here…
2 LBS Organic Sun Dried California Raisins (1 Resealable Bag)
Ocean Spray® Craisins® – 48 Oz. Bag
Paradise Meadow Organic Premium Dried Cranberries, 5-Ounce
&