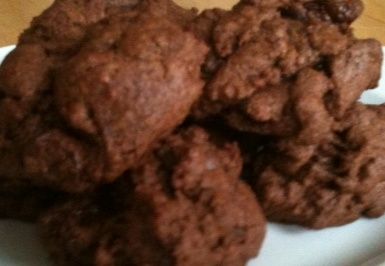 Chocolate Mocha Cookie Recipe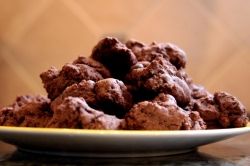 Coffee…? Chocolate….?
Can't decide…. Have both!
This rich, decadent, and sort of goofy looking Chocolate Mocha Cookie Recipe is loaded with tons of chocolate, and flavored with coffee.
It's not a cookie for the faint-hearted, and it might keep you up at night….But in the middle of the afternoon…when you've hit that low point, these are the ticket. (My son, the night owl, adores these!)
And, warm from the oven, they are nirvana….
This is an easy cookie to make- doesn't require any special skills or talents. If you can use a microwave to melt, use a mixer to combine, and use an oven to bake, you're good.
Ingredients
1/2 cup (1 stick) Butter
1/2 cup Semi- Sweet Chocolate Chips
2 Tbl. instant Coffee crystals... dark roast is best *
3/4 cup granulated Sugar
3/4 cup dark Brown Sugar
2 Eggs
2 tsp. Vanilla
2 cups unbleached Flour
1/2 cup Cocoa Powder
1/2 tsp. Baking Powder
1 cup Chocolate Chips
Instructions
Preheat oven to 350 degrees.
Put the butter and chocolate chips in a microwave safe bowl, melt them together in the microwave (about a minute or two). Stir in the coffee crystals. Let sit for 5 minutes to cool, stirring occasionally.
Pour into mixing bowl, add sugars, mix, add eggs, mix and scrape down bowl, add vanilla, mix.
Combine flour, cocoa powder and baking powder, slowly add to butter mixture (if you go fast, it will bounce back at you, and you'll end up with flour and cocoa on your face).
When combined, add chocolate chips (if you want to, you can add more than a cup, but no more than 2 )
Spoon onto baking sheet in lumps about the size of a large walnut or small ping pong ball....
Bake 10 minutes.. let cool 1 minute on baking sheet, then move to cooling rack.
These are amazing when they are warm...
Notes
The tastes might appeal more to those who like dark chocolate and a Peet's style dark roast coffee (I LOVE PEETS!!) Not super sweet, but sooo good.
https://angrybakery.com/mocha-truffle-cookies/
*Nescafe makes these coffee singles.. you'll need 2 single packs. They do make a French Roast. YUM. ( but it's not Peets….)