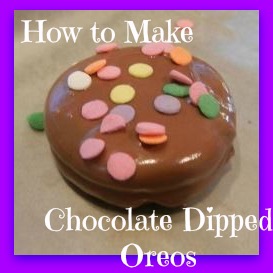 How to Make Chocolate Dipped Oreos at Home- Easy and CHEAP!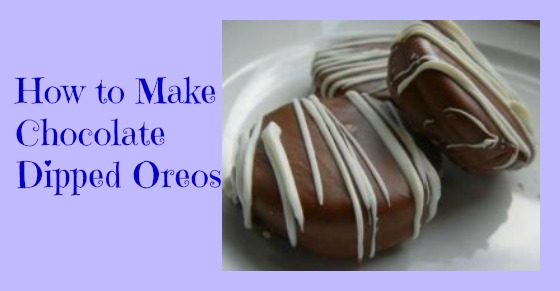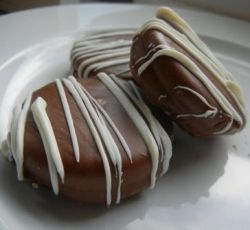 I love Oreos…Well, let's face it… just about EVERYONE loves Oreos. But… what people love even MORE…. Chocolate Dipped Oreos!! And while it might be a bit pricey to buy dipped Oreos… I can teach you how to make Chocolate Dipped Oreos, and you can dip and decorate them yourself at a fraction of the cost. Plus, you can customize the Dipped Oreos to fit the occasion!
Perfect Holiday Cookie Exchanges…. Cookie Gift Platters…. Cookie Boxes….. Care Packages….. and (my favorite) just snarfing down at the end of the day.
Better yet… you don't have to dirty up the mixer or heat up the stove.
Let the kids get in on the decorating fun (these make great grandparent/neighbor/teacher gifts!)
I've included all the instructions and links to any ingredients you might need to create fabulous Chocolate Dipped Oreos.
Health food may be good for the conscience but Oreos taste a hell of a lot better.
Robert Redford
What Supplies Do You Need to make Chocolate Dipped Oreos
Get Yourself Organized!
Oreos – It almost goes without saying… if you plan to dip Oreos, you need Oreos. What kind is up to you…. regular, Double Stuff , Heads and Tails, or Red Velvet.. You can be creative. Just a suggestion- Get the Biggest Box of Oreos possible. I guarantee that you will be making a LOT of Chocolate Dipped Oreos… and then the kids will start swarming the kitchen… and you will need to make more… and some people will steal un-dipped Oreos….
It's good to start with a LOT!
Candy Melts- Get those Candy Melts or melting Chocolate that comes in so many colors. Yes, you can use chocolate chips, but these melts are far more forgiving for the average person (like me). Plus! You can go crazy with colors!
Microwave Safe Bowl or Chocolate Melting Pot- You need a container to melt the chocolate… and then dip the Oreos. A Microwave safe bowl or Pyrex measuring cup works well… but an Electric Chocolate Melting Pot is great…. especially if you do chocolate dipping more often. It keeps the chocolate at a constant temperature. If you don't plan to do a lot of chocolate work, the pyrex bowl is more than enough… you might have to reheat it a few times, but it will get the job done, and it has a handle. Added bonus…. you can use it for other things. On the other hand… if you like melting and molding chocolate, or enjoy making treats like Cake Pops, then I would suggest making the investment in an electric melting pot. The Chocolate is kept at a steady temperature so you don't have to keep reheating it.
Sprinkles or Decorations- Whatever decorations you find appropriate. So, if the 4 year old wants to make Grandma's Oreos Orange and Blue… go with it. This is supposed to be fun. (You can make the perfect ones for your book club).
Cookie Sheet- To to rest your dipped Oreos
Waxed Paper- To Cover your cookie sheet, saves on the clean up… and the chocolate won't stick to waxed paper.
A Fork– For plunging the Oreos into the chocolate…
Need Exact Numbers for your Ingredients?
12 oz. of Chocolate or Candy Melts will Cover around 2 Dozen Oreos….
maybe more if you use Double Stuff…
How Make Chocolate Dipped Oreos
Get your supplies all ready…
Lay a piece of waxed paper on a cookie sheet…this is where you will place the dipped cookies.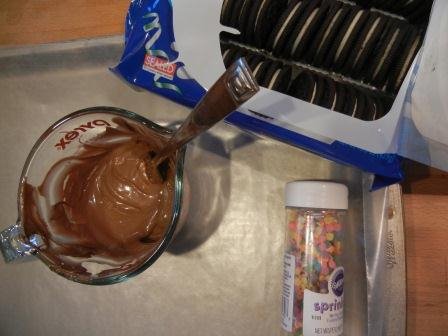 Melt the chocolate or candy melts…. I use the Microwave … go 30 seconds, stir, 30 seconds, stir, then 30 seconds…. until melted. If using a melting pot… follow the directions carefully.
Place an Oreo on a fork and submerge it in the chocolate….flip it over to coat completely… now lift out of the chocolate.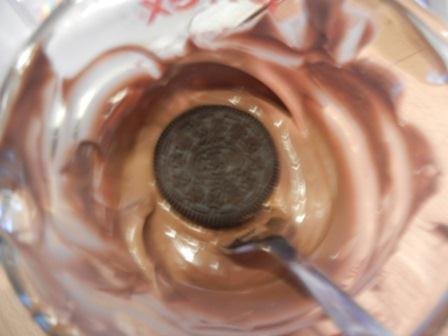 Hold the Oreo above the chocolate for a bit… let the excess drip off… tap the fork on the side of the chocolate bowl to help it along… tapping will also smooth out the top.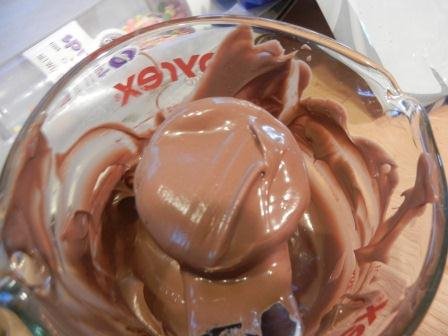 Scrape on the edge of the chocolate bowl as you move it to the waxed paper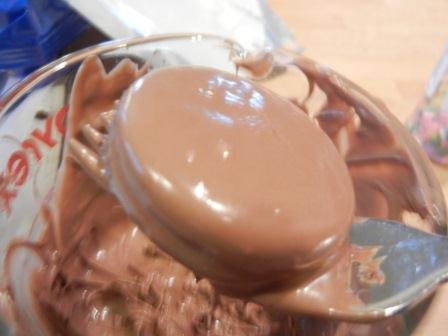 Place on the waxed paper to set.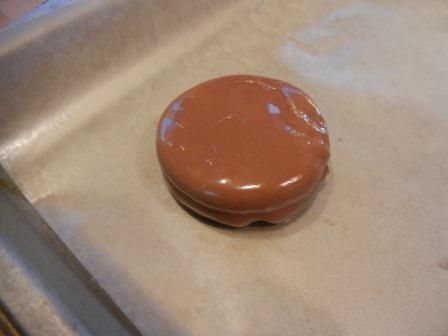 If you are adding sprinkles or sugar decorations… now is the time. The wet chocolate will set them into place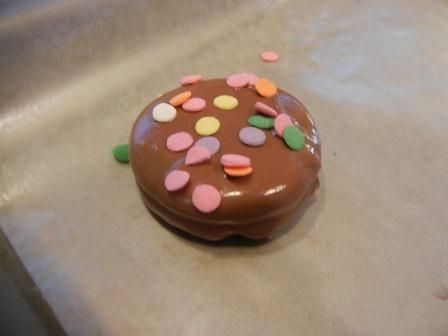 You could also place a single sprinkle or candy lay-on onto the dipped Oreo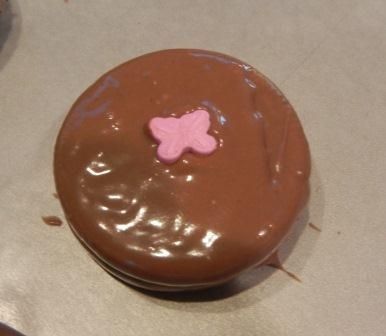 Crushed Peppermint Sticks make a Great Topping for Dipped Oreos….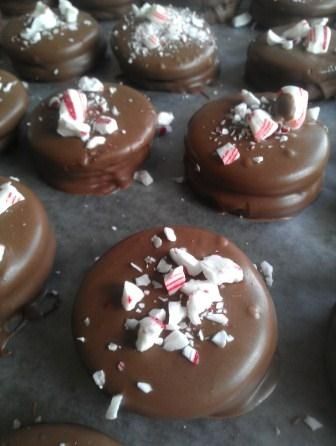 If you plan to drizzle on another color of chocolate, or you plan to decorate with icing, wait until the chocolate sets before you do so.
How do Drizzle Chocolate Stripes on Dipped Oreos
Start with Dipped Oreos (follow the instructions above)
Melt a contrasting color of chocolate, and put it into a plastic baggie (honestly, it's the easiest, and makes clean up a breeze)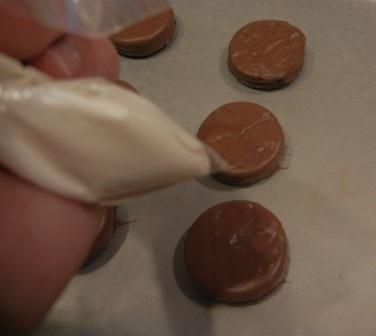 Squeeze all of the chocolate into one corner of the baggie… then snip the corner with a pair of scissors.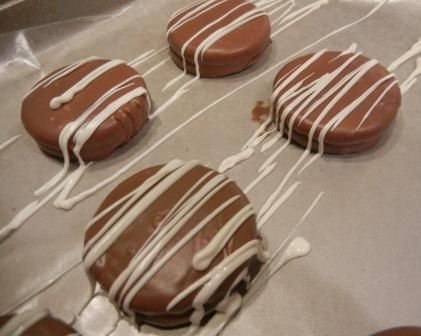 Wave the baggie over the oreos, squeezing just a bit. Play with it, and you will see different effects.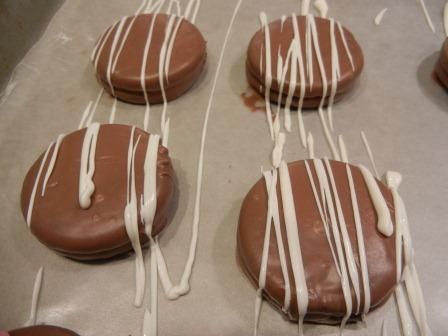 Candy Melts are Great for Dipping Oreos
They Come in a Variety of Colors and  don't need to be tempered, and they melt easily.
Wilton 1911-1300 Candy Melts, Bright White
Wilton 1911-4320 Candy Melts, 12-Ounce, Royal Blue
Wilton 1911-424 Candy Melts, 12-Ounce, Bright Pink
Wilton Red Candy Melts, 12-Ounce
Wilton Dark Candy Cocoa Melts, 12-Ounce
Wilton 1911-1358 Lavender Candy Melts, 12-Ounce
&
Melting Chocolate is also Great…
And it comes in larger packages.
Merckens Milk Chocolate 2 Pounds
Oasis Supply Merckens, Cocoa Dark, 2 Pound
Merckens Ivory Chocolate, Rainbow White, 2 Pounds
&
Sprinkles and Lay-Ons to Decorate Your Oreos
Match Your Occasion, or Pick A Favorite Color
Note- The sugar sprinkles don't work as well as the candy ones.
Halloween
12 Count Assorted Itsy Bitsy Spiders
Bones Dec-ons, #43342-12 ct
Zombie Attack Assortment Dec-on, 12 ct
Wilton 710-2055 Halloween Test Tube Sprinkle Set, Assorted
Wilton Halloween Pumpkin Mix
Trick or Treat Sprinkle Mix
&
Christmas
Snowflakes Dec-ons,#19068-12ct
Mini Ornaments Christmas Sugar Decorations Cookie Cupcake Cake 12 Count
Winter Christmas Elf Stockings Sugar Decorations Cookie Cupcake Cake 12 Count
Winter Christmas Penguin Sugar Decorations Cookie Cupcake Cake 12 Count
Wilton 6 Color Christmas Sprinkle Mix
Wilton 710-1309 4-Pack Holiday Mega Sprinkle Set
Wilton Christmas Confetti
Dress My Cupcake DMC27283 Decorating Edible Cake and Cookie Confetti Sprinkles, Christmas Gingerbread Men, 2.4-Ounce
&
Easter and Spring
Medium Carrots Dec-on,#47138-12ct
Leafed Flower Sugar Decorations Cookie Cupcake Cake Easter Flowers 12 Count
Easter Bunny Boy and Girl Sugar Decorations Cookie Cupcake Cake 12 Count
Large Blossom Sugar Decorations Cookie Cupcake Cake Easter Flowers 12 Count by Lucks
Mini Easter Charms Sugar Decorations Cookie Cake Cupcake 12 Ct. by Lucks
Small Daisies Sugar Decorations Cookie Cupcake Cake Easter Flowers 12 Count
&
Assorted Sugar Decorations
Dinosaur Sugar Decorations Cookie Cupcake Cake 12 Count
Bees Cakes Decorations #45148 – Bumble Bee Shaped Edible Hard Sugar Decorations, 16 pcs
Emoji Assorted 24 Count Edible Sugar Cup Cake Cupcake Cookie Decorations
Forest Friends Woodland Animal Sugar Cup Cake Cupcake Decorations 12 count
Oasis Supply Sugar Decorations, Sea Buddies, 12 Count
&
YUM!!! Layers of Goodness!