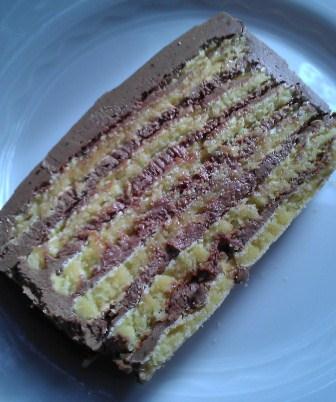 Best Dobos Torte Recipe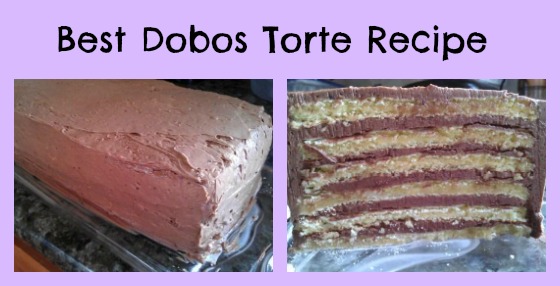 Some of my favorite Holiday Recipes come from my childhood. Those special meals, and those very very very special desserts that only showed up on the table once a year. Dobos Torte is one of those. My Mom has the BEST Dobos Cake Recipe! She would layer plain cake with thick Chocolate frosting in a loaf form. Then it would go into the refrigerator until it was solid. We'd all get thin slices of this wonderful rich dessert (and maybe I'd go back and shave off another piece or two when no one was looking).
After my Opa died, it was harder to get the "special ingredients" from Germany that we needed for the cake, and so it has been years since my mom made this delicious treat.
Flash forward a few years (not going to say how many…. ) and I want to recreate the Dobos Torte for my Holiday Table. The world has shrunk considerably, how hard can it be to get the recipe and ingredients? Well…. Turns out….  Mom had been taking a few shortcuts along the way….A traditional Dobos Torte is thin layers of Cake with a Chocolate Buttercream between the layers, and a layer of caramel on top. And it's a lot of work… so… she just stopped making it.
Feeling slightly deflated …. I sort of let it go…. Until this month's Food & Wine Magazine arrived (some people like looking at Porn… I like looking at pictures of fancy food). And there it was, a recipe for a REAL Dobos Torte. I had to try. After all, how hard could it be?
HAHAHAHAHAHAHAHA
Ok, the thing is… those pictures in magazines look SPECTACULAR, the stuff from my kitchen, not so much. But, I gave it a go, and you know what? It may not look like the picture in F & W, but it certainly tastes delicious, and it does bring back one of my favorite flavors from childhood. I made a few adjustments (Jonathan Sawyer covers his Dobos Torte with Meringue, then used a Brulee Torch to brown it up. Show of hands… how many of you have a kitchen torch? (Ok, we'll just let that part go.) Mostly, I just made it easier for a home baker to make… based on what I generally have in my kitchen and refrigerator. (Jonathan may not approve…. But the odds of him coming to dinner are slim anyway…and by the way… if you do decide to drop in Jonathan, give me a heads up so I can throw all the kid's shoes in a closet).
There are step-by-step photos too…. just look below the recipe. You can do this!
Best Dobos Torte Recipe
Before we get started, I feel I must warn you. This recipe is a calorie BOMB. Super Rich… lots of Butter and Eggs and Chocolate… mmmmmmm…. Don't let that stop you. I make this cake a 4 inch wide and 12 inch long rectangle, and a "piece" is ½ inch thick. (and yes, if it has been a particularly trying day, do have more). Read through all of the instructions first…. I'll give you some hints and tips that I learned along the way. This is not something you can throw together at the last minute.
Ingredients
Cake:

8 large Eggs separated
Plus 3 more Egg Yolks
1 pound (4 cups) Powdered Sugar
Plus a little extra for dusting
1 tsp Vanilla
1 cup Flour
2 TBL Milk
Buttercream:

5 ounces Semi-Sweet chocolate chips
2 ounces Unsweetened Chocolate – chopped small
3 large Egg Yolks (yes, you need 14 eggs total for this recipe….)
¼ cup Granulated Sugar
5 sticks (1 ¼ pounds) Unsalted Butter…. Softened a bit
Instructions
Cake:

(You can make the cake a day early…. Just cover until you are ready to fill it)
Adjust the racks in your oven so that one is on the middle third, and one is on the lower third.
Then preheat the oven to 350 degrees.
Prepare 2 12 x 17 inch Baking Sheets (don't have those exact pans… get within ½ inch) spray the pans with non-stick spray, line with parchment paper, and spray the parchment paper. Set aside…
Put the 8 egg whites in the bowl of a mixer with a whisk attachment. Add the 2 cups of powdered sugar and vanilla extract. Beat on medium high for 5 minutes. Stop occasionally to scrape down the sides. After 5 minutes, the whites should be stiff and shiny. Scrape into a medium bowl, and set aside.
Wash the bowl.
In the CLEAN bowl, combine the 11 egg yolks with 2 cups of powdered sugar, the flour and the milk. Beat at medium speed until smooth. Stop once or twice to scrape down sides (you did was the spatula, right?). It should take about 3 minutes.
Scoop about ¼ of the egg whites into the egg yolk mixture, then beat for a few seconds to lighten. Then scoop the rest of the egg whites into the yolk mixture, and FOLD it in, until no white streaks remain. (FOLD means… run the spatula down the side of the bowl and up through the center of the mixture, then rotate the bowl and repeat, rotate and repeat… you are not mixing, as much as you are gently combining).
Divide the batter between the 2 baking pans (about 5 cups for each pan) and spread evenly. Place the pans into the oven (one on top, one on bottom) and bake for 7 minutes. Then rotate the pans top to bottom, and bake for 7 more minutes. Take out of the oven, and let cool completely.
RICH CHOCOLATE BUTTERCREAM:

Start this well before you want to assemble the cake… you can even do the first step a day ahead to make sure it's cooled and ready to go when you need it.
Put the chopped chocolate (semi-sweet and unsweetened) in a heatproof medium bowl (I love using a [4 cup Pyrex measuring cup|http://amzn.to/1OO1G6M), set aside.
In another medium bowl combine the 3 egg yolks and the sugar. Whisk until pale.
In a medium saucepan (yes, this is the third part) combine the half and half with the cocoa. Whisk over medium heat until combined and hot.
Now… this bit is a little fiddly…. Slowly pour the hot half-and-half into the egg yolks in a steady stream, whisking all the while (If you just dump it, you will end up with nasty scrambled eggs) When the mixture is completely combined, pour back into the saucepan, and keep cooking over medium low heat, whisking constantly, until it thickens a bit (a thermometer will read 160 degrees Fahrenheit).
Set a strainer over the bowl of chocolate, then pour the hot egg/half and half mixture into the chocolate (the strainer will catch any greebles and cooked eggs that might be in the mix). Let stand for a few minutes until the chocolate is melted. Whisk until smooth.
Let Cool Completely (you can do this a day ahead … cover to save)
Set the Mixer up with the whisk attachment. Put the 5 sticks of butter into the bowl, and let beat until creamy… about 2 to 3 minutes at high speed. Scrape sides. Add the Cooled Chocolate Mixture, and beat at medium high speed until smooth and creamy. This could take 3 to 5 minutes. Stop and scrape the sides and bottom of the bowl from time to time. Your chocolate buttercream should be smooth, creamy and rich.
SOME ASSEMBLY REQUIRED:

Here comes the exciting part!!!
Have a 4 x 12 inch of cardboard or a rectangular serving plate ready to go.
Lift one of the cake sheets out of the pan. I like to trim off the edges (set them in a bowl, and feed them to whoever wanders through your kitchen looking for a handout)
Use a ruler (I happen to have a quilter's ruler that's 4 inches wide) and measure 4 inches wide across the width of the cake. Cut 3 strips 4 inches wide, and 12 inches long. Then do the same with the other cake sheets. Go ahead and leave the strips on the parchment paper. Sprinkle the strips with powdered sugar.
Lift one strip of the cake onto the cardboard or plate (use an offset spatula, but don't spin into a panic if it cracks a bit… it'll get covered up.) Take about ½ cup of buttercream, and spread it evenly over the cake. Cover the buttercream with the next level of cake, and spread ½ cup of buttercream over it… repeat until you have used all 6 layers of cake…. Cover the top layer and the sides with the rest of the buttercream. Make it look as pretty and smooth as you can.
Feel free to add decorative touches…. Maybe pipe on some leaves and holly berries….
Refrigerate the cake for 2 hours or overnight before serving.
Enjoy!
Notes
My recipe makes a rectangular 6 Layer Dobos Torte, 4 inches wide and 12 inches long. You can probably feed 16 people with this.
https://angrybakery.com/best-dobos-torte-recipe/
Rectangular Cake Platters for Dobos Tortes
Emile Henry 14 Inch by 6 Inch Rectangular Platter, Slate
Classic Touch Vivid Collection Rectangular Cake Stand with 14K Gold Design, 14-Inch
Manual Garden Sunflower Impressions Serving Tray, 14.25-Inch
&
Step by Step Photos Make the Best Dobos Torte Recipe
Prepare the Pans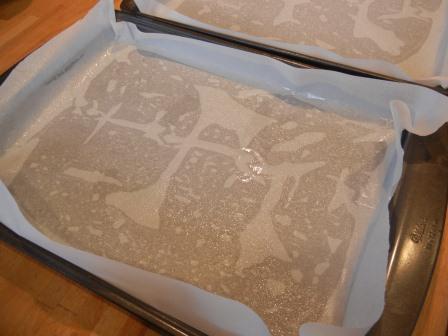 Add Powdered Sugar To The Egg Whites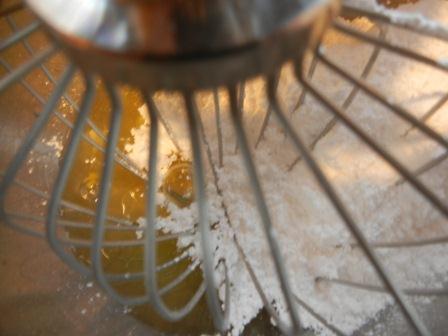 Beat until stiff and glossy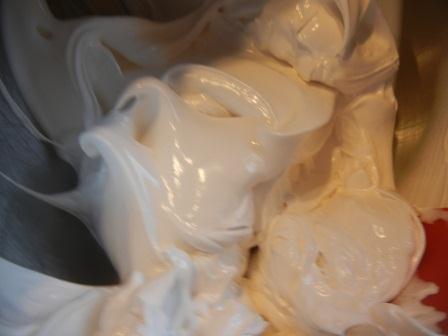 Egg Yolks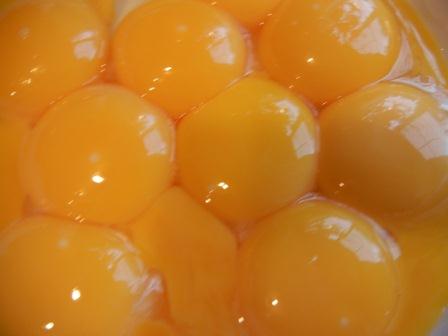 Add Sugar To Egg Yolks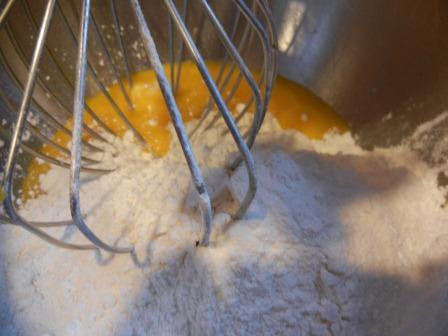 Egg Yolks will lighten when beaten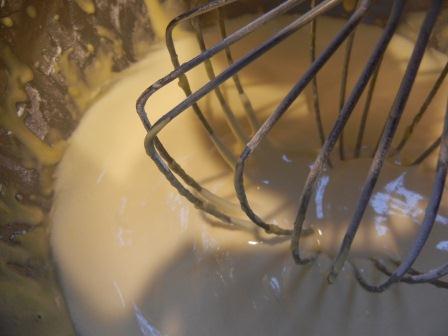 Add 1/4 of Egg Whites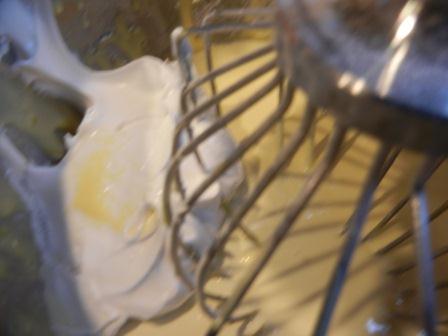 Fold in the rest of the Egg White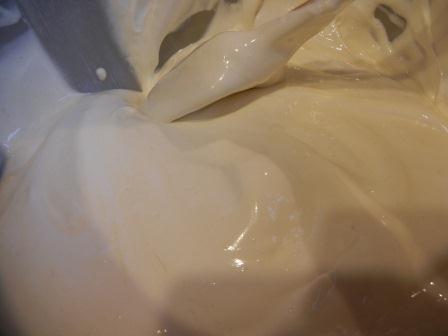 Spread into Prepared Pans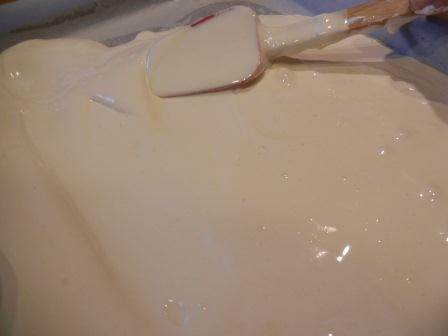 Ready for the oven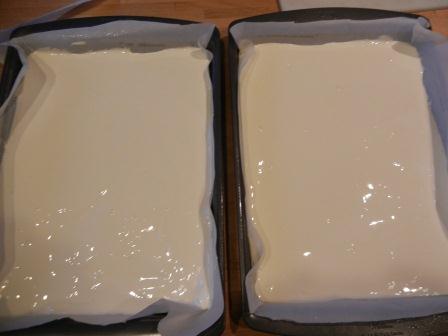 Looks like this when Baked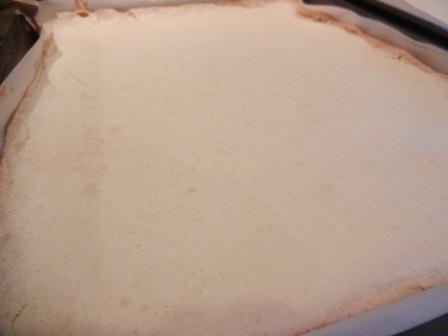 BUTTERCREAM
Beat the Egg Yolks with Sugar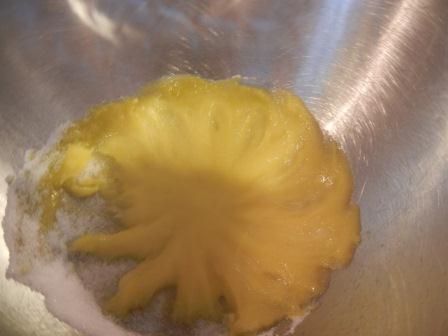 Heat the Half and Half with Cocoa Until Hot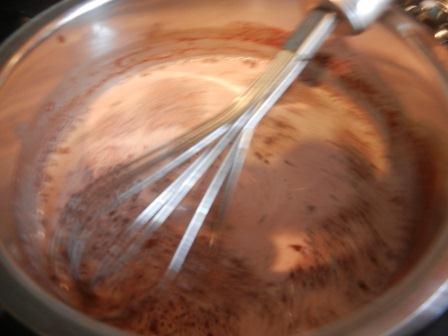 Slowly pour it into the egg yolks… whisking steadily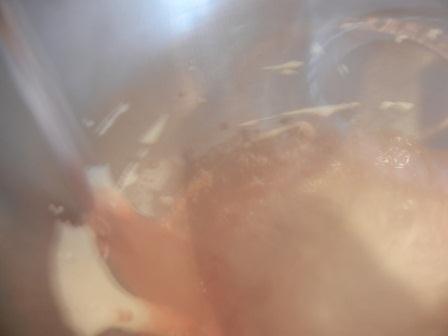 Put the egg/half and half mix back on stove and stir until 160 degrees
Pour through Strainer into Bowl of Chocolate Chunks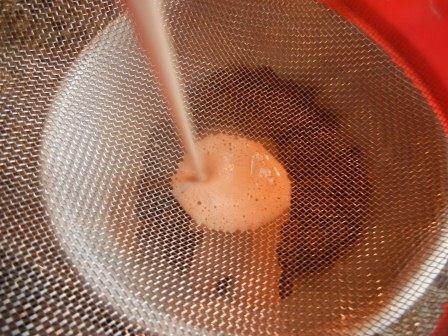 Let melt… then stir until smooth…. Let cool completely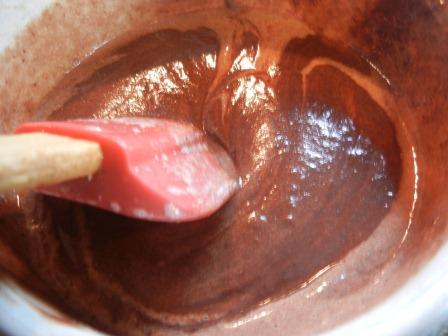 Beat Butter until creamy, then add in cooled chocolate mixture
Should be smooth and thick and yummy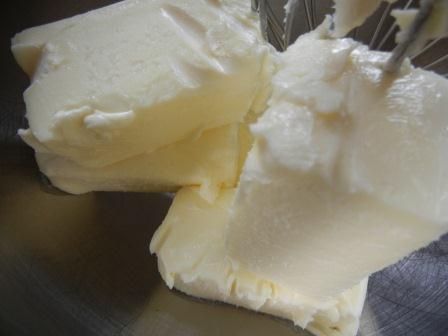 SOME ASSEMBLY REQUIRED
Trim Cake Edges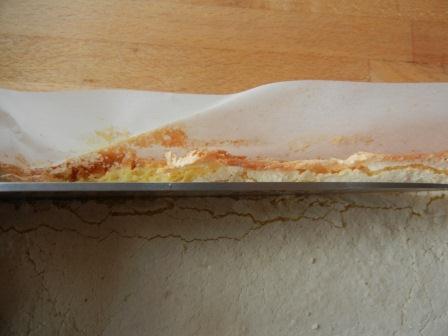 Cut into 4 inch wide Strips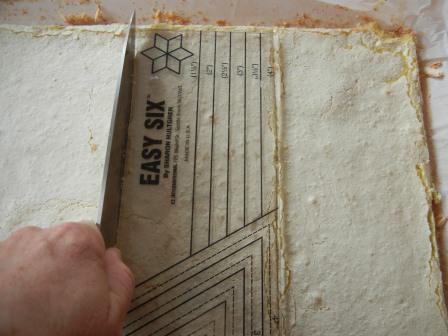 Looks like this… you will have an extra one (that's for you to taste)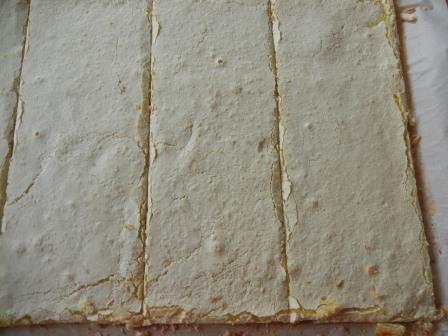 Sprinkle with Powdered Sugar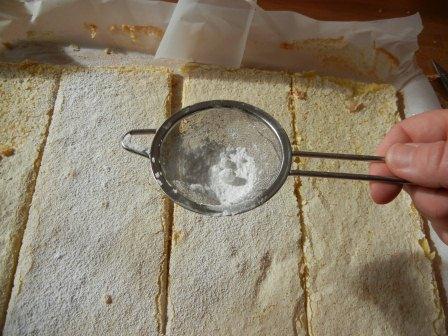 Lay the First Piece on a Rectangle of Cardboard
or a serving Dish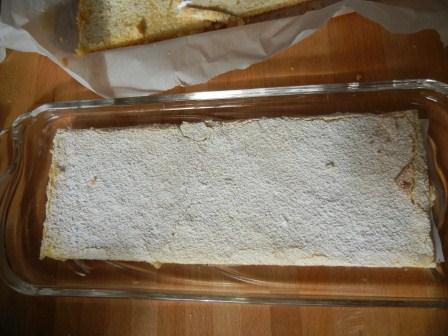 Spread 1/2 cup of Buttercream over Cake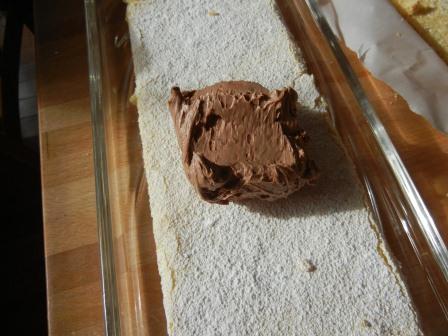 Cover the Whole Piece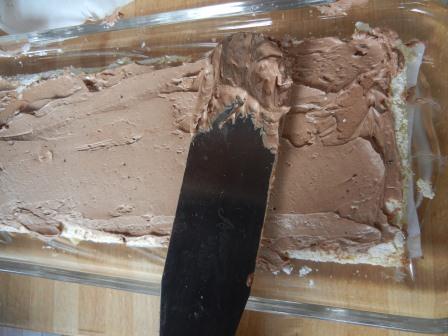 Continue the Layering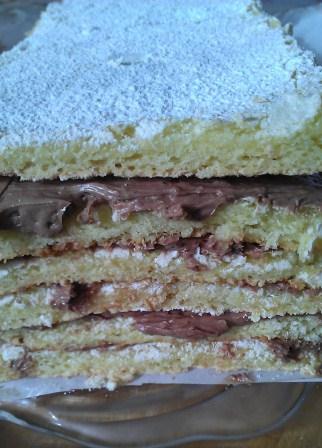 Don't worry about cracked pieces… it will be covered with Buttercream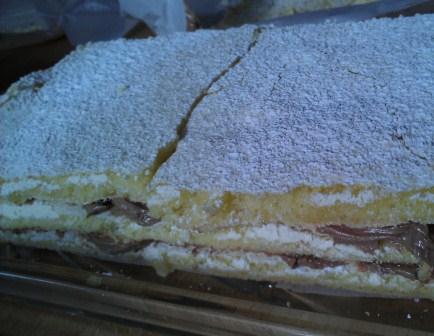 Cover the Whole Torte with Buttercream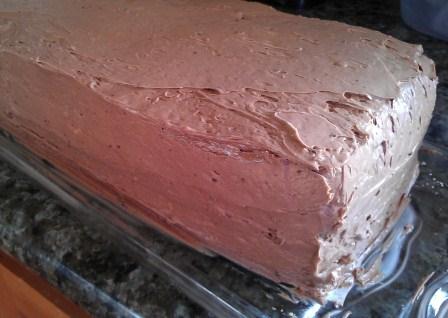 Slice and Eat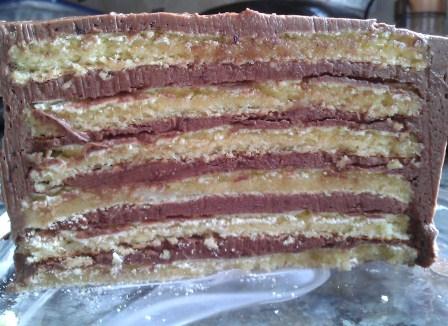 Tools You will Need to Bake the Best Dobos Torte
KitchenAid KSM150PSER Artisan Tilt-Head Stand Mixer with Pouring Shield, 5-Quart, Empire Red
Kirkland Signature Non Stick Parchment Paper, 205 sqft
Nordic Ware Natural Aluminum Commercial Baker's Half Sheet
Cuisinart Set of 3 Fine Mesh Stainless Steel Strainers
Wilton 409-7716 Angled Icing Spatula, 13-Inch, Black
Pyrex 3-Piece Glass Measuring Cup Set
&