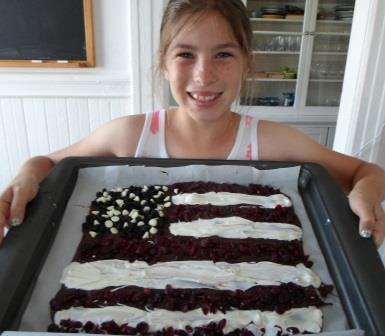 This is a super simple holiday (or any day) Recipe for Chocolate Bark Flag project that is great for kids of all ages. Because 4th of July is upon us, we decided to do a USA flag… It also works for Memorial Day or Veterans day. Or you can re-interpret the idea any way you want to….think of an Australian Flag for Australia Day, or a Christmas Tree for Christmas, or a giant misshapen blob for Tuesday… you get the idea.
    All you need is- Chocolate…. Any kind…. We chose to combine milk chocolate and white chocolate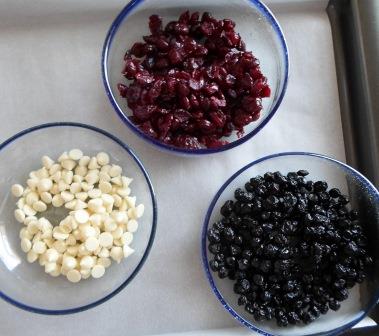 Dried Fruit…. Any type, but think colors We used cranberries for red and blueberries for blue. (Actually, blueberries are purple, but really, as the whole project is somewhat representational, we made it work) You can use sprinkles.  (That being said, my daughter pointed out that using dried fruit makes this treat practically health food….. I like how she thinks). Go ahead and be as correct with your flag as you want. We chose not to include all 13 stripes…. And neither of us counted the stars…. (Like I said… it's representational…) This project can be done in less than 45 minutes. (But yes, you can stretch it out to make it last longer).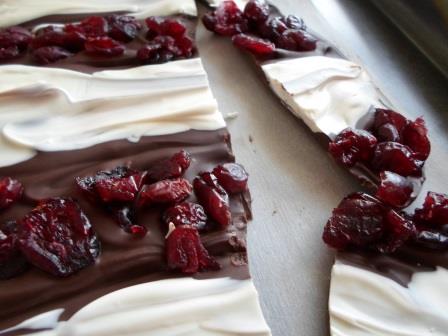 Instructions for making a Chocolate Bark Flag
Line a sheet pan with parchment paper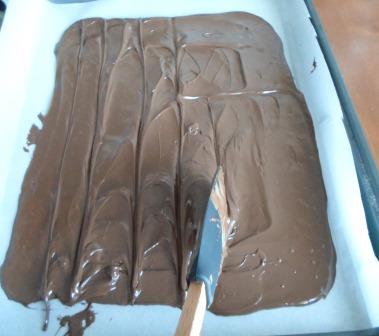 Melt the chocolate (we used around 12 oz of Dark Chocolate and 6 oz. of White Chocolate). You can use a double boiler or the microwave (or just leave it out in the sun for a bit). Spread the chocolate in a sort of rectangular form with a spatula Mark your stripes and lines with that same spatula. NOTE- In retrospect, the colors would have popped more if we had made the flag out of white chocolate instead of milk chocolate… or if we had put white over the dark first.  It tastes delicious either way.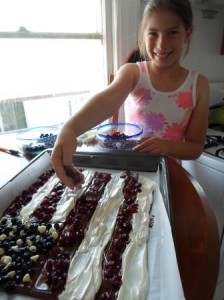 Decorate while it's still melty. We sprinkled dried blueberries and white chocolate chips into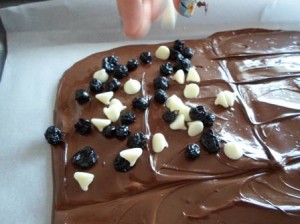 the star part of the flag We spread some white chocolate over half of the stripes Then we sprinkled dried cranberries over the other stripes   Stick it in the refrigerator to set.  Then when it's hard……Break into pieces and eat.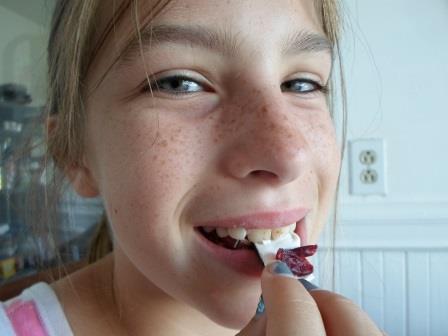 Supplies for Making Chocolate Bark
Merckens Milk Chocolate 2 Pounds
Merckens Ivory Chocolate, Rainbow White, 2 Pounds
Oasis Supply Merckens, Cocoa Dark, 2 Pound
&
Ocean Spray® Craisins® – 48 Oz. Bag
Signature Dried Blueberries, 20 Ounce
&