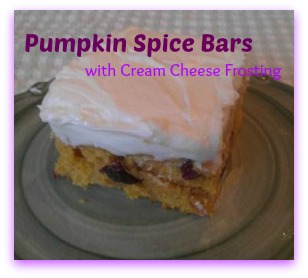 Pumpkin Spice Bars with Cream Cheese Frosting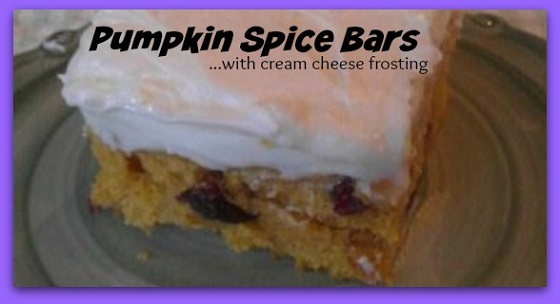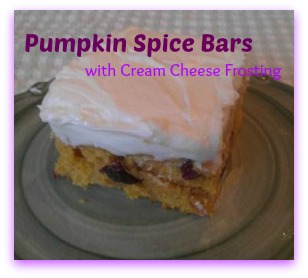 These Pumpkin Spice Bars Cream Cheese Frosting fall into the grey area between brownie and cake. They are cakey and frosted, but you can eat them with your hands. (Imagine a cake brownie, but made with pumpkin… and then frosted) (umm… that might have just confused the everyone).
Anyway…
They are perfect for Fall, AKA Pumpkin Spice Season, as an after school snack, or as a take-along for a gathering.
Pumpkin Spice Bars with Cream Cheese Frosting Recipe
Pumpkin Spice Bars are easy to make… and easy to eat. They have a mildly spiced Pumpkin flavor with a bite of ginger. I add dried Cranberries, because I like them, but you can substitute Raisins…. Or…if you have kids like mine who are suspicious of all "things" in their baked goods, don't add anything.
Super easy! These Bars come together in no time.
Ingredients
Pumpkin Spice Bars:

2 Eggs
1 cup Mashed Pumpkin (I use canned stuff... but if you have a pumpkin patch... make your own)
½ cup Vegetable Oil
2 cups Flour
2 tsp. Baking Powder
½ cup Brown Sugar
½ cup Granulated Sugar
1 tsp Ground Cinnamon
2 tsp Finely Chopped Candied Ginger
¾ cup Dried Cranberries
Frosting Ingredients:

1 cup Cream Cheese
½ cup Softened Butter
3 cups Powdered Sugar
Instructions
Pumpkin Spice Bars:

Line your baking pan with parchment paper... maybe give it a spritz with non-stick spray for insurance.
Preheat oven to 350 degrees Fahrenheit
In a small-ish bowl, combine the eggs, pumpkin, and vegetable oil.... Use a whisk and mix them all together. You want it to be smooth.
In a bigger bowl, combine the flour, baking powder, brown sugar, white sugar, cinnamon, and candied Ginger bits. (I find that tossing the ginger with my fingers a bit coats them in dry stuff, and it spreads more evenly).
Now.... Add the wet stuff to the dry stuff. Stir with a spatula to combine.
It's going to look like thick pancake batter.
Add the dried cranberries or raisins... stir
Pour the batter into the prepared pan.
Spread it out...
Bake for 15 to 20 minutes (check at 15, if it's not "done" on top, it's not done... most likely you'll need to add 5 minutes).
Pull the pan out of the oven and let it cool on a cooling rack.
While it's cooling, prepare the frosting
Frosting Instructions:

In a stand mixer with a whisk attachment, beat the cream cheese and butter until light and a bit fluffy. With the mixer on low, add the powdered sugar 1 cup at a time. When all the powdered sugar has been added, raise the speed of the mixer... Beat on high for 2 minutes.... Scrape the sides... beat another minute.
Are the Pumpkin Bars cooled off?
Spread the frosting over the bars.
Notes
I find it easier to cut the bars evenly if I lift the whole thing out of the pan (using the edges of the parchment paper) and set it on a cutting board. Cut into as many pieces and you like. You should get 12 to 24 (or more if you cut teeny) pieces.
https://angrybakery.com/pumpkin-spice-bars-cream-cheese-frosting/
Cute Serving Trays for Pumpkin Spice Bars Cream Cheese Frosting…
Sure, you can serve the Pumpkin Spice Bars Cream Cheese Frosting straight out of the pan… but if you are serving grown ups (or trying to civilize children) it's nice to use a tray or serving dish. These are perfect for Fall desserts… and can be used for years to come. I like the tower versions because they take up much less space (and leaves room for the other goodies!)
222 Fifth International Autumn Celebration Fall Fine China Two Tier Serving Tray
Ivory Ceramic Pumpkin Image Serving Platter Dish
October Hill Hand Painted Cheese Plate and Pull Set, Pumpkins
Blessings Oval Serving Tray By Grasslands Road
&
Step By Step Photos…..You can't Mess this UP!
Pour the batter into the prepared pan.
Spread it out…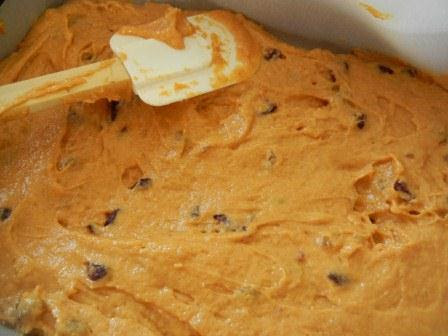 Are the Pumpkin Bars cooled off?
Spread the frosting over the bars.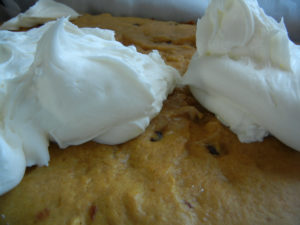 Eat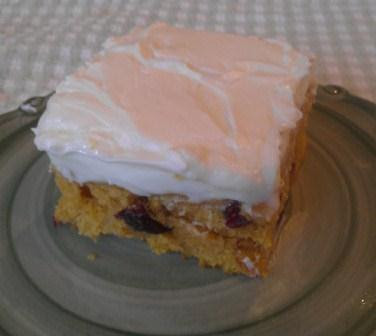 Looking for Other easy and delicious Pumpkin Spice Desserts?
Pumpkin Whoopie Pies with Caramel Frosting