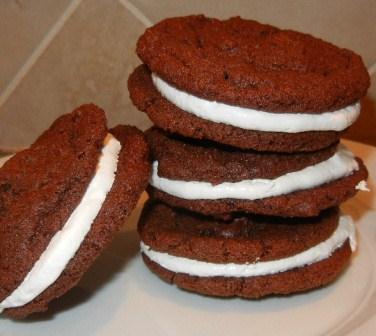 Chewy Chocolate Cookies Scratch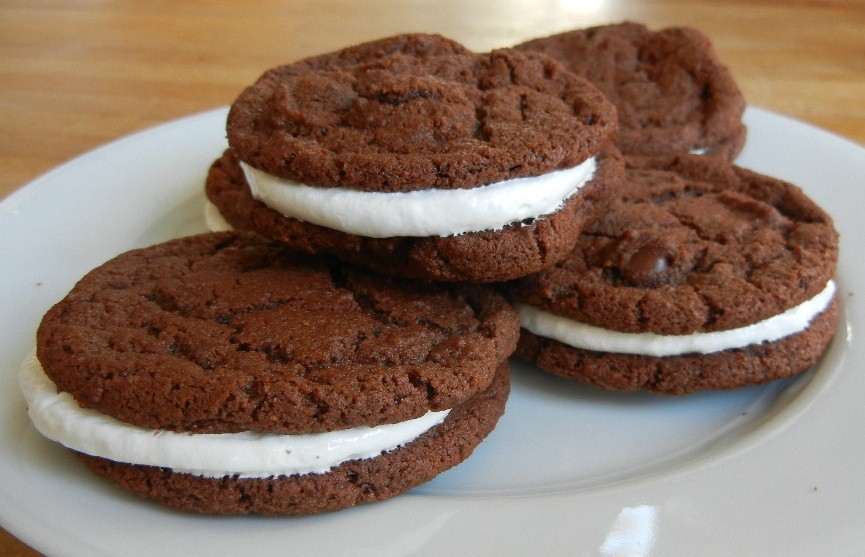 Needed an indulgent treat today. Something gooey, rich, and above all, chocolate. Nothing fancy or froo-froo…. I wanted the kind of treat that didn't need a fork, or fancy ingredients, or special tools. I needed a Chewy Chocolate Cookie!
Put on an Apron, and started pulling out ingredients. Basics… Butter, Sugar, Flour, Egg, Cocoa… mixed and fiddled… Got a cookie out of it…
Chewy Chocolate Cookies… Plain or with Marshmallow Filling
While these are terrific plain… when I added a Marshmallow Filling, and I knew I had something extra special.
Oh Wow! These are REALLY GOOD! ("like a really really good oreo but better" says my oldest) Kids snarf these down…. adults slowly savor them.
These Chewy Chocolate Cookies with Marshmallow Filling are a super indulgence. Soft and chewy, deeply Chocolate cookies sandwich a gooey Marshmallowy filling made from White Mountain Frosting.
They are a little extra work… but they are so worth it. (I've written up the cookie recipe below and the linked to frosting recipe, and added a few step-by-step photos below…)
And on a day like today…. where it seems like I spent most of my day in the car…. driving to work, driving to the bus depot (kid bus pass issues, sigh), driving to soccer, picking up from school, and driving to soccer (there are 2 soccer players in my world). Then there was cooking dinner, laundry, 3rd grade Homework, and cleaning up the kitchen. Really…. at the end of it all…. it was time for a cookie. A really good cookie.
Somewhere in the middle of everything this afternoon, I found time to do some baking.
And this evening, with a cup of tea, I got indulge in a Chewy Chocolate Sandwich Cookie with Marshmallow Filling.
Chewy Chocolate Cookies Scratch Recipe
This can Easily Be Doubled.... in fact... I'd suggest it since the White Mountain Frosting Recipe Makes enough for 2 Batches of Cookies These Chewy Chocolate Cookies are wonderful on their own.... but they are absolutely sublime when made into a sandwich.... ***You can add Semi-Sweet Chocolate Chips if you want.... I do....but it does make them a bit bumpy.
Ingredients
• 1 cup Butter-room temp
• 3/4 cup Granulated Sugar
• 1 cup Brown Sugar
• 1 Egg
• 1 tsp Vanilla Extract
• 3/4 cup Cocoa Powder
• 1 1/2 cup Unbleached Flour
• 1 tsp. Baking Soda
• ***1-2 cups Chocolate Chips
Instructions
Preheat the oven to 350 degrees Fahrenheit
In the mixing bowl of a stand mixer combine the Butter, Granulated Sugar and Brown Sugar.... beat for 4 or 5 minutes, until fluffy.
Scrape down the sides, add the Egg and Vanilla Extract, beat to combine.
In a large measuring cup, add the Cocoa, Flour and Baking Soda... whisk to combine.
Slowly (I said SLOWLY.... unless you felt like jumping into the shower after giving the kitchen a good scrub down) add the dry stuff to the butter mixture.
Beat until combined.... scrape down sides and scrape up the white stuff off the bottom. Beat Again.
Add the Chocolate Chips if you want to (go on... do it)
Using a small scoop (about 1 1/2 inches across), scoop out dough balls onto a baking sheet... about 3 inches apart. I usually get a dozen on a standard baking sheet.
Bake for 9 minutes.
Let cool a minute or two on the baking sheet, then transfer to a rack.
Notes
I use a small ice cream or cookie scoop to get the dough on the baking sheets... this makes them uniform in size and shape (much easier to match them up...otherwise it's a crazy guessing game)
https://angrybakery.com/chewy-chocolate-cookies-with-marshmallow-filling/
 White Mountain Frosting Recipe
Click HERE to Get the Recipe for White Mountain Frosting
Step By Step Photos
Bake Chewy Chocolate Cookies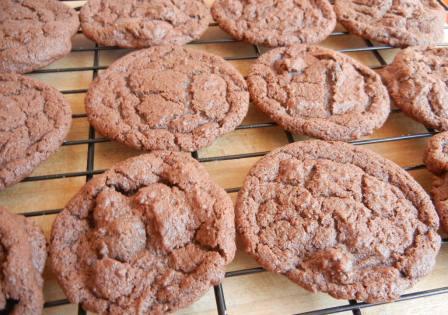 Let Cool on a Rack
Pipe on the Filling/ White Mountain Frosting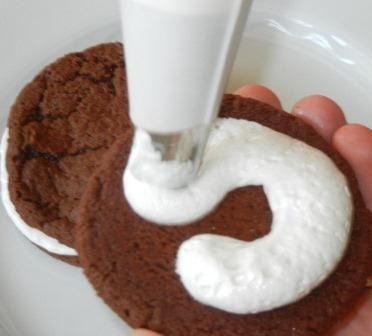 How Much Frosting?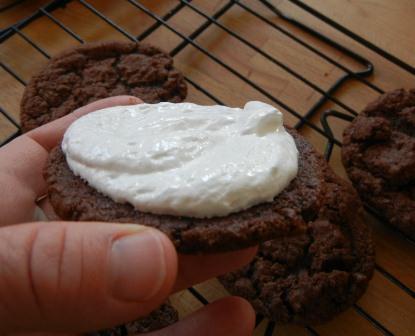 About This Much White Mountain Frosting is Perfect
 Fill a Plate with Chewy Chocolate Sandwich Cookies with Marshmallow Filling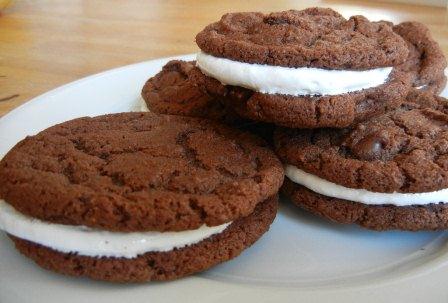 then EAT
Take Chewy Chocolate Sandwich Cookies with Marshmallow Filling to a Bake Sale
Watch them FLY off your sale table.
Wrap 2 in a cellophane bag (or zipper bag), tie at the top with a ribbon… make them pretty.
To serve I sometimes put them in Cupcake Liners! Makes it look professional!
Then SELL!