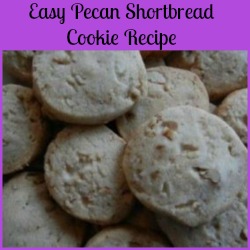 Easy Pecan Shortbread Cookie Recipe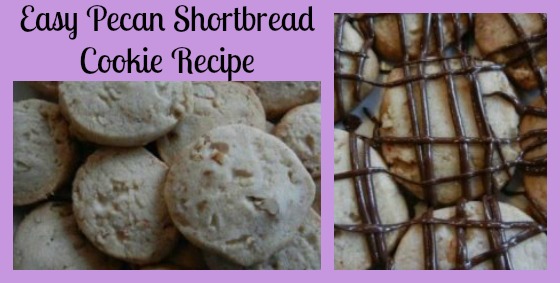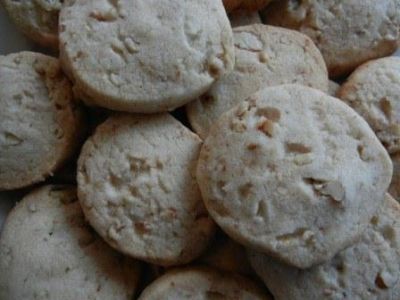 The cookie jar is empty, and that will not do. This Easy Pecan Shortbread Cookie Recipe  is delicious and a snap to make.
Easy Pecan Shortbread cookies  are fancy enough for company, and simple enough for having alone in the afternoon with a cup of coffee. I took these to a soccer dinner once…. the moms kept saying "oh, I'll just have one" and then one more, and then one more, until finally all pretense off dieting was thrown to the winds. Some even took home extras in zipper bags. The serving plate was empty before long.
You can serve them as they come, or dress them up with a drizzle of chocolate– totally up to you. My daughter firmly insists they are better without chocolate…She prefers them plain… and she also doesn't feel she has to wait for them to bake (got to keep my eye on the dough rolls….).
Easy Pecan Shortbread Cookies, hold up well in transport, so you can take them to potlucks, or sell them at bake sales. I like to keep a log of this easy shortbread in my freezer to bake up at a moments notice. They're nutty, buttery, rich and ohhh sooo good!
Easy Pecan Shortbread Cookie Recipe
Don't even TRY to substitute margarine for the Butter. Just don't. It won't work, and you'll waste perfectly good pecans.
Ingredients
3 sticks BUTTER (3/4 pound)
1 cup Sugar
2 tsp pure Vanilla extract
3 1/2 cup Unbleached Flour
1 1/2 cup chopped Pecans
1/2 cup semi-sweet chocolate chips(optional)
Instructions
I use the food processor for this one, but you can use a regular mixer. If you do use the food processor, use it to chop the pecans first. You just want a rough chop! Don't make pecan butter!
Also, unless you have a really big food processor bowl, it's best to do this recipe half at a time.
Cut the butter into pieces ...into food processor bowl with sugar... process to combine
Add Vanilla.. pulse
Add Flour... pulse.. open up and move around a bit... pulse some more until you have a dough
add Pecans... pulse a few times
Sprinkle flour on counter, dump dough out on flour. With floured hands, form the dough into 2 logs about 2 inches in diameter (you don't need to get out the measuring stick... eyeball it)
Wrap each log in plastic wrap... stick in the refrigerator for 30 minutes. Walk away.. go find something fun to do for half an hour... or go take a nap... tell everyone you're baking... get the oven preheating to 350 F to back up your story.
OK ?
Now.. remove the plastic wrap from the logs.. Slice rounds of dough somewhere between 1/4 and 1/2 inch. Again... eyeball it. It's not rocket science, it's cookies (and remember, Jim Lovell got Apollo 13 back home by eyeballing the earth behind his thumb... if he can do that, you can slice cookies without help)
As you cut the cookies, lay them on a baking sheet. These cookies don't spread much, so you can put them close-ish together. You'll notice that they start getting flat on one side.. roll the log to fix.. and you can shape the cookies a bit with your hands.
Bake the cookies for 18 minutes - until beginning to brown at edges
Let cool on a rack
At this point you can drizzle chocolate on them -
Melt the chocolate chips in microwave, and pour it into a zipper bag. Clip the corner of the zipper bag so the chocolate drizzles out when you squeeze. Drizzle chocolate over cookies. Stick in fridge to harden.
Notes
NOTE- kids love to do the drizzle part... they really get in to the decorating aspect. In fact, they may even decorate your entire kitchen in chocolate
https://angrybakery.com/pecan-shortbread/
Need a Cookie Jar to Store Your Pecan Shortbread?
Mason Jar Ceramic Cookie Jar
Home Basics Cookie Jar with Metal Top
OXO Good Grips POP Large Jar
Heritage Collection 4 Quart Cookie Jar
Step By Step Instructions
 Easy Pecan Shortbread Cookie Recipe
Make a Dough Log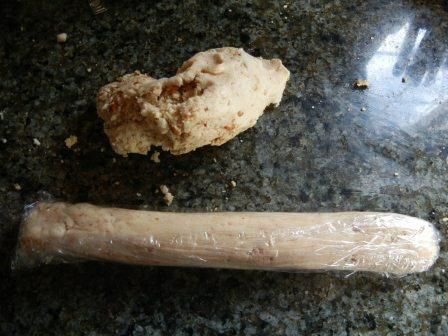 Split the dough in half, and form each half into a log. Then wrap the log in plastic.
Stick in fridge for at least 30 minutes.
You can also freeze the dough at this point. Make sure it's wrapped securely, and you can freeze it for 2 months.
Thaw, slice, bake.
Slice Dough and Bake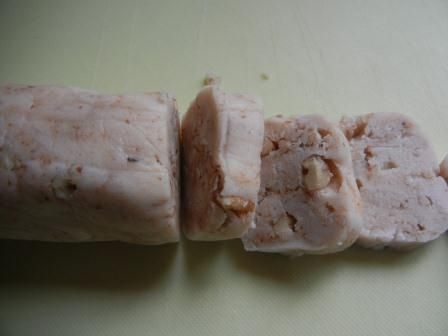 Slice the dough between 1/4 and 1/2 inch thick.
Put on baking sheet… bake 18 minutes
 You Can Drizzle the Pecan Shortbread with Chocolate
Gilding the Lily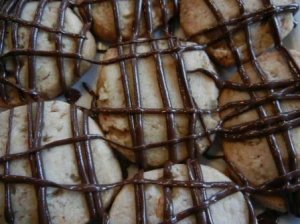 A drizzle of Semi-Sweet Chocolate tastes so good on these Pecan Shortbread cookies. Melt chocolate chips, put the melted chocolate ina zipper bag, snip the corner and drizzle over the cookies.
Pecan Shortbread Freezes Well
These are great cookies to freeze. You can freeze the dough logs… wrapped in plastic… for up to 2 months. Thaw before slicing and baking.
You can freeze the baked cookies… wrapped.. for up to 2 months.