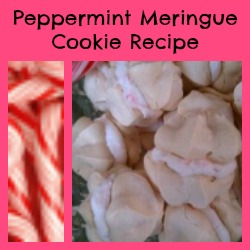 Peppermint Meringue Cookie Recipe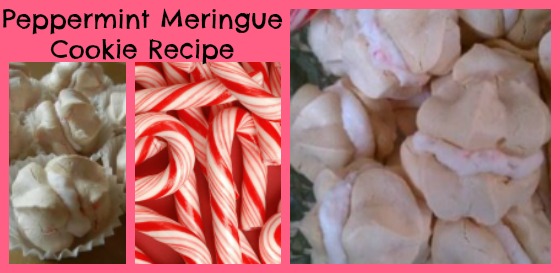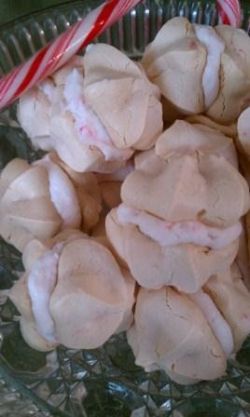 Well… I guess I just have to go along with it… Christmas Season is upon us.
I've been in a state of denial… ignoring the decorations… blocking out the "Jingle Bells Muzak"…. blindly toting in the massive stacks of catalogs from the mailbox without regard to why I'm suddenly flooded with them.
But I can't ignore it any longer. Telling the kids "wasn't it just Christmas last year?" isn't going to cut it anymore. (Besides… with that type of attitude you are quickly labeled a Grinch… and no one wants to play with you).
So, while I've been sort of baking Holiday Cookies… I decided yesterday to do something fancy-ish that shouts "MERRY CHRISTMAS!" at you.
These Peppermint Meringue Sandwich Cookies are pretty enough to be a "holiday gift from your kitchen", but are also easy enough to whip in an hour. Seriously… an hour (and that includes baking, cooling AND clean-up)
And, if you leave out the frosting in the middle (sigh.. why?), they are actually LOW FAT.
So… grump grumble… Merry Christmas….
grin
Peppermint Meringue Cookie Recipe
Peppermint Meringue Cookie Recipe

These started out at fairly simple and straightforward Peppermint Meringues…. but then I remembered that I had some extra Peppermint Frosting left over from making Velvety Candy Cane Swirl Whoopie Pies… so I used it up to fill the meringues. What a fantastic idea (patting myself on the back). You can make these cookies plain, or add the filling, they are good either way. I've included the Frosting Recipe. I crunched up Candy Canes for the Meringues, but you can use those Starlight round peppermints (you know… the ones they have in a bowl at the hostess desk of some restaurants…. who'll notice if you slip a few extra in your pocket?) Superfine Sugar can be found in the adult beverages section of the grocery store… or you can make it by sticking regular sugar in the food processor. The Original Peppermint Frosting contains White Chocolate. It's a nice touch… but if you don't have it, you don't need to make a separate shopping expedition to get it…. it's still good.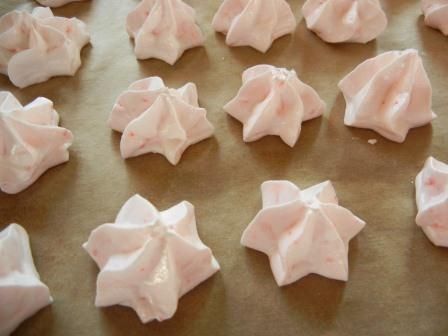 Ingredients
Meringues
2 Egg Whites
1/2 tsp Cream of Tartar
1/4 tsp. Peppermint Extract
2/3 cup Superfine Sugar
1/2 cup Crushed Peppermint Candy
Frosting
3 oz. White Chocolate
1 cup Butter- soft
3 cups Powdered Sugar
2 tsp. +/- Milk
1/3 cup Crushed Peppermint Candy
Instructions
Preheat Oven to 300 degrees Fahrenheit
Put Parchment Paper on a couple of Baking sheets
PEPPERMINT MERINGUES
Put the Egg Whites and Cream of Tartar into the bowl of a stand mixer... whip on high to a soft peak.
(soft peak should take a minute or three.... you are there when you can lift the beaters, and the egg white follows the beater up, but sags back down again.)
Continue whipping...Add the Peppermint Extract.
Add the Superfine Sugar a tablespoon at a time.
Whip until the Mixture reaches the stiff peak stage.
(it will take a few minutes.... the mixture will look glossy, and when you lift the beater, the goo that follows the beater will stand straight up)
Fold in the Crushed Peppermint bits.
(fold is where you add the stuff, then mix it together by running a spatula down the side of the bowl, then up through the middle of the mix, then rotate the bowl a 1/4 turn and repeat... and repeat.... and repeat... until it's all mixed together. The point of this is to keep from deflating the egg white.)
Spoon the Meringue into a Piping Bag fitted with a Star Tip. Now pipe out little cookies... I went about an inch in diameter, but you can go bigger or smaller. (you'll have to adjust the baking time if you do). You can pipe them fairly close together, they don't spread too much.
Bake for 20 minutes at 300 degrees.
Take them out of the oven, and let them cool on the baking sheet.
PEPPERMINT FROSTING
(You Can Add the White Chocolate, or leave it out)
Melt the white chocolate... let cool
Put the butter in the bowl of a mixer... beat until super soft.
Slowly begin to add the powdered sugar at low speed... when you've added half, add the melted chocolate.... slowly add the rest of the powdered sugar
Add a spoonful of milk... whip the frosting up.
If if still feels dry, add more milk. If it feels to wet.. add more powdered sugar.
Now add the crushed Peppermint Candy
Whip, scrape, whip..... done
SOME ASSEMBLY REQUIRED
Take a little meringue... pipe or spread on a splotch of frosting.... top with another ... press together a bit.
Done.
Ateco Pastry Decorating Tip, Set of 3
Brach's The Original Peppermint Candy Canes, 48 Count
&
Step By Step Instructions with Photos
Soft Peaks
Look a bit frothy but make a soft mound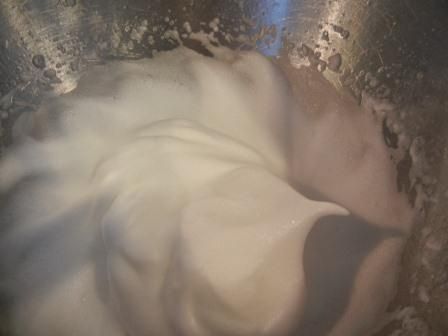 Stiff Peaks
Glossy… and the peaks stick up when you lift the beater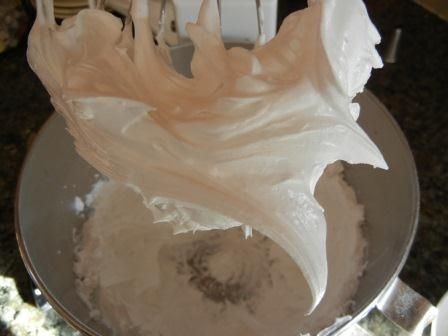 Add the Crushed Up Peppermint to the Meringue
I crushed the Peppermint Candy in the food processor… if you don't have one, put it on your Wish list. You can crush up the candy by putting it into a plastic zipper bag… then put that bag into another zipper bag… then whack it good with a rolling pin or hammer. I find this is a great activity for the kids… It's also a great way to blow off a little pent up aggression. Whack away….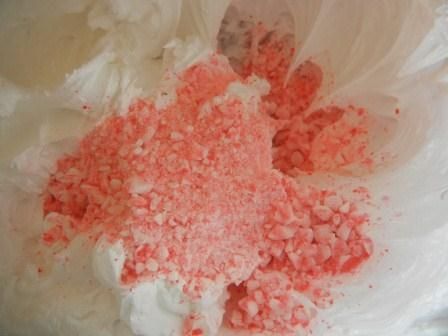 Fold the Candy into the Meringue
It'll look kind of like this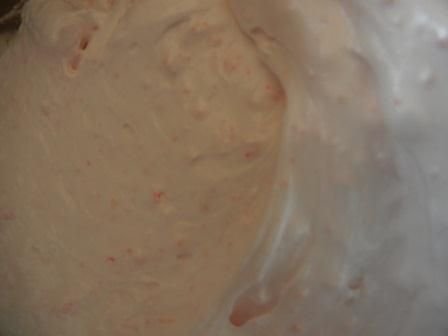 Pipe the Cookies Onto the Parchment Paper Covered Baking Sheet
Pipe with a light squeeze… make them about an inch in diameter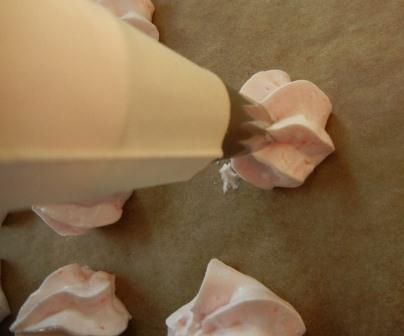 You Can Put them Sort of Close Together…
Ready To Bake
Pretty pink…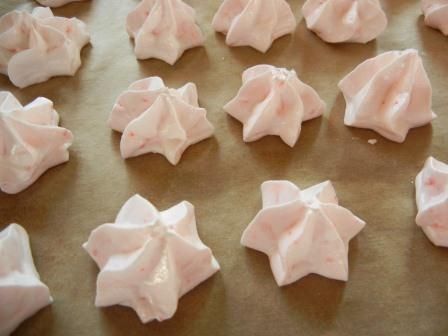 Baked Meringues
Let them Cool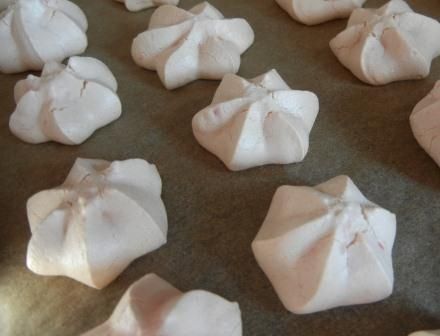 Make the Peppermint Frosting...
You Can Make This With or Without White Chocolate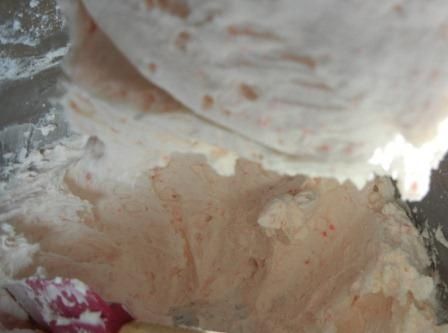 Pipe or Spread a Blob of Frosting on One Cookie
You Don't need a Lot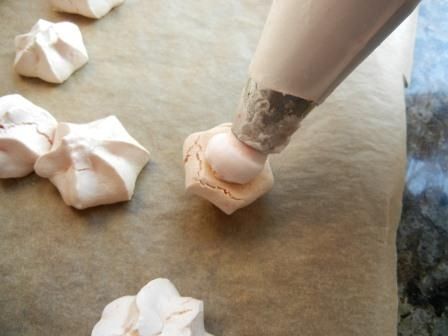 Stick on Another Meringue
bottom to bottom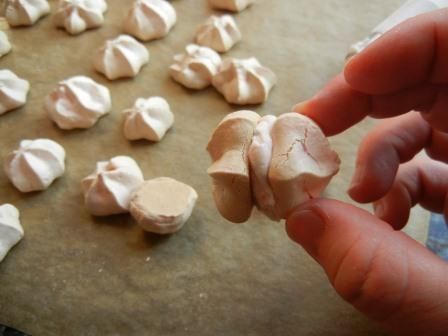 For Serving or Gifting…Put the Cookies in a Small Cupcake Liner
Makes them look fancy…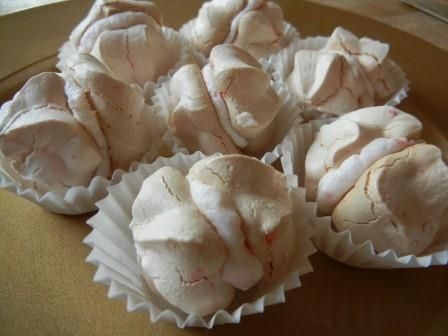 Pack Your Cookies for Gifting
12 Cardboard Santa Gift Boxes/Christmas Treat Boxes/Holiday Gift Wrap/Party Supplies
3D Christmas Gift Boxes With Bow – Party Favor & Goody Bags & Paper Goody Bags & Boxes; 12 Pack
Dozen Santa's Workshop Cardboard Treat Boxes
Share Your Special Christmas Treats in These 12 Holiday Snowflake Bakery Boxes.
&