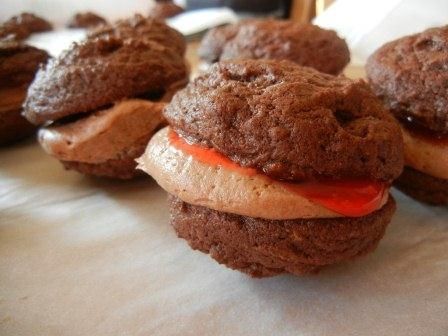 Chocolate Covered Cherry Whoopie Pies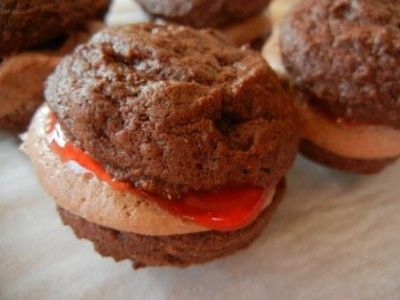 These Chocolate Covered Cherry Whoopie Pies twist the classic confection in a new way.
Say "Chocolate Covered Cherries", and you get an image of a red Dime Store box of over-sweet confection being eaten by a woman wearing a satin robe and feathered mules while watching bad TV.
I love chocolate, I love cherries… so I have to change that image (Besides, wearing mules and a satin robe around the house would cause the kids to collapse in gales of hysterical laughter.)
And in all honesty.. those candies are kind of yucky.
HOWEVER… Chocolate Covered Cherry WHoopie Pies ARE YUM!!
The cookie is a rich dark chocolate, sandwiching a light chocolate buttercream. The kicker…. a bit of cherry pie filling in the center. ummmmmm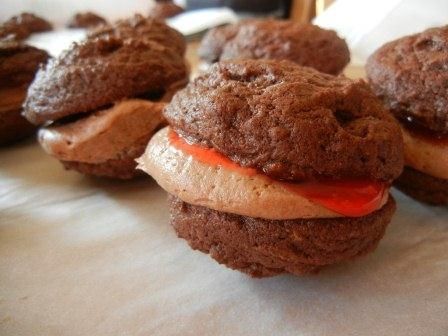 Now… if you are making these for adults, you can add a soak of Kirsch Liquor…. (for adults only…. don't go thinking it might make the little darlings sleepy! first of all… it's just wrong, second of all…. the sugar will hype them up and counteract the effects)
These might be a tad messier than other whoopie pies…. the filling googes out the sides (it's sooo good though, just lick the edges like an ice cream sandwich). You can still easily pack them into lunch boxes or take them along to potlucks or picnics, just slip them into cupcake wrappers.
Make a batch…. watch them vanish… but save one for yourself so you have something to nibble while watching cooking shows on TV.
I've written up the recipe for all the components here… and illustrated with step-by-step photos below. You can't go wrong.
Promise.
Chocolate Covered Cherry Whoopie Pies Recipe
Chocolate Covered Cherry Whoopie Pies

Chocolate, Chocolate and More Chocolate… with some Cherry in the middle to brighten things up. These rich, decadent Chocolate Covered Cherry Whoopie Pies are a wonderful treat.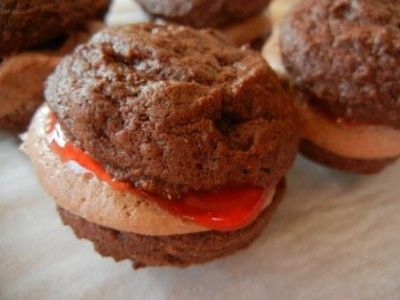 Ingredients
WHOOPIE PIE COOKIE:
3 oz. Unsweetened Chocolate
4 oz. Semi-Sweet Chocolate
1 cup Butter
1 Cup Sugar
3 Eggs
1 Tsp. Vanilla
1/4 cup Unsweetened Cocoa Powder
1 1/4 cup Flour
1/2 tsp Baking Powder
CHOCOLATE BUTTERCREAM!
1 cup Butter- room temp.
1 oz. Unsweetened Chocolate
3 1/2 Powdered Sugar
2 tsp Vanilla Extract
4 Tbl. Heavy Cream
CHERRY FILLING:
Instructions
Preheat Oven to 350 degrees Fahrenheit
Cover baking sheets with Parchment Paper
CHOCOLATE WHOOPIE COOKIE:
In a microwave safe bowl or pyrex measuring cup, melt the unsweetened chocolate, semi-sweet chocolate and butter. Should take about 2 minutes. Make sure you COVER the bowl, unless you feel like cleaning the microwave (and you know.... it's tough to get chocolate off of the roof of a microwave). Stir until it's smooth, then let it sit to cool a few minutes.
When it's cooled off, add eggs, sugar, and vanilla, whisk to combine.
In another measuring cup or bowl, whisk the flour and baking powder together. Now add it to the chocolate mixture. Fold the flour mixture and chocolate mixtures together. (Fold is when you run a spatula down the side of the bowl, and then pull it up through the middle. Rotate the bowl a quarter turn, run the spatula down the side again, pull it up the middle.... you get it... just keep doing that until it's all chocolate.)
Using a small scoop, about 1 inch in diameter, scoop the batter onto the parchment paper (yes, you can use a tablespoon,
Make sure the scoops are 2 inches apart.
Bake 7 or 8 minutes. They won't be sticky on top when they are done.
Cool on a rack.... just pull the parchment paper off the baking sheet, and across to the cooling rack.
Don't even THINK about frosting/filling the whoopie pies until they are completely cool. You'll end up with a melty mess.
CHOCOLATE BUTTERCREAM:
Melt the Unsweetened Chocolate (microwave or double boiler... up to you...totally depends on how much clean up you feel like doing)... set it aside to cool.
Put the room temperature Butter into the bowl of a mixer. Whip it up.
Slowly add the cocoa and powdered sugar..... I said slowly... that powdery stuff will really jump back at you. Alternate adding the powdery stuff with adding in the Vanilla Extract.... then the Cream.
Now add in the cooled melted chocolate.
Whip the Buttercream up. Scrape the sides.... Whip it more.
Done.
CHERRY FILLING:
open can of cherry filling
now... if you have a fabulous cherry pie filling that you got from great Aunt Edna... and you have the time, energy and desire to mix it up... GO FOR IT!! (We'll all uuuwwww and aaahhhhh at how wonderful you are... send you accolades and special prizes.)
SOME ASSEMBLY REQUIRED:
Take a chocolate cookie.... pipe a circle of buttercream around the edge of the flat side.... dab some cherry in the middle (how much? depends on how much you feel like putting on. Up to three cherries will fit, but we're talking major eating blowouts.... maybe just do one or two).
Put second cookie (flat side down) on top of the filling.
Press LIGHTLY to stick them together.
and then EAT.
Useful Tools for making Perfect Whoopie Pies
Ateco Pastry Decorating Tip, Set of 3
OXO Good Grips Small Cookie Scoop
Kirkland Signature Non Stick Parchment Paper, 205 sqft
&
Step By Step Photos for Making Chocolate Covered Cherry Whoopie Pies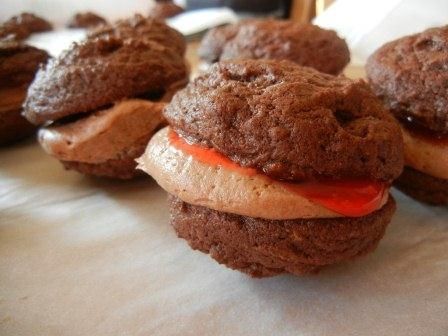 Whoopie Pie Carriers
Packing up your Chocolate Covered Cherry Whoopie Pies to go? First put them into cupcake liners… then carry them in one of these cupcake carriers.
They will arrive looking as perfect as they did in your kitchen. I prefer a squared off carrier with deep holders, but the round one makes a great display as well as a good carrier.
Snapware 2-Layer Cupcake and Cookie Carrier
PL8 Cupcake Carrier & Display PL8 5200
1 X Cupcake Courier Cupcake Caddy – Holds 36 – White
&