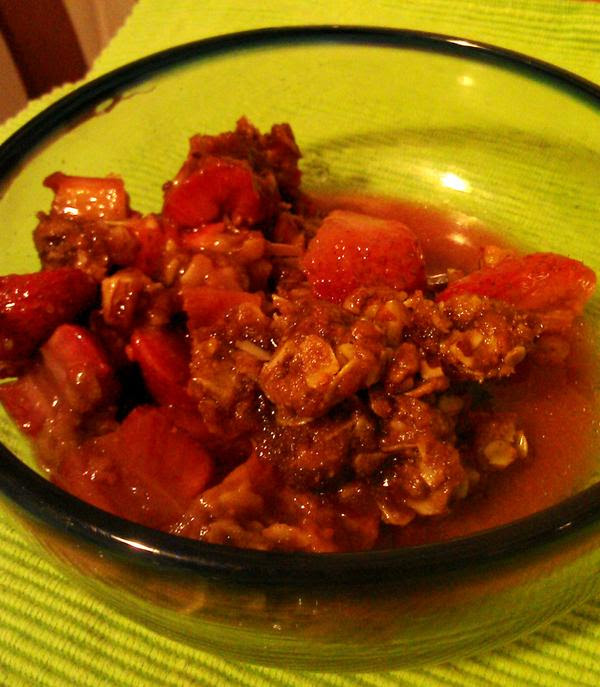 I had the most intense craving for Rhubarb the other day.

At first it was a little nagging sensation "boy, rhubarb would taste good right now"…. But as the day went on it got stronger…. "HEY! Rhubarb!!". It got so loud that I started fearing the little Rhubarb-demanding voice…

Off to the store to quiet the roar.

Grocery store number one…. Nothing

Grocery store number two…. Nothing

Ok, by this time it's become a quest, a mission, a NEED to find and eat Rhubarb.

Fruit Market… by now I'm frantic…. Nothing, no, digging….. AHhhhhh! There it is, hidden in a tucked away corner. I bought all 6 stalks.

I took my treasure home to prepare it. (Because, as everyone knows, Rhubarb HAS to be cooked to be edible.)

A Crisp is a great way to make use of Rhubarb. Quick and easy to throw together… Delicious to eat… And you can pretend that it's healthy because it has a huge amount of fruit and oatmeal in it (don't pay any attention to the sugar and butter behind the curtain). The topping gets crunchy and is a great contrast to the soft and sweet fruit. I love the combination of Strawberries with Rhubarb (it just works).
Strawberry Rhubarb Crisp Recipe
Fruit
4 cups Fresh Rhubarb -sliced into ½ inch chunks (don't get our your ruler, eyeball it)
1-2 cups fresh Strawberries- Cut to chunks
¾ cup Brown Sugar- divided
Note- the combination of Rhubarb and Strawberries can get pretty juicy… if you prefer your crisp a bit less soupy, toss the fruit with ¼ cup flour before adding sugar.
Crisp Topping
¾ cup Oats (I prefer the old-fashioned ones, but if you just have quick cook ones, that's ok…. Just don't use those oatmeal packets with dinosaur eggs , too sweet)
½ cup Flour (you can use a combo of whole wheat and all purpose flour)
½ tsp ground Cinnamon
½ cup Butter- melted
Instructions
Preheat the oven to 375 degrees Fahrenheit
Spray an 8 inch square pan or casserole with non-stick stuff (or smear with butter)
Combine the chunks of Rhubarb and the Strawberries in a bowl.
Toss with ¼ cup of the Brown Sugar. Add flour for a less messy/soupy Crisp.
Pour the fruit into the pan or casserole.
Crisp Topping-
Combine the Oats, Flour, Cinnamon and ½ cup Brown Sugar.
Add melted Butter… stir with a spatula to combine. It will look like a gooey oatmeal cookie dough.
Sprinkle the oat mixture over the fruit…. Just kind of drop it through your fingers. Big lumps, little lumps, all sorts of lumps.
Stick the pan into the oven for 30 minutes. Let sit for 15 minutes before eating.
(I love to stick this into the oven just before we sit down to eat dinner… the crisp is done right around the time we are done eating and have the table cleared. By the time the dishes are done, it's cool enough to eat. )
The crisp is delicious warm, and excellent served with ice cream.
I also love it for breakfast, if there is any left the next morning.