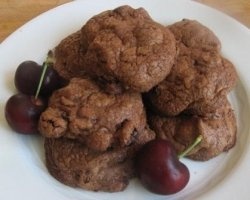 Double Chocolate Cherry Cookie Recipe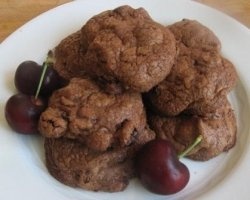 I have a good reason for baking this Double Chocolate Cherry Cookie Recipe. Someone once actually told me how lucky I am to be an At-Home mom …. I can just sit around all day eating chocolate covered cherries and watching Oprah.
Huh?
My first impulse was to whack some sense into that pea brain, instead I did an eye roll so massive that I practically induced brain hemorrhage.
First of all… Oprah was on during prime gotta-get-kids-to-soccer-piano-baseball-karate-football-ice-skating-origami time (and please don't talk to me about TIVO… let's just say… it's complicated)
Second…. chocolate covered cherries are kind of yucky. I don't trust food in that particular shade of atomic red.
Now…
Oprah is gone-ish, and I've come up with a way to make Double Chocolate Cherry Cookies that don't leave you with that "what did I just eat?" feeling. Fudgy cookie, chocolate chips and DRIED cherries make my Chocolate Chocolate Cherry Cookies delicious, and less messy than that goopy stuff.
Try them, maybe while you're driving to the next recital-band-practice-field-hockey-game-track-meet.
Double Chocolate Cherry Cookie Recipe

This is a fudgy cookie studded with chocolate chips and dried cherries. I love the tartness of the cherries... but the kids don't... you can bake these without them.

Prep Time
1 hour, 30 minutes
Total Time
1 hour, 30 minutes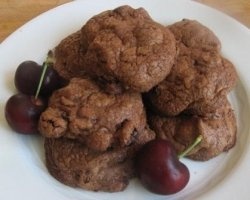 Notes
You Can Freeze Chocolate Cherry Cookies
The dough can be frozen ... freeze it whole or place cookie dough lumps on a cookie sheet, freeze, then put the lumps in a zipper bag.
You can also freeze the baked cookies
LABEL your packages!

Ingredients
1/2 cup semi-sweet Chocolate Chips
3/4 cup Butter
2 cups Sugar
3 Eggs
1 tsp Vanilla
2 1/2 cups Unbleached Flour
1 cup dried Cherries
1 more cup Chocolate Chips
Instructions
Melt 1/2 cup chocolate chips with the 3/4 cup Butter in the microwave. Stir until smooth.
Add Sugar, mix well
Combine eggs and vanilla, add to chocolate mixture, mix well.
Add in flour, combine completely.
Add in the chocolate chips and dried Cherries.
Stick in the refrigerator for an hour.... go read a magazine
Heat the oven to 350 degrees F
Scoop dough out onto cookie sheet. Use a small scoop or a spoon. You want the balls about the size of a small ping pong ball or large walnut.
Bake for 9 minutes.... don't overbake!
Let them sit on the cookie sheet for a minute or two, then move to a wire rack to cool.