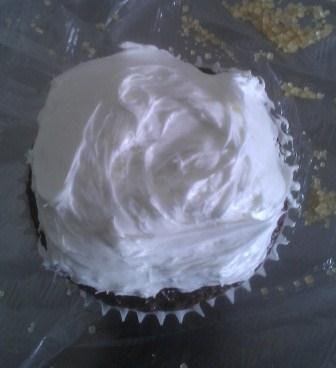 White Mountain Frosting Recipe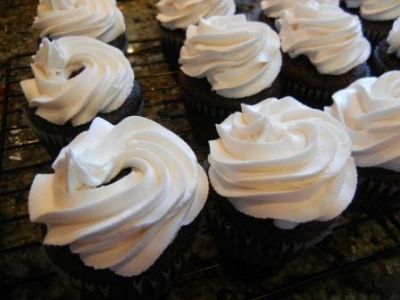 This White Mountain Frosting Recipe is a bit more involved than your standard Buttercream…. but the results are worth it. You end up with a light and fluffy frosting that holds up well, and it tastes like Marshmallows!
Use it to frost Chocolate Dipped Cupcakes, fill whoopie pies, or even fill the Chewy Chocolate Cookies.…
White Mountain Frosting Recipe
White Mountain Frosting Recipe

This Recipe for White Mountain Frosting makes 6 cups of Frosting. That's kind of a lot. For a single batch of the Chewy Chocolate Sandwich Cookies with Marshmallow Filling you only need about 1 1/2 to 2 cups of Frosting/Filling… of course… if you want to add more….. So.... what to do with the rest? You can sit in a corner with a bowl and a spoon (might give you the mother of all tummy aches though....) Or You can bake Chocolate Dipped Cupcakes Or You can stick it in an airtight container... and find something else to use it for in the next week. I suppose you can also halve the recipe......

Notes
BTW... it's easiest to use a stand mixer for this recipe.... you have to beat it for 10 minutes to get proper consistency, that's a long time to hold a hand mixer.

Ingredients
• 4 Egg Whites
• 1 cup Sugar
• 1/2 Cup Light Corn Syrup
• 4 Tbl Water
• 2 tsp Vanilla Extract
Instructions
In a Stand Mixer, beat Egg Whites on high speed until you have Stiff Peaks... set aside
In a medium saucepan, stir together Sugar, Corn Syrup, and Water until combined.
Bring to rolling boil... stirring all the while
Wipe the side of the saucepan with a pastry brush dipped in ice water.
Stick a candy thermometer to the side of saucepan
Boil without stirring, until you hit 242 degrees F.
Turn the mixer with the egg whites in it to medium speed.
Pour hot sugar syrup SLOWLY in a thin stream into the egg whites.
Add Vanilla.
Beat at high speed for 10 minutes until stiff peaks form
Done!
White Mountain Frosting is a Snap with a Stand Mixer
KitchenAid KSM75WH 4.5-Qt. Classic Plus Stand Mixer – White
KitchenAid KP26M1XER 6 Qt. Professional 600 Series – Empire Red
&