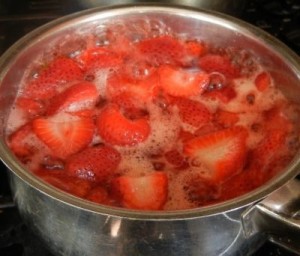 This is a yummy topping to German pancakes, but can also be served over ice cream or pudding.
This easy to make sauce can be made with  blueberries or boysenberries, but strawberries are coming in season here, so I used them this weekend.
Now, if berries aren't in season,  go ahead and use frozen. You can get bags from Costco or Trader Joes… or from your freezer if you have your own. Berry Sauce gives you that summer taste, even in winter.
(If there is any left the next day, I eat it cold over vanilla yogurt, to atone for the pancakes)
Berry Sauce Recipe
Makes 2 cups
Prep Time: 5 minutes
Total Time: 20-25 minutes
Ingredients
2 cups Berries…fresh or frozen
1/2 cup water
1/3 to 1/2 cup sugar
teaspoon cornstarch (if needed)
Instructions
Put berries, water and sugar in a saucepan, turn heat to medium. Bring to boil, stirring occasionally.
Watch the pot, don't let it boil over or burn.
Let the berries break down a bit. The sauce will thicken as they do. This could take 20 to 25 minutes. If the sauce doesn't get thick enough, but the taste is right, combine a teaspoon cornstarch with a teaspoon of cold water in a cup, then pour into the sauce, stirring as you go. Cook a few more minutes.
Pour into a pitcher, let cool enough for the kids to eat.
Serve warm or cold.