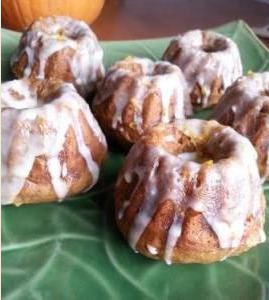 Pumpkin Ginger Bundt Cake (minis!) – The Perfect Fall Treat!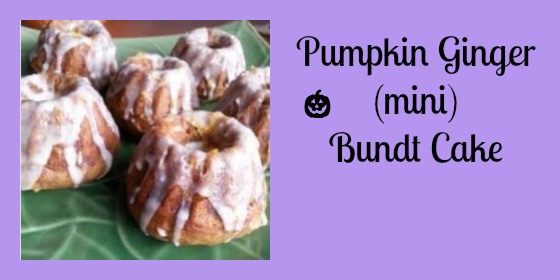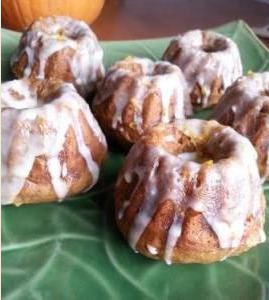 Pumpkin Ginger Bundt Cake (minis) fit the Fall perfectly. You see, Fall is Pumpkin everything season! The way I see it, you can either run screaming the other way, or you can embrace it, and alter it to suit your tastes.
I went with plan B.
To me, pumpkin tastes somewhat bland and a bit boring, but I'm a huge fan of Gingerbread, so I added candied ginger to a fairly straightforward Pumpkin cake recipe. And it works! The Crystallized Ginger gives the pumpkin the "bite" it needs to make it extra flavorful. I also added some Orange Zest to the cake and the glaze to give it some zing.
Why little Bundts? Because…. they are cute, and I like the shape. If you don't have mini bundt pans, go ahead and use regular muffin pans. Or a standard bundt pan.
Don't worry, just a few more months, and Pumpkin Everything Season will be over… and we can get back to normal.
Pumpkin Ginger Bundt Cake (Minis) Recipe
I prefer to make the Pumpkin Ginger Bundt Cake as Minis... but you can bake it in a regular Bundt Cake Pan... just increase the baking time. Alternatively, bake them in a muffin pan.
Ingredients
Pumpkin Ginger Bundt Cake:

¾ cup Butter
1 ¼ cup Brown Sugar
2 ¾ cup Flour
2 tsp Baking Powder
½ tsp Baking Soda
2 tsp Cinnamon
½ tsp allspice
½ tsp orange peel
½ Tsp. ground ginger
1/3 cup Crystallized Ginger (chopped)
3 Eggs
2 Tbl molasses
1 cup pumpkin
Orange Glaze:

1 1/4 cup (5 ounces) confectioners' sugar
1 tablespoon orange zest
2 tablespoons (1 ounce) water or milk
Instructions
Pumpkin Ginger Bundt Cake:

Preheat the oven to 350 degrees F
Spritz mini Bundt pans (or muffin pans) with non-stick spray.
This recipe is put together is a slightly unconventional way, but it works…
Combine the butter and brown sugar in the bowl of a mixer, and beat them together until light and fluffy, this can take 4 or 5 minutes (scrape the bowl occasionally).
Combine the flour, baking powder, baking soda, spices and crystallized ginger in a bowl or measuring cup. With the mixer on low, slowly add the flour mixture to the butter mixture. The batter will look like crumbs (it's strange, but work with me here).
Add the eggs, one at a time, beating after each one.
Now add the pumpkin and the molasses. Beat another minute or two on medium (don't forget to scrape the sides and under the beater) until the batter is smooth.
Scoop the batter into the bundt pans or muffin cups -- filling the cups about 2/3 full.
Bake the mini bundts for around 14 minutes (touch the top, the dent will come back if they are done) Go another minute or two if they need it. Muffins need 18 minutes.
When they are done, take them out of the oven and let it cool for 15 minutes before taking it out of the pan.
Let it cool a bit then glaze, if you like.
Orange Glaze:

In a medium-sized bowl, mix together all the glaze ingredients until smooth, adding additional liquid, a bit at a time, until the glaze has the consistency of molasses or will drizzle from a spoon in a long strand.
I tend to be impatient, so I brush the glaze on when the bundts are still warm. If you prefer a thick white finish, cool the bread completely before glazing.
https://angrybakery.com/pumpkin-ginger-mini-bundt-cakes/
I LOVE Mini Bundt Pans!
Mini Bundts are more festive than muffins… although, essentially, that's what they are. It just feels so much fun to eat a WHOLE cake by yourself!
Wilton Mini 12 Cavity Fluted Pan
Wilton Excelle Elite 6-Cup Mini Fluted Pan
Nordic Ware Heritage Bundtlette Cake Pan, Metallic
&
 Step By Step Instructions for Pumpkin Ginger Bundt Cake (minis)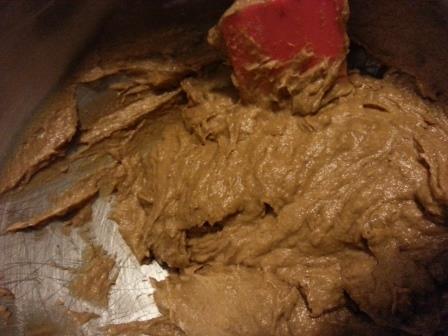 Be sure the batter is completely mixed.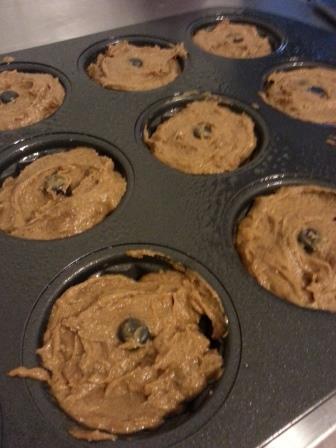 Fill the Bundt pans (I overfilled them a bit… 3/4 full is enough)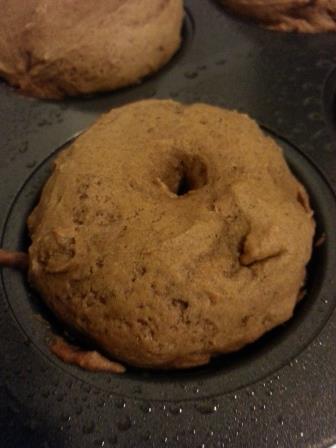 Done… see… less batter might have been better.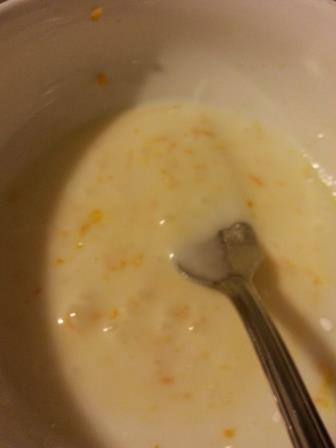 Mix the glaze.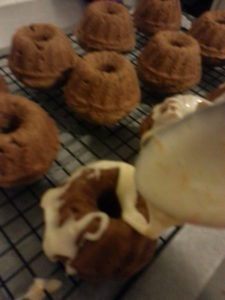 Drizzle the glaze over the bundts…. If you want the glaze really white, make sure the bundts are completely cool.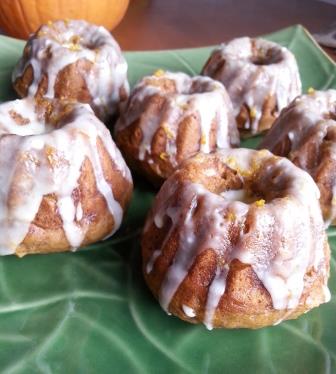 Serve Mini Bundts on Tiered Cake Stands
Mini Bundts, Muffins, cookies and other treats look their best when you show them off on these Tiered Cake Stands!
Chef Buddy 3-Tier Square Glass Buffet and Dessert Stand
Jusalpha 3-tier Porcelain China Cake Stand-Dessert Stand-Cupcake Stand-Tea Party Serving Platter (Gold)
3 Tier Rectangular Serving Platter, Three Tiered Cake Tray Stand, Food Server Display Plate Rack, White
Royal Albert Devotion, Gratitude and Joy 3-Tier Cake Stand Designed by Miranda Kerr
Royal Albert New Country Roses Vintage Formal 3-Tier Cake Stand, White
&