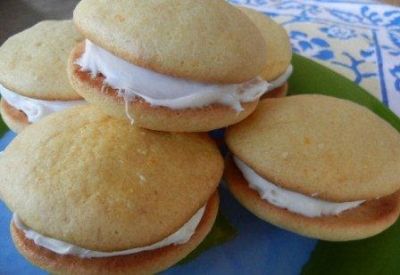 These Orange Creamsicle Whoppie Pies were born from a flavor memory….Notice how certain flavors can evoke strong memories? I grew up in Southern California, surrounded by Citrus… oranges, lemons, limes and funny little kumquats. The taste of citrus takes me back there.
The memories are strong….  the scent of orange blossoms in the air…. playing hide and seek between the trees…. and always, the musical sound that told us the ice cream man was nearby. (My friend Sandra, had a father with the most PIERCING whistle. He could stop that Ice Cream Man at 100 yards. What an excellent talent to have!!)
And we could choose our favorites… I almost always picked Orange Creamsicles!  I loved… still love … Orange Creamsicles. Those popsicles with orange surrounding vanilla ice cream. Yum … and my bare feet getting sticky from orange drips..
I miss that…You know what I mean, that .. not a care in the world feeling… the feeling that the days are endless and filled with possibility… and calories never counted.
Orange Creamsicle Whoopie Pies have that flavor, and to me, they bring back the memories of not having a care in the world.
 Orange Creamsicle Whoopie Pies Recipe
Orange Creamsicle Whoopie Pies

You can vary the level or orange in this recipe... totally up to you. I like a strong orange flavor, but these are delicious even without the orange extract. Then there is the food coloring... Creamsicles are a wicked shade of orange, but I just can't bring myself to use that much food color.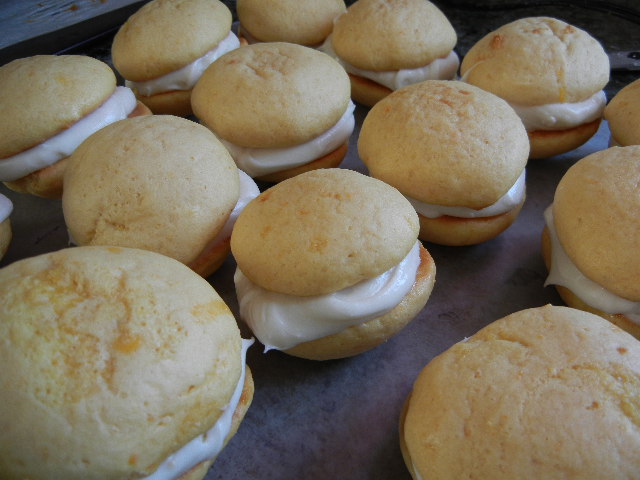 Ingredients
WHOOPIE COOKIES:
1/3 cup Canola or Vegetable Oil
1 cup Granulated Sugar
Zest of 2 Oranges
2 tsp. Orange Extract
1 Egg
3 cups unbleached Flour
1 tsp Baking Soda
1/2 tsp Baking Powder
3/4 cup Buttermilk
Juice of 2 Oranges
**optional**
8 drops Yellow Food Color
3 drops Red Food Color
FILLING:
8 oz. Cream Cheese
5 Tbl. Butter
3 1/2 cup Powdered Sugar
1 tsp Vanilla Extract
Instructions
Preheat oven o 350 degrees F
Cover 3 baking sheets with parchment paper
BAKING THE COOKIES:
Put the juice of the 2 oranges in a saucepan, and let cook over medium heat until reduced by about half.
While this is happening, bake the cookies.
In a mixing bowl, combine the oil, sugar and orange zest, blend for 4 or 5 minutes, then add the egg and the Orange Extract (if you want to use it)
Mix until completely combined.
In a measuring cup, combine the flour, baking soda and baking powder.
Alternate adding the flour mixture and buttermilk... begin and end with flour.
Mix until completely combined.
Add the Food Coloring at this point, if you wish to use it.
Using a small cookie scoop (like a mini ice cream scoop) or a spoon (the scoop is better though...) scoop the dough out onto the parchment sheets... you can generally get a dozen scoops per sheet.
Bake in 350 degree oven for 9 minutes.... take out, then let cool on baking sheet for 2 to 3 minutes...
Using a pastry brush, paint some of the reduced orange juice on the bottom of each cookie.
When all cookies are baked, painted and cooled, you can fill them.
FILLING:
Put the Cream Cheese and Butter in a mixing bowl (yes, you can use reduced fat or non fat cream cheese... no, you can't use margarine) and beat until light and completely combined.
Add the powdered sugar slowly...unless you want to create a snow flurry in your kitchen... when smooth, add the Vanilla Extract.
ASSEMBLING THE WHOOPIE PIES:
Put one or 2 Tablespoons of the filling between 2 Cookies, and moosh them together a bit.
You can use a pastry bag and a round tip, this will be neat and efficient.
Or you can use a knife and spatula.
Either way....
Then eat.
Step by Step Instructions Orange Creamsicle Whoopie Pies
Put the Dough on Parchment Paper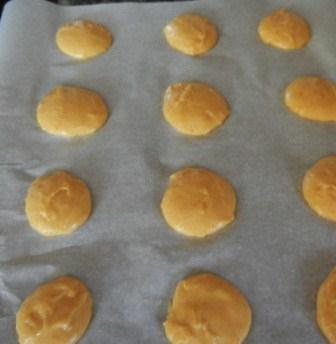 Make Sure You Leave Space
Smooth the tops of the dough blobs if they look pointed. Just wet your finger a bit and smooth the tops.
                All Baked Up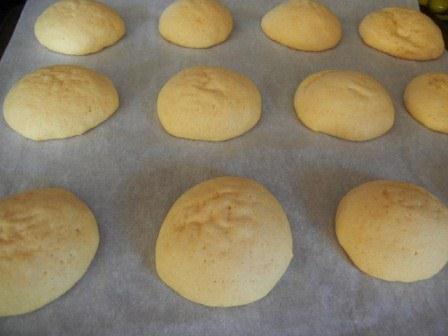 Waiting for Filling
Then It's Time for the Filling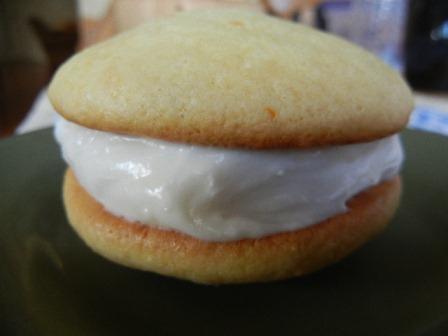 How much filling goes into YOUR Orange Creamsicle Whoopie Pie?
Medium Scoop- Perfect for Scooping Whoopie Pies
You can use a spoon to scoop the batter or dough for cookies, whoopie pies and cupcakes, but more and more I find it is easier and much neater to use an ice cream/cookie scoop with a release mechanism.
Besides, they come out even, which makes the whoopie pies easier to fill.
OXO Good Grips Medium Cooke Scoop
&
Ateco Piping Bag with Large Tips-This is My Go-To Piping Set
This piping set comes with a bag and two large tips, one plain and one star tip. It's the perfect set for filling whoopie pies, or frosting cupcakes. Use this set to get frosting on to something…
Ateco Pastry Decorating Tip, Set of 3
&
Need to Take Your Whoopie Pies Somewhere? This Cupcake Carrier Is Perfect
This is a great carrier for taking your Whoopie Pies on the road. It holds 2 dozen Whoopie Pies… and then it collapses when you need to store it.
Prepworks by Progressive Collapsible Cupcake and Cake Carrier – Red
&