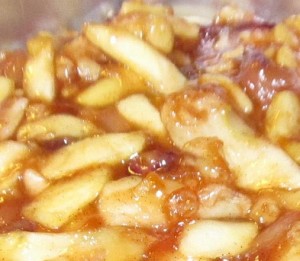 This is a great filling in Fall or Winter
Apples and cinnamon… mmmmm… perfect together, and delicious in these German Pancakes.
Simple to make, I also serve this over ice cream.
Apple Cinnamon Dessert Topping
Makes 2 to 3 cups
Prep Time: 10 minutes
Total Time: 25-30 minutes
Ingredients
2 to 3 apples
3 to 4 Tbl. Sugar
1 tsp. Ground Cinnamon
3 to 4 tsp Butter
Instructions
Peel, core and slice the apples (if you have one of those gadgets that cuts the apple into slices, here's your chance to use it.) A tart or cooking apple is best.
Melt the butter in a saute or frying pan. Add the Apples, Sugar, and Cinnamon. Stir and shift around over medium heat until the apples start to soften, and the sugar caramelizes.
When the apples are soft… but not mushy… and they look done, they are.
Serve over pancakes, waffles, ice cream or just eat plain!