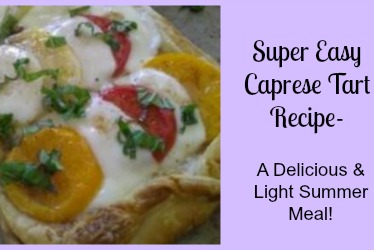 Super Easy Caprese Tart Recipe- A Delicious Light Summer Meal!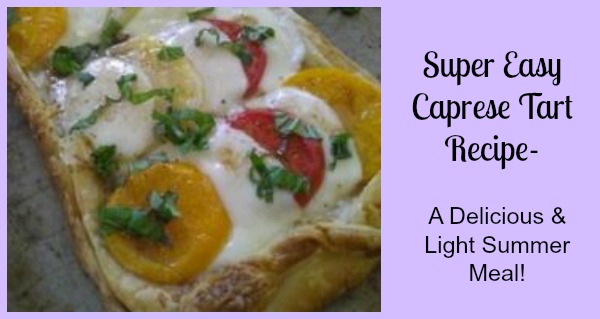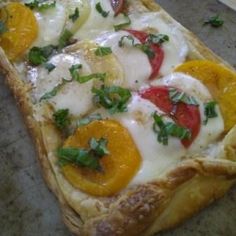 Summertime… and the tomatoes are plentiful. Around here, my girls love tomato in all its incarnations… they will even eat them right off the vine like an apple… and a Caprese Salad is their favorite. So I took the that idea and made this Caprese Tart Recipe.
This Caprese Tart is divine. The kids call it tomato pizza…. I call it an easy summertime dinner, that is fresh and as tasty as eating a tomato right off the vine.
A regular Caprese Salad is layers of fresh Tomato, slices of fresh Mozzarella, fresh Basil… and then sprinkled with olive oil and balsamic vinegar… delicious, and fresh on a warm summer day. On a crunchy base of puff pastry that's been baked with a sprinkling of Parmesan Cheese… ohhhh… sooo nice. (You can even convince the kids that it's PIZZA, and therefore yummy. )
This Caprese Tart Recipe is pretty easy to assemble… you can even pre-bake the Puff Pastry, which speeds up the process quite a bit.
Now, best way to make Puff Pastry? Go to the supermarket, and look in the freezer section. Seriously. Take it home, thaw it out, use it for 9,000,000 things. If, however, your Great Aunt Edna left you the world's best Puff Pastry recipe, and you feel compelled to make it… go right ahead (you can even feel smug about it if you want… we don't care… we're busy EATING while you are fussing with pastry). Fair warning… do not mix up Puff Pastry with Phyllo Dough/Pastry. Phyllo is thin sheets, Puff Pastry bakes up thick and flaky.
Please use fresh RIPE Tomatoes for this recipe… it makes a difference. I used some lovely Heirloom Tomatoes (if you are wondering why my tomatoes are orange and yellow… that's why). Ripe matters, color and size does not matter.
I also used FRESH basil… it's one of the things I can keep alive in my garden consistently…. so I like to use it. That stuff that comes in a jar might work in a pinch… but it won't be the same, and you'll be disappointed .
And at the risk of pounding the point home with a sledgehammer… use fresh mozzarella if you can… our grocery store sells lumps of mozzarella wrapped with some liquid.. it's soft, and melts well. Avoid using the pre-sliced plastic stuff or the pre-grated bagged stuff (if it's all you can get… then use it I guess, it just won't be the same…).
The Caprese Tart I made in the example started out as a 7 x 10 inch pastry sheet because that is what I had in the Refrigerator. It made a Tart big enough for 2 hungry people at lunch (with room for dessert). You can make the tart in any size or shape that you want… HUGE, small, appetizer sized… whatever suits you. Just adjust the topping amounts. You can even adjust the toppings a bit if you want… I've included some variations below.
Caprese Tart Recipe
Caprese Tart Recipe

Makes a nice lunch, or a light dinner on a hot night, and leaves you with plenty of room for dessert. This tastes like a slice of heaven warm... but is still quite good when it cools.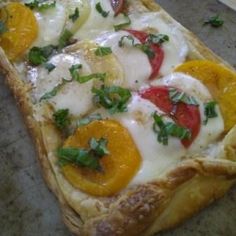 Ingredients
Puff Pastry Sheet- Thawed
1 - 2 tsp Parmesan Cheese- grated
2 - 3 Ripe Tomatoes
6 oz. Mozzarella Cheese sliced
salt and pepper
2 Tbl. Olive Oil
1 Tbl Balsamic Vinegar
3 - 5 Fresh Basil Leaves
Instructions
Preheat the oven to 400 degrees Fahrenheit
Oil a baking sheet (do I have to tell you that it should be big enough for the puff pastry?)
Lay the sheet of Puff Pastry on the oiled baking sheet. Cut a strip 1/2 inch (that's around 1 cm for you metric folks) from each edge. Just leave them in place for a minute.
Brush the puff pastry with olive oil (got a pastry brush?)
Now lay the cut off edges onto the new edges.. basically, you want a double decker edge.
Olive oil the new edges.
Sprinkle the Parmesan Cheese all over the puff pastry.
Poke holes into the pastry with a fork (just poke poke poke)
Put the Pastry in the oven for 10 minutes.
While the Pastry is baking.....
Slice the tomatoes into 1/4 inch slices (please don't get out your ruler... eyeball it...) if you like thicker tomato... cut it thicker.
Lay the tomato slices on a sheet of paper towel to absorb the extra moisture that comes out of fresh tomatoes (flip it once).
Slice the mozzarella... also around 1/4 inch thick.
Bing!!! Take the pastry out of the oven. (If it's looking a little poofy....go ahead and stab it a few more times with your fork)
Ok, at this point you can set it aside for later... or put it together.
SOME ASSEMBLY REQUIRED
Lay the tomato slices and mozzarella slices onto the tart shell.
Alternate
Make it look nice.... (see the photos if you don't get what I'm saying)
Sprinkle with a bit of salt and pepper.
Back into the 400 degree oven for 5 to 10 minutes ... you want the cheese melting, but not flowing all over the oven.
Take out it of the oven.
Combine 1 Tbl Olive Oil with 1 Tbl Balsamic Vinegar.... brush onto the hot Tart
Make a chiffonade of Basil Leaves (kind of chop them up in strips)... and sprinkle over the Tart.
Eat
Simple Variations For Your Caprese Tart
(Additions you might have in your fridge….)
Spread store bought (or home made) pesto on the base of the tart before adding the tomato and cheese… continue as before.
Chop up some seeded Kalamata Olives… sprinkle over the tomato and cheese before baking.
Chop up marinated artichokes… sprinkle over the tomato and cheese before baking.
Prosciutto … yum. Little bits would be good. Both raw or baked onto the pastry.
Tools and Toppings for Caprese Tart Recipe
Campbells Pepperidge Farm Dough Puff Pastry Sheet, 11 Ounce — 20 per case.
Italian Buffalo Milk Cheese, Mozzarella – Approx. 7 oz
Aged Balsamic Gift Set
&