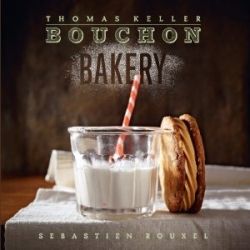 Thomas Keller opened the Bouchon Bakery to provide baked goods to his Bouchon Bistro. The Bakery would make breads, pastries and meringues in the style of a real Parisian Bakery. The original Bouchon Bakery was established in Yountville, California…. but, soon after that, more Bakeries were built to supply baked goods to Bouchon Bistros in New York, Beverly Hills, and Las Vegas.
The Bouchon Bakery Cookbook takes the classic French recipes and gives them a modern look. Keller is known for his perfectionism, and his attention to detail. He and Sebastien Rouxel have written a cookbook that is not only beautiful to look at, but will allow you to recreate the recipes found at Bouchon Bakery.
Bouchon Bakery will be a wonderful gift for any Baker or Foodie on your list (and remember to get one for yourself!)

Who is Thomas Keller?
Thomas Keller is the first American Chef to be awarded 3 Michelin Stars in two different Restaurants at the same time, The French Laundry in Yountville, and Per Se in New York. He is known for perfectionism in the kitchen, and for making food that evokes memories in people. His restaurant Bouchon is reminiscent of a Paris Bistro, and the Bouchon Bakery supplies Breads and Pastries in the Paris style.
Beyond the restaurants, Thomas Keller has become a strong advocate for food sustainability. Buying locally and serving seasonal foods is vitally important to his menus. Using fresh quality ingredients create the highest quality meals. Much of the produce served at The French Laundry is grown in their private garden.
Cookbook Author, Restaurant Owner, President of the United States team of the Bocuse d'Or , and voted Chef of the Year by Bon Apetit Magazine, and Best American Chef by the James Beard Foundation, Thomas Keller is a legendary Chef.