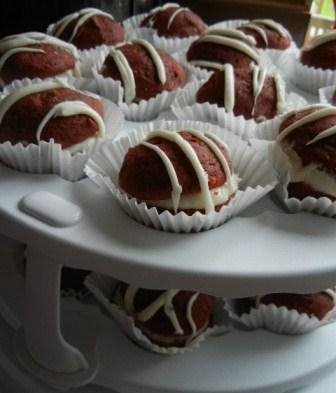 This Easy Red Velvet Whoopie Pie Recipe will be the hit of any party. Red Velvet is THE hot flavor. Everyone is making it, everyone is eating it.
Why? (are you kidding?)
Because it's totally delicious!! Seriously… this is chocolate in a pretty outfit. YUM!
Now… a big cake is a lot of work for a little snack (plus it is a hassle to fit into a lunch box…) and red velvet cupcakes have been done so often that they've been all but BANNED from Cupcake Wars (yes I watch, totally addicted to it…. and on some days, I'm sure I can win… other days? I figure there is no way I can make a 1000 sushi cupcakes…)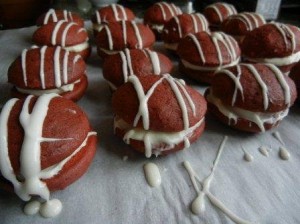 Back to Red Velvet… Love the flavor… but what is a good way to get that flavor in a convenient, easy to carry, not totally overdone way? Easy…
Red Velvet Whoopie Pies    …you have to love a dessert that has such a happy name.
Although seriously,  we could call these – Incredible Vanishing Pies- I made 2 batches this weekend, and they are gone gone gone (just a few mysterious crumbs left in the storage box…)
Easy Red Velvet Whoopie Pie Recipe
Easy Red Velvet Whoopie Pie Recipe with Cream Cheese Filling

Red Velvet Whoopie Pies are filled with a smooth cream cheese filling. Making these is a bit like making puffy cookies filled with frosting. You can decorate the tops of the Whoopie Pies with a drizzle of the frosting... or serve them plain. When I serve them decorated, I put them in cupcake liners. It looks nice, and is a little less messy.
Easy to make, fun to eat, silly to say...
Whoopie Pies!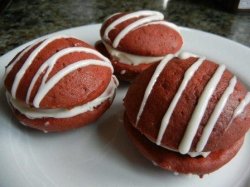 Ingredients
Red Velvet Cookies:
2 1/4 cups Unbleached Flour
1/4 cup Unsweetened Cocoa Powder
1/2 tsp. Baking Soda
1/2 tsp. Baking Powder
3/4 cup room temp. Butter
1 cup Sugar
1 Egg
1 tsp.Vanilla Extract
3/4 cup Buttermilk
1 TBL. liquid Red Food Coloring
Cream Cheese Filling:
1 8oz. package Cream Cheese
1/2 cup Butter- room temp
3 cups Powdered Sugar
1 tsp
Vanilla Extract
Instructions
For the Cookies:
Preheat oven to 350 degrees F.
Line 3 baking sheets with parchment paper... you don't want them to stick!
In the Mixer... beat butter and sugar until fluffy, around 4 to 5 minutes.
Add the egg and vanilla, beat well, scrape down sides of the bowl.
Combine flour, cocoa and baking soda and powder in a measuring cup or bowl.
Set mixer to low speed.
Alternate the addition of the flour mixture and buttermilk to the butter/egg mixture in mixing bowl, starting and ending with the flour.
Scrape down sides one more time, mix dough completely.
Using a small ice cream scoop, scoop out the dough onto the parchment paper about 2 inches apart. Wet your hands a bit and smooth the tops of the dough blobs.
Bake for 9 minutes... let cool on cookie sheet.
Cream Cheese Filling:
Beat the butter and cream cheese until smooth, add the sugar and vanilla.... don't dump in the sugar too fast, or it will bounce back in your face!
When the cookies are all baked, and the filling is smooth, it's time to assemble the whoopie pies.
Some Assembly Required:
Take a cookie... spread a big glob of filling on it... top with another cookie. Ta dah!
For bonus points, you can put some of the left over filling in a small plastic baggie, clip a tiny corner of the baggie, and squeeze some of the filling over the tops of the whoopie pies.
Now go eat
Helpful Tools for Baking Whoopie Pies
Since I serve them in cupcake liners… I keep loads of white ones on hand.
A World of Deals Best Quality Standard Size White Cupcake Paper – Baking Cup – 1 Pack Cup Liners 500 Pcs
Kirkland Signature Non Stick Parchment Paper, 205 sqft
OXO Good Grips Medium Cooke Scoop
Ateco Pastry Decorating Tip, Set of 3
&
Red Velvet Whoopie Pies are BAKE SALE FAVORITES!
Red Velvet Whoopie Pies are great for Bake Sales!
Sell them in cupcake liners, or wrap in plastic.
They will sell like hotcakes…
or
Whoopie Pies!
Great Bake Sale Displays!
Graphics and More Bake Sale – Fundraiser Sign Banner – 46
Utenlid 4-Tier Stacked Party Cupcake and Dessert Tower – Clear Acrylic Cake Stand
&
Step By Step Instructions for Baking Red Velvet Whoopie Pies
 Using A Cookie Scoop…. Put Blobs of Dough On Parchment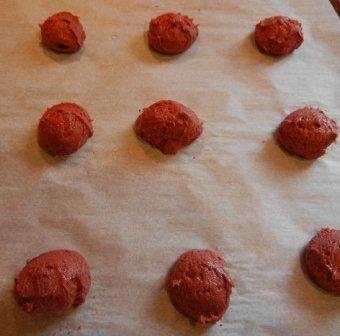 Smooth the Tops
Yum… Baked , but not done yet!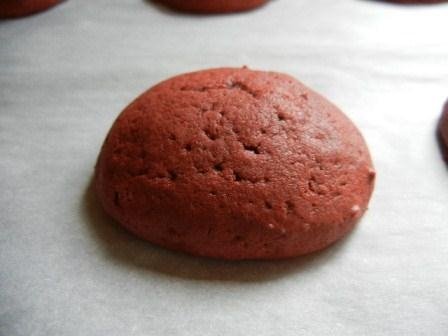 Gotta fill it up!
Use a Piping Bag, or a Spatula…
 Drizzle Extra Filling over Your Whoopie Pies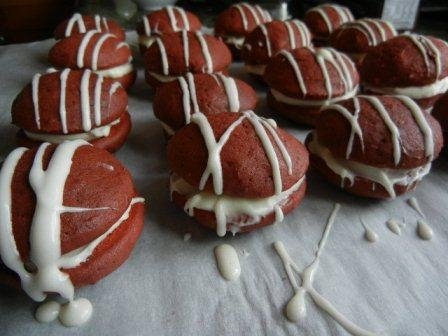 Put some filling into a small piping bag or a plastic baggie, and clip the corner to get the drizzle to come out. If the filling is thick, add a bit of milk.
Serve them in Cupcake Liners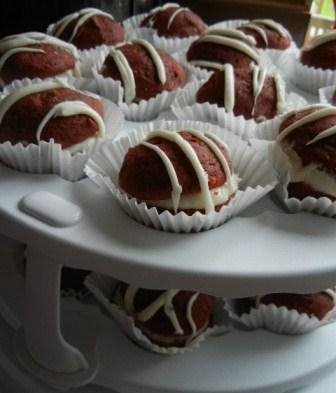 Makes them look extra FANCY
And they fit nicely into a Cupcake Carrier