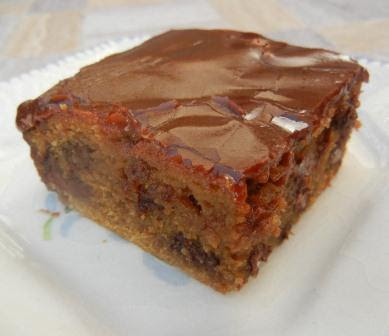 Mocha Brownies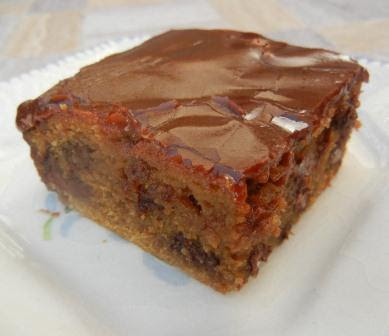 These Brownies are not really Brownies. They are actually a thick, rich Mocha Bar Cookie mixed with Chocolate Chips and topped with a Chocolate Icing.
Let's just call them Mocha Brownies.
This recipe came about after a few days in Southern California… turns out, I can't spend ALL my time lounging by the pool (although, it's still not entirely clear to me why I can't)… After a while, people start to say things like "gosh, I'm hungry" and "it would be great to have something sweet to snack on" and the very pointed "MOM! Can you bake us a snack?!?".
I took the hint, and headed for the kitchen (avoiding all mirrors along the way, I'm in a swimsuit, and there is no point in rubbing it in). Now… this isn't my kitchen. It's mom's kitchen. This means it USED to be my kitchen too, but much like my old bedroom is no longer my bedroom, the kitchen has undergone a few changes (why aren't the measuring cups where they used to be?)
After searching the pantry for ingredients… I came up with these Mocha Brownies. The Brownie has a strong coffee flavor (kind of like those coffee candies that we used to suck on) and is loaded with chocolate chips. The icing is a sweet blend of chocolate, coffee, and powdered sugar (oh, and a bit of butter… for richness).
Together… a very satisfying snack…. Now I can head back to the lounge with my book.
Mocha Brownies Recipe
1 cup Brown Sugar
¾ cup Butter
2 Tbl Instant Coffee Granuals
1 Tbl Hot Water
2 Eggs
2 Tbl Vanilla Extract
2 cups Unbleached Flour
2 Tsp Baking Powder
1 cup Semi Sweet Chocolate Chips
Mocha Icing
½ cup Semi Sweet Chocolate Chips
¼ cup Butter
2 cups Powdered Sugar
¼ cup Coffee (use whatever is left from Breakfast)
Instructions
Get out a medium saucepan… melt the Butter and Brown Sugar together while stirring over low to medium heat (don't let it burn, but it doesn't have to take all day).
Combine the Instant Coffee and the hot Water until the Coffee is completely dissolved… add to the Brown Sugar/butter mix.
Stir…. When completely incorporated, pull off the heat and let cool (yes, you can stick it in the fridge to hurry things up).
Preheat the oven to 350 degrees Fahrenheit
Line an 8 x 8 or 9 x 9 inch pan with Aluminum Foil… spray it with some nonstick stuff.
(Alternatively, butter the pan really well….no point in letting things stick).
Ok… once the stuff has reached room temperature (well… not warm anymore)…
Beat the eggs in a small bowl with the Vanilla Extract…. Pour into the cooled Butter/Brown Sugar Stuff (see, if it wasn't cool enough, you'd have scrambled eggs…yuck) and stir to combine.
Combine the Flour and Baking Powder (go ahead and mix them up in the measuring cup), then add to the butter/brown sugar/ egg mix…. Stir until it's completely combined.
Add the Chocolate Chips … stir it all up.
Pour into the Prepared Pan, then bake for 25 minutes.
While the Brownies are baking, prepare the Icing
Icing instructions–
Get that saucepan back out (it's clean, right?)
Combine the Powdered Sugar and Coffee… stir until all the powdered sugar is dissolved.
Melt the chocolate chips and butter together…. Stir until it's nice and smooth. Add the Powdered Sugar/Coffee mix… stir until smooth…
Beep… brownies are done… pull them out of the oven
Pour the icing over the top
Let sit for a bit to cool (or not… it'll be messy if you cut it right away, not the worst)
Slice and eat.