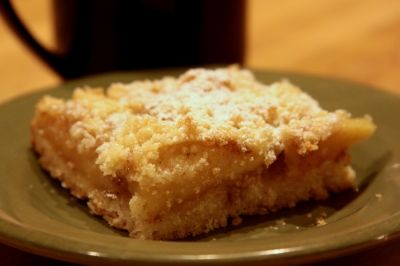 Best Apple Streusel Cake Recipe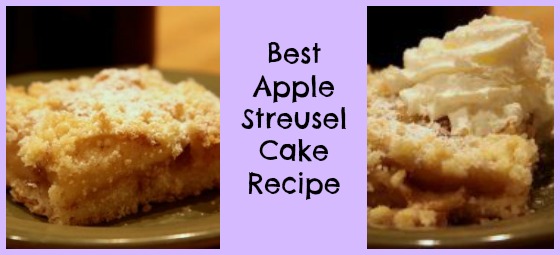 Saturday afternoon, and the craziness swirls around me. Kids and their friends, sports, errands, shopping, cleaning, it goes on all day. Right around 4 o'clock I start looking for a break. A quiet moment, or if not quiet, at least a change of pace. A piece of the Best Apple Streusel Cake Recipe, in German, Apfel Streusel Kuchen is perfect. Not too heavy, it's a sweet and crumbly cake, with tart apples and cinnamon streusel. You can have it plain, with a dusting of powdered sugar, a glaze, or whipped cream (ein Schlag!).
I grew up eating apple cake. It was a staple of my German household. This is an easy recipe, baked in a brownie pan, rather than a round. It's sweeter than most German recipes, adapted a bit for the American palate. It's one of those cakes that is nice enough for company, easy enough for family, and forgiving enough to transport to potlucks.
All in all, it's a perfectly delicious way to take a break from the madness, and prepare you to jump back in.
Best Apple Streusel Cake Recipe
This Apple Sheet cake makes a wonderful treat.
Ingredients
2 cups unbleached flour
1/2 cup sugar
1/2 tsp. baking powder
1 cup butter
1 slightly beaten egg
3/4 cup sugar
1/4 cup unbleached flour
1 tsp. ground cinnamon
4 med apples- peeled, cored and sliced (4 cups)
1 cup sifted powdered sugar
few tsp milk
Instructions
Preheat oven 350 F
Grease a 9 x 13 inch baking pan
Prepare the Crust:

-In medium bowl stir together 2 cups flour, 1/2 cup sugar, and baking powder.
Cut in butter with a pastry cutter, until looks like wet sand.
Stir in beaten egg with fork.
Dump about 2/3 of the dough into the baking pan. Press evenly and firmly into pan.
Prepare the Apples:

-In a large bowl, mix the 2/3 cup sugar, 1/4 cup flour and the cinnamon.
Add the Apples, toss to combine thoroughly .
Lay the apple slices over the crust. If you are in a hurry, dump them on... if you want to spend a few minutes, lay them out neatly.
Sprinkle any remaining flour/sugar/cinnamon stuff from the bowl.
Take the other 1/3 of the dough and crumble it over the apples. I grab it in my fist and sprinkle it through my fingers, making small and big lumps evenly over the apples.
Bake 45 minutes.. until beginning to brown
Cool on rack for 1 hour.
Now you get to choose.....
you can sprinkle powdered sugar over the cake and serve it...
Or
you can make a thick glaze by combining the powdered sugar and a few spoonfuls of milk... make sure it's not too thin... less milk is better...pour the glaze over the cake, let sit a bit, cut and serve
Or
you can eat it plain.
No matter which you choose, it will be delicious! Top it with whipped cream and it's bliss...
https://angrybakery.com/apple-streusel-cake-apfel-streusel-kuchen/
  Laying Out Apple Slices
Make your cake looks good, and it bakes evenly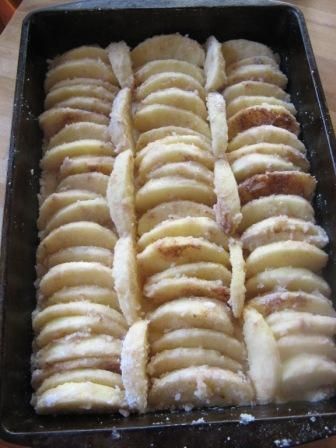 It's not difficult, and it doesn't take too much extra time to lay the apple slices neatly over the crust. The final result will be a nicer looking cake, and the baking will be more even.
I lay out 3 rows of apple slices, and then put some more down the seam.
Then I get to eat any left-over apple slices…..
Helpful Tools For Making the Best Apple Streusel Cake Recipe
Slicing apples into equal slices is super easy with the Apple slicer/corer … those spinning ones make the apple slices a bit too thin.
And I love a baking pan that has a lid. Makes it easier to store the leftovers!
Wilton Recipe Right 9×13 Oblong Pan with Cover
OXO Good Grips Apple Corer and Divider
Orblue Pastry Cutter Stainless Steel – Professional Baking Dough Blender with Blades
&