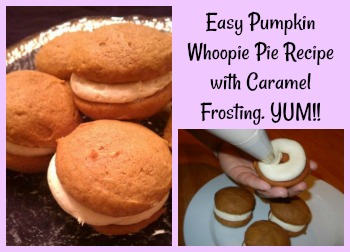 Easy Pumpkin Whoopie Pie Recipe with Caramel Frosting. YUM!!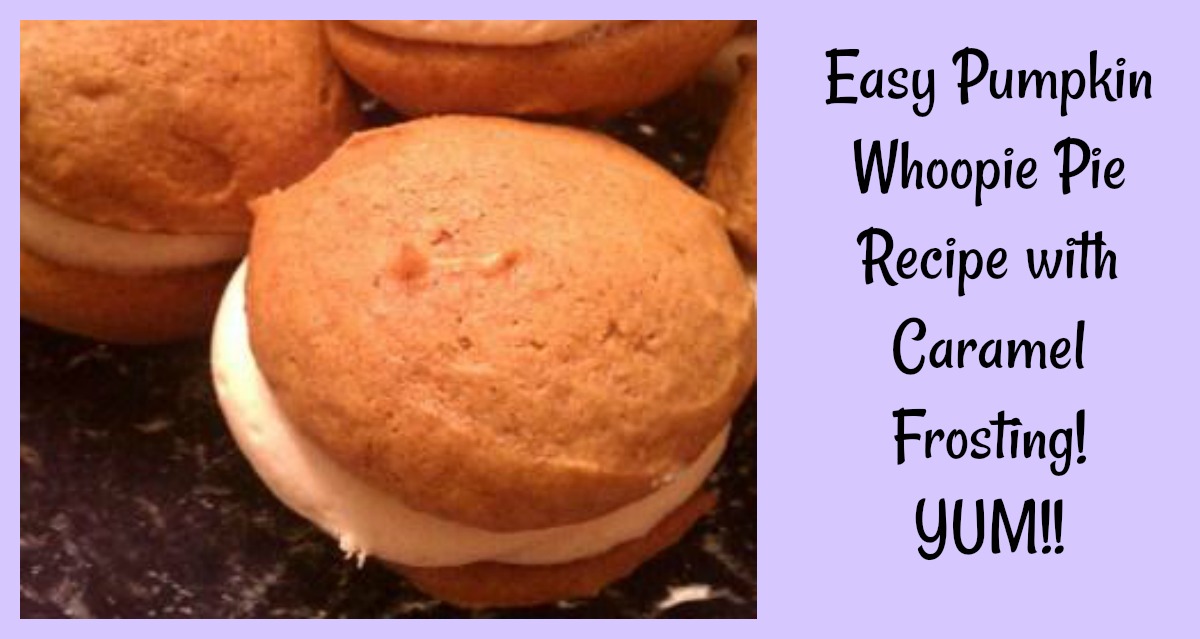 It must be time to bake this Easy Pumpkin Whoopie Pie Recipe… why? well, I'm walking through the Grocery Store, and I notice they are starting to load up the aisles with Holiday food items. Makes it tough to get the cart through without causing some serious mishaps (honestly… I do feel REALLY bad about the Bread Rack and that stack of candy bags, and seriously, those cans of crunchy onion things that went down…totally not my fault. I swerved to avoid a senior in one of those ride-on shopping carts and down the tottery stack went).
Then I see the canned Pumpkin. Hmmm. Ok, it's almost Halloween. Pumpkin that comes in a can is much easier to deal with than pumpkin that comes in a pumpkin.
And what would Halloween be without Pumpkins?
So I grabbed a few cans to make Pumpkin Whoopie Pies!
Whoopie Pies are a great Halloween Treat, they travel well… so they are good to take along to potlucks, or pack into school lunch boxes… and they are fancy enough for your Halloween Buffet.
And baking them makes your kitchen smell like fall….
Easy Pumpkin Whoopie Pie Recipe
Easy Pumpkin Whoopie Pie Recipe With Caramel Frosting

The "cookie" part of the whoopie pie is made with loads of pumpkin and spice, and tastes fantastic on its own. BUT! Sandwich two of the "cookies" with some of the sweet, smooth and fluffy caramel frosting... and oh wow... we've taken pumpkin somewhere new and wonderful.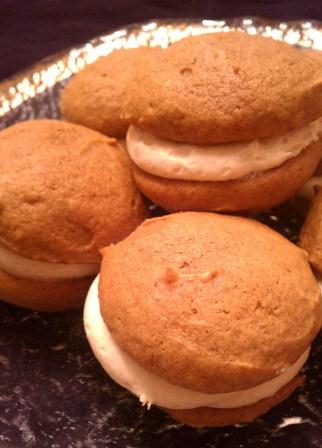 Notes
I serve and store these in cupcake liners... makes it easier to move them around without getting sticky

Ingredients
Pumpkin Whoopie Pie Batter:
2 cups Dark Brown Sugar
1 cup Vegetable or Canola Oil
1 2/3 cup Canned Pumpkin Puree
2 Eggs
1 tsp Vanilla Extract
3 1/2 cups Unbleached Flour
1 tsp Baking Powder
1 tsp Baking Soda
2 tsp Ground Cinnamon
2 tsp Ground Ginger
2 tsp Ground Cloves
CARAMEL FROSTING:
1 cup Butter room temp
1/2 cup Caramel Topping for Ice Cream
2 tsp Vanilla
4 cup Powdered Sugar
Instructions
Preheat Oven to 350 degrees Fahrenheit
Line Baking sheets with Parchment Paper
Pumpkin Whoopie Pies:
In a large stand mixer, combine sugar and oil... beat until it looks like brown soup.
Add pumpkin puree.. beat to combine
Add eggs, one at a time, beat, scrape down, add Vanilla then beat to smooth.
In a large measuring cup, combine Flour, Baking Soda, Baking Powder, Cinnamon, Ginger, and Cloves.... whisk the dry ingredients together.
Slowly add the flour mixture to the pumpkin mixture (slowly... or it will fly back up at you and get up your nose...)
Beat until combined... don't forget to scrape the bottom of the bowl with a spatula to get some of the bottom bits that hide.
Will be sort of thick when it's ready.
Now
Using a small ice cream scoop... about 1 1/2 inches across.... scoop out the batter onto the parchment paper... I get about 12 on a cookie sheet... so a few inches apart.
Bake for 10 minutes.
Cool on a wire rack (just pull the parchment paper off of the cookie sheet and on to a cooling rack) until COMPLETELY COOL. Don't even think about frosting these babies warm.... you'll have a melty mess on your hands.
CARAMEL FILLING:
Put the room temperature butter into a mixing bowl. Using a stand mixer with a Whisk attachment, whip the butter until fluffy... add the powdered sugar a bit at a time. After adding about 2 cups, add the caramel.
Whip some more... add the rest of the powdered sugar and the vanilla.
If it is too stiff... add a few teaspoons of milk
If it is too loose... add a bit of powdered sugar
SOME ASSEMBLY REQUIRED:
Put the Caramel Filling into a piping bag with a large tip - if you have one- if you don't have one, you can use a spreading knife, it will be fine.
Take one Whoopie Cookie in your hand.... pipe on filling.... top with another Whoopie Cookie... squish down a bit.
Ta Dah!!
now repeat.
Tools to Make Whoopie Pie Baking EASY
OXO Good Grips Medium Cooke Scoop
Kirkland Signature Non Stick Parchment Paper, 205 sqft
Ateco Pastry Decorating Tip, Set of 3
&
Step-by-Step Instructions with Photos
For This Easy Pumpkin Whoopie Pie Recipe
Scoop the Batter onto the Parchment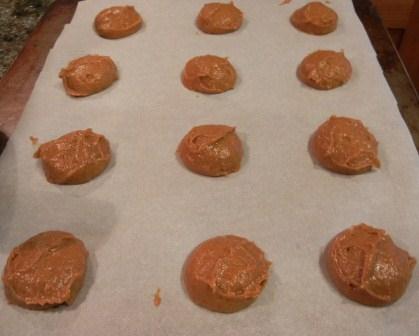 Give them Room
Baked Whoopie Pie Cookies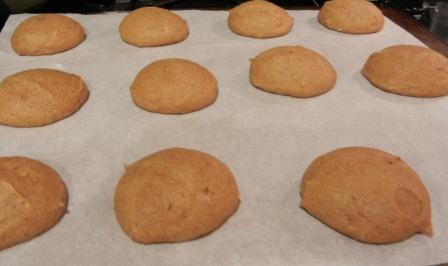 They are even good like this..
 Cool on a Rack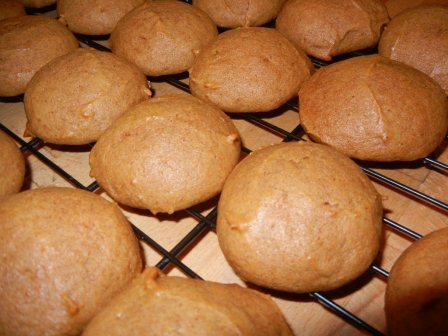 Makes Your House Smell SOOOOOOO Good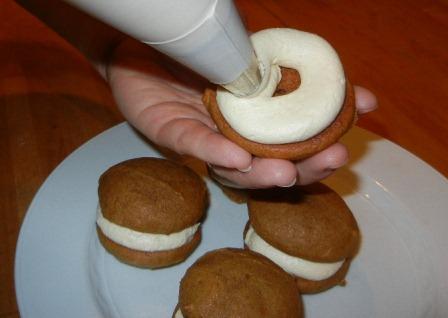 or use a knife…
 Add as much as you like… but beware of blowouts!
Whoopie Pies are Easy to Transport
Whoopie Pies are easy to transport because the filling is on the INSIDE!
Put each Whoopie Pie in a Cupcake Liner for serving….
Take them along to potlucks, sporting events or bake sales.
Packed for Transport
This Batch Went to a Soccer Game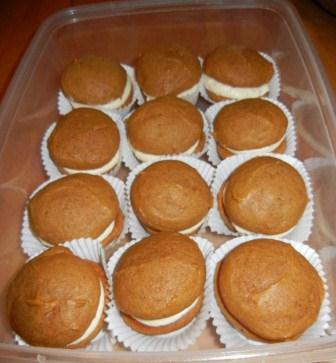 Serving Whoopie Pies in Cupcake Liners makes them easy to hand out.
I can easily fit a dozen in my boxes.