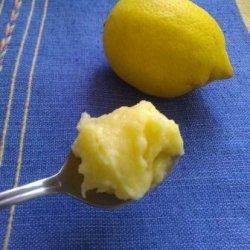 Finally, a  Lemon Curd Recipe easy enough for a novice cook. Lemon Curd is a kitchen staple in my house, but it's a little pricey in the stores, so I make my own. Making Lemon Curd is not difficult at all…. it just takes a few ingredients, and a pot. You can adjust the tart/sweet level to your preference (I personally LOVE tart). I've included step by step instructions with photos.
Really, all you need to make your own very delicious lemon curd is a couple lemons, some sugar, some butter, some eggs, and a bit of cornstarch. Zest your lemons, and then juice them, works perfectly with no waste. You do have to use actual lemons… don't bother picking up that lemon shaped bottle of liquid whatever from the grocery store…. and please please please PLEASE! don't use dried lemon zest.
You can use your fresh Homemade Lemon Curd in any way you want…. spread it on toast or scones, bake it into muffins, use it as a base for a fruit tart, or (and this is the best one) lock yourself away from everyone, dig into it with a spoon and savor that lemon flavor.
Grab your saucepan,  whisk and a spoon… and follow my easy instructions for Lemon Curd.
 Lemon Curd Recipe EASY
Recipe makes about 1 cup (enough for 13 pieces of toast…)
15 minutes cooking time…. Maybe 30 minutes cooling time
Ingredients
2 TBL Lemon Zest
1/4 cup Lemon Juice (2 lemons)
1/3 cup granulated Sugar
2 tsp Cornstarch
1/4 cup Butter
2 Beaten Eggs
Instructions
Strap on your apron and get all of your ingredients out and ready.
In a medium bowl… beat the eggs, and set them aside.
Set a saucepan on the stove… using a microplane zester (you have one, right?) zest the lemons directly into the pan.

Now juice the lemons (you might want to strain out the seeds… some people find them unpleasant to chew … totally up to you though) and pour it into the saucepan.
Add the Sugar and Cornstarch… then stir it all up.


Toss in the butter (I like to cut it into pieces… you can if you want)

Turn the heat on to medium… cook stirring until the it gets all thick and bubbly (bit like glue).



Now… and this really is the only tricky part)… Slowly drizzle HALF of the lemon mixture down the side of the egg bowl while whisking the eggs at the same time. The idea is to keep the eggs from scrambling (at which point, you have an odd breakfast dish that even the dog might turn down).



All whisked up?


Pour the Egg Lemon mixture back into the saucepan (with the rest of the lemon mixture) and cook over medium heat (you left the stove on, right?) while stirring for around 2 more minutes.
Pour the Lemon Curd into a storage container of some sort. Put some waxed paper over it.. kind of press down on the lemon curd (you really don't want a skin to form, do you?)


Cool
Done- you have lemon curd…

Enjoy!
Still too much effort?
You can Buy Lemon Curd here
Tiptree Lemon Curd by Wilkin and Sons 312g
Chivers Lemon Curd 320g (11.3oz)
Luxury Lemon Curd
L