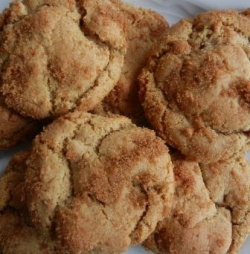 Ginger Cookies Recipe Easy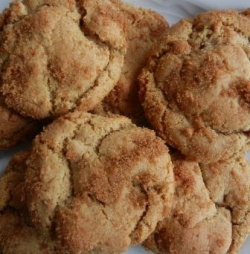 Why is this Ginger Cookies Recipe easy? Because I made it with stuff I had on hand, in no time flat!
See…I was in a real hurry. The track team needed cookies, they were leaving in an hour. I started mixing up the ingredients for Gingersnaps, and broke a cardinal rule of cooking….
MAKE SURE YOU HAVE ALL THE INGREDIENTS BEFORE YOU START MIXING!!
Half of the ingredients are spinning around the mixer, I reach for the molasses…. and the jar is almost empty.
Well…I had no time to go to the store, and I hate waste, what could I do?
Press on, change things up, make it work.
I combined the regular Gingersnap Recipe with a Snickerdoodle concept.
These cookies came out better than expected, much better tasting than standard Gingersnaps. They are sweet, with a spicy taste, and a brown sugar coating.
The Track team wiped them out in no time… luckily, I wrote the recipe down so I could make more!
Ginger Cookies Recipe Easy
Ginger Cookies Recipe Easy

Roll the ginger cookie dough in brown sugar... make sure to press it in a bit.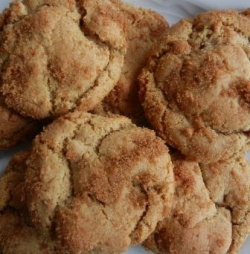 Ingredients
• 2 cups Granulated Sugar
• 1 cup Vegetable Oil
• 2 Eggs
• 1/4 cup Molasses
• 3 cups Flour
• 1 tsp. Baking Soda
• 1 Tbl. Ginger
• 2 tsp. Cinnamon
• 1 cup +/- Dark Brown Sugar
Instructions
Preheat oven to 350 degrees F
In a mixing bowl
Combine sugar and oil
Add eggs one at a time.. beat until light
stir in Molasses
Mix together dry ingredients in a medium bowl, then pour them slowly into the mixing bowl. (I said slowly, or you'll be wearing it!)
Mix well.
Put the Brown Sugar in a small bowl (like the one you ate your cereal out of)
Roll dough into large walnut to small ping pong sized balls.
Roll the dough ball in the brown sugar, press it in a bit.
Put the sugary dough balls on cookie sheets around 2 inches apart.
Bake for 10 to 11 minutes.
Cool a minute or 2 on the cookie sheet, then transfer to cooling rack, then to mouth
Ginger Cookie Dough Freezes Well
The Dough for Ginger Snickerdoodles will freeze well. You can put the dough into a freezer container, or mold the cookies, freeze them on a cookie sheet, then freeze the dough balls.
Thaw them before rolling in Brown Sugar.