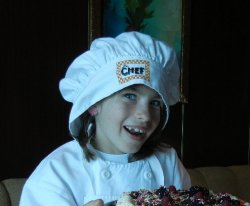 Cooking with Kindergarteners- Get Kids in the Kitchen!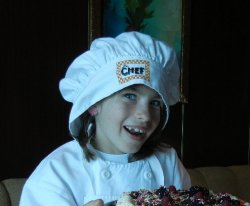 Cooking with Kindergarteners is fun! For a few years I was the Cooking Mom in the Kindergarten. It started on back to school night … and the teacher put out a call for volunteers. Now.. I didn't feel like I wanted to be room mother, did not feel qualified to work with kids on reading and math skills, Motor Fitness? nope, I am clumsy by nature, folding and stapling didn't sound fun, and someone else already signed on for book sales.
Cooking Mom… those words stared at me… and got the wheels turning. I cook, I like cooking with kids… ok.. I signed up.
And it was great.
The kids were fun… they LOVED playing with food. And they even learned to try new things. Granted, we didn't make anything overly complicated, but we did some mixing, measuring, cutting and spreading. We even did some baking.
And now… (hang on, let me get my soap box)… I'm a bit obsessed with the subject of cooking in schools. I believe that we can go a long way to curbing childhood obesity if we teach kids from early on how to prepare food that is both good to eat and healthy. We can teach kids that fast food is not the only way to get an inexpensive meal. Kids will open their minds, and open their mouths, to a load of new things if exposed early, and if they are allowed to get involved in the food preparation.
So… give it a try. Bring those kids into the kitchen, or, bring the kitchen to the school.. then prepare to be amazed at what they will do.
Cooking in the Classroom More than Just Preparing Food
Cooking in the Classroom teaches much more than just "how to make food". Loads of other skills are learned when Kids Cook.
–Teaches Math Skills– Ingredients are counted out.
–Teaches Measuring Skills– Ingredients are measured in cups or spoons, or even weighed.
-Teaches Science Skills- How do different ingredients react to each other? What happens when you heat ingredients up? or cool them down?
-Cooking Can be a Great Lesson Plan Tie In– Reading Dr. Seuss? Make Green Eggs and Ham…. Reading The Very Grouchy Ladybug? Make Strawberry Ladybugs.
-Good Small Group Activity– Kids work well in small groups of 4 or 5. They are engaged, and the teacher can work with the rest of the class on another project. They learn to co-operate and work in the group, taking turns.
-Motor Skill Development- Cutting, stirring, measuring, pouring…..all helps get those fingers working right.
-Learning New Healthy Habits– Exposure to new fresh fruits and veggies, will encourage kids to eat healthy. In groups, the kids will see the other kids trying 'new' foods, and maybe give them a try too.
-Learning Confidence– Kids can make something, and feel proud that they did it… and then eat it!
-Learning to Organize- Cooking has an order to it… kids learn to help set things up, and then follow the steps.
–Finally, Kids become accepting of new foods, and eat them, if they prepare the dish themselves. Want proof? Parents who swear their kids refuse to eat their greens (salad, spinach etc.) are astonished to find kids gulping down a soup made with with kale… because they made it themselves!
Cooking With Kindergarteners- Get Organized!
(The Nuts and Bolts)
Setting up a Cooking Program for the Kindergarten Class takes a little Organization, but once it's in place, it will flow.
-If possible, combine forces and supplies with another class or two. This saves money, and if you do it in one day, there is only one major set up and clean up.
–Break the Kids into manageable groups. Four to Six kids are perfect. More and there will be too much waiting for a turn. And if possible, try to balance personalities (the teacher should be able to do this)
–Try to keep a consistent day and time. This makes it easier for the teacher and volunteer to schedule…. and gives the kids a specific time to look forward to.
–Know what you are making in advance, run through it, and be sure you have all supplies and tools. You don't want to have kids waiting while you scrounge up a whisk.
–If at all possible, do the cooking away from the primary learning space. For one class we used a vestibule area outside the classrooms… it had a table for 6, and although it was a squeeze, we didn't disturb anyone. For another class we sat at the back of the room while the teacher worked with the others in the front of the room. That blender was a distraction… but we made it work.
Dealing with Food Allergies And Special Diets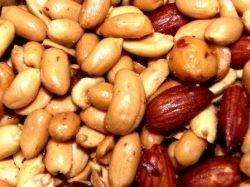 POST A LIST OF ALLERGIES.
Allergies are an issue you need to be aware of. Make sure to get a list of any allergies the kids have from the parents on DAY ONE. Post the list. Respect the list. Keep referring to it. (yes, you will forget)
Avoid cooking with allergy related foods. If you have a peanut allergy in your class… DON'T make ants on a log (peanut butter on celery or a banana, with a trail of raisins walking along the top).
Common Allergies to be aware of-
peanuts
tree nuts
dairy
strawberries
raspberries
wheat
While you are making an allergy list… check to see if any of the kids in the class are Vegetarian or have certain food restrictions. We had a child who could not eat ham.. so… we just made green eggs instead of green eggs and ham.
There are enough recipes out there, if you can't do one because of allergy or restriction, don't panic! Make something else.
Cooking with Kindergarteners Recipes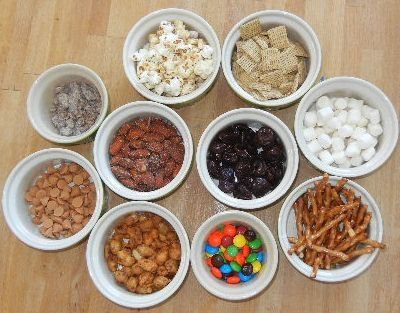 A Lesson in Symmetry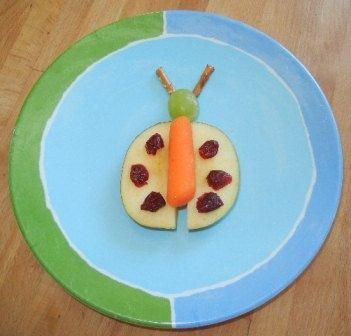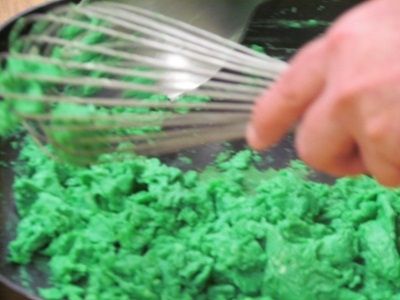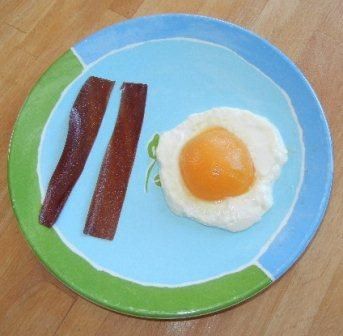 Getting Kids to Try New Things
How do you get Kids to Try the Unfamiliar?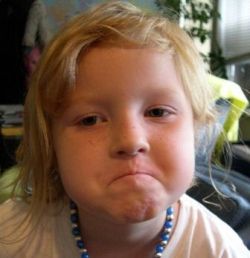 Sometimes Kids don't want to try new things… but we had a few methods that worked.
If they say… "I tried that before, and didn't like it"… you say "well… as we get older, our mouths change, and the taste buds on out tongues change… so maybe they changed for you to like it"
Suggest at least 2 bites. You won't know if you like something with one bite, it takes two.
Make it a challenge… try one new food every day. (Actually, that's a rule we have for vacations… every day one new food. My daughter actually has tried snails, rabbit, and new veggies….my son thinks different flavors of ice cream counts… it doesn't)
If you really have a picky eater, don't push… sometimes peer pressure will encourage them to try something new. If not… don't get in to a power struggle, it's not worth it.
If you have a really disruptive kid… excuse him from the group. You don't want one kid turning all the kids against the new food (I've had it happen… one minute they are ready to try, the next, a goof-ball is telling them that there are boogers in the food). Sometimes knowing that they don't get to be the center of attention, and don't even get to be included in the fun… they quiet down.
Make it fun, make it an adventure, make it delicious. They will try things.
Baking with Kindergarteners
I did do a bit of baking with the kids, and while a toaster oven is ok for some things, it wasn't big enough to handle some of our projects.
With some foods, I had the kids prepare and mix and stir and fill the baking pans, then I took them home to bake in my oven… it worked out just fine (with only one or two spills…)
Pumpkin Pies- We did these from scratch… I baked the pumpkins at home, and brought them to school. The kids scraped out the goop, mixed it with the other ingredients, and we poured it into pre-made shells. I baked them at home… and we ate them for our Thanksgiving feast.
Blueberry Muffins– We measured and mixed ingredients, loaded the muffin pans, and I took them home to bake. We shared them at afternoon break.
Cranberry Orange Bread- Again… mix at school… bake at home. This one had strong flavors, but the kids ate it because they made it. It really helped that the recipe came from the mother of their Kindergarten teacher… They just ADORED her.
How to Fund a Cooking Program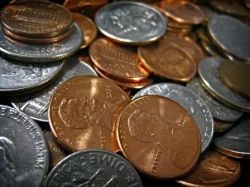 Where does the money come from?
Well… and that's the tricky part, isn't it? How to pay for a cooking program in the classroom.
Our teachers always collected $10 per family at the beginning of the year, and earmarked that money for the cooking program. All products were bought in bulk and stored (except for fresh produce which was bought as needed, or harvested from the school garden)
Another option is to collect ingredients once a month from parents… maybe someone could donate strawberries, and another family could contribute cereal.
If the school has a garden, it would be great to make use of the produce… that's really teaching the kids where food comes from, and what to do with it.
Beg the PTA for funds… then pool with other Kindergarten classes.
We Had a "Green" Classroom… This means re-usable Dishes
Our classrooms have gone Green… so we no longer wanted the waste from Paper Plates and Cups. The PTA invested in these Plastic  plates and cups for each classroom.
Now… this means someone has to wash up… but that's ok
They are sturdy and re-usable. Better for the environment. And fun to use.
Our Class "Textbook" was Kinder Krunchies
Now granted… this is not Julia Child… most of the recipes fall into the "Smear this substance onto this thing" category, but it is a good starting off place.
We photo-copied pages from this book so the kids could color the recipes.
Kinder Krunchies Too! 2005
Kinder Krunchies, Healthy Snack Recipes for Children -1997 ed
&
Our School Garden Provided Some Produce
Eat What You Harvest
One thing the Kids really loved? Going out to the school garden to Harvest veggies like lettuce, tomatoes, snap peas and herbs. We'd bring them to the classroom and make a salad. YUM!
Cooking Tools and Equipment for Cooking With Kindergarteners
Plastic is good… doesn't break..
Make sure measurements are clearly written on the cup! (Oxo does a good job of this)
Scales are fun too..
Wipe off aprons keep school clothes clean… things will spill.
OXO Good Grips Plastic Measuring Cups, 6-Piece, Black
Baker's Secret 5-Piece Measuring Spoon Set, Multi-Color
Cook Pro 4 piece Mixing Bowl Set
StarPack Nylon Kitchen Knife Set (3 Piece) – The Perfect Kids Knife, Lettuce Knife and Safe Kitchen Knife – Bonus 101 Cooking Tips
Zeit Kitchen 6-Piece Utensil Gadget Set – Multicolor
Creative Kids Bright Animated Character Aprons, 20
&
Anything that produces heat or can cut… like a Toaster Oven, Electric Skillet, Blender or knife should be monitored AT ALL TIMES by a grown up.
Presto 06857 16-inch Electric Foldaway Skillet, Black
Oster Extra Large Digital Countertop Oven, Stainless Steel, TSSTTVDGXL-SHP
BLACK+DECKER BL1110RG FusionBlade 12 Speed Blender, Red
&
More Kid's Cookbooks
The Bottom Line
The benefits of starting kids in the kitchen are fairly easy to measure. You encourage healthy habits, teach math and science… and it's loads of fun.
And even if you can't start a cooking program in your school… do get the kids cooking at home.
Let's revise that old saying to read –
"Give a child some goldfish crackers, and he will eat for a day. Teach a child to cook his own food, and he will eat well for a lifetime."