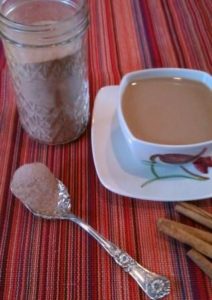 Today is the perfect day for my Instant Chai Tea Latte Mix.
Why?
It's a dreary wet afternoon and everyone is home. Is Sponge Bob REALLY on ALL DAY? Sheesh …. Ugh…. I could run errands (no fun at ALL in rain), could clean some child's room (but my bulldozer is in the shop, and I had to burn my haz mat suit after the last time…), or I could just sit in a quiet place (like on the driveway in my car)…
Sitting sounds nice.
Sitting with a warm cup of Chai Tea Latte sounds very nice.
Luckily, I have this great Instant Chai Tea Latte Mix recipe…. I made a huge batch up, and now whenever I'm in the mood, all I have to do is heat up water, and stir in the powder. Ta dah! (Added bonus… the recipe makes up enough to share… you can pour the powder into a few jars, attach a fancy spoon and instructions, and you have an instant gift.)
In no time at all I settle into my hiding place with a good book and a warm, spicy cup of Chai…… and I can ignore the swirling chaos in the house (at least until I get to the bottom off my mug).
Then it's time to get up and be mom again… but now, my soul has been warmed by the spicy, sweet Chai Tea Latte… so the rain doesn't feel quite as cold.
What is Chai Tea?
Chai Tea is a spicy sweet beverage from India, made by mixing tea with assorted spices. Actually, if you go to South Asia…. you don't order a Chai Tea (half caff skinny) Latte… you order Chai… or Masala Chai.
According to Wikipedia… the proper preparation of Chai goes like this- "A common practice for preparation of one cup of chai is to first combine one half cup of water with one half cup of milk in a pot over heat. Sugar may be added at this point or after. Ginger is then grated into the mixture followed by adding a "tea masala." Although the ingredients may vary from region to region, "tea masala" typically consists of cardamom powder, cinnamon powder, ground cloves, ginger powder, and pepper powder. The mixture is brought to a boil and 1 teaspoon of loose black tea is added. The chai is immediately taken off the heat, covered, and allowed to sit for approximately 10 minutes to allow the black tea to infuse into the chai. The chai is then strained and served."
That sounds like a lot of work.
What it boils down to is this… Chai Tea Latte is a mixture of tea and a load of spices, milk and sugar. It's sweet, spicy, and tastes like someone melted Christmas.
It warms your bones on a cold day, and it is known to aid digestion (so it's great for tummy trouble).
Try it, you will find yourself going back to it again and again.
You can Make Chai Tea Latte at Home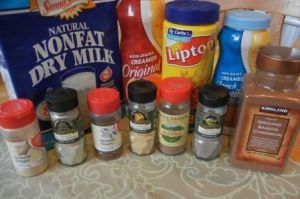 It might look like a lot of ingredients.
Don't Panic!
If you do any holiday baking at all, you probably have at least some of these spices in the back of your spice cabinet. This is actually a good time to dust those bottles off, and use that stuff up.
Added bonus… right before Thanksgiving is a good time to buy spices. Most supermarkets have them on special (buy one get one… and there are coupons in the newspapers). And once you have the spices, you will find other uses for them.
Ginger for Gingerbread. Cardamom for Hot Cross Buns, Cloves for Honey Bread… and so on.
Make the recipe, taste it, savor it, enjoy it.
Now….
If you like it spicy…. feel free to bump up the ginger and white pepper.
If you like it sweeter….. add more sugar.
If you hate sugar…. leave it out, and then either add artificial sweeter to the mix…. or add honey to the finished product.
If you can't drink milk…. replace the dry milk with more non-dairy creamer.
If you don't feel like thinking too much…. just follow my recipe.
Phew…
****NOTE***… no matter how much I pulverized the powder in the food processor, I still get the greebles from the orange peel in the Chai Tea when it re-hydrates. You can chose to leave it out if that creeps you out…. or add a strip of orange on the side of your cup….
Instant Chai Tea Latte Mix Recipe
Serves: a bunch… makes around 7 1/2 to 8 cups of mix
Prep Time: 10 minutes … counting digging through the cabinet for obscure ingredients time
Total Time: 15 minutes
Ingredients
1 cup Powdered Milk
1 cup Non-Dairy Creamer
1 cup French Vanilla Non-Dairy Creamer
2 cups Granulated Sugar
2 cups Unsweetened Instant Tea Powder
3 tsp. Powdered Ginger
1 Tbl Cinnamon
1 1/2 tsp Cloves
1 Tbl Cardamom
1 1/2 tsp Allspice
1 tsp White Pepper
**1 Tbl Dried Orange Peel
Instructions
**Orange Peel is optional… you will notice the texture in the tea.
Get out a biggish bowl (needs to hold all of the ingredients.) Now get out another bowl… about the same size.
Put all of the ingredients in one of the bowls.
Whisk them together.
Pour some (like 1/3) into the bowl of a food processor with a steel blade. Press the button. Let it whiz around for 30 seconds or so. Pulse a few times…. then let it rip for another 30 seconds.
Pour the processed stuff into the empty bowl.
Repeat processor step with next 1/3.
And then last 1/3.
Done.
Store it in an Air Tight container.
When you are ready to make yourself a cup of Chai Tea Latte….
Heat up a cup of hot water…. add 4 teaspoons of the Instant Chai Tea Latte Powder to the hot water… stir and drink.
If you want it stronger, add more.
Got it the way you like it?
Go find a quiet corner and drink.
Instant Chai Tea Latte Mix Makes a Great Gift
Put in a nice jar, add a cute spoon and maybe a mug… DONE!
Bormioli Rocco Quattro Stagioni 12 Piece, 8.5 oz Glass Decorative Mason Jar Set for Canning / Spice / Jelly / Jam, Gift Boxed
Gracelife European American Style Pack-12 Vintage Coffee Spoon Teaspoon Ice-cream Spoon Best Collection (Flower1doz)
Coffee Mug I Love Chai Latte Coffee – Neonblond
Step by Step Instructions for Chai Tea Latte Mix
Gather Your Ingredients
Kind of a lot… but you need them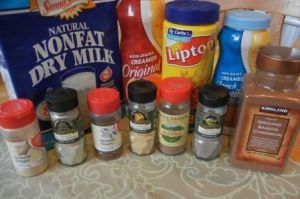 Put all of your Ingredients in a Bowl
Looks pretty, doesn't it? Love the colors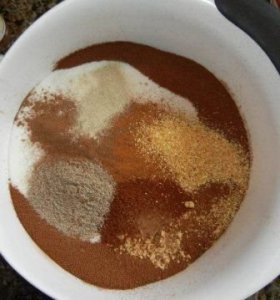 Whisk the Ingredients Together
Get those Spices all Swirled Around
Whisk the Ingredients Together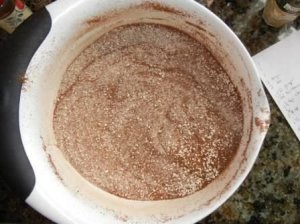 Get those Spices all Swirled Around
Then Run the Mixture through a Food Processor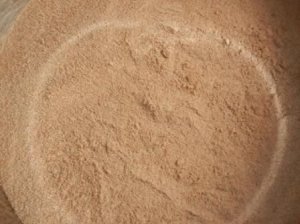 Store, Serve or Drink
When I give Instant Chai Tea Latte as a gift… I always include a silver spoon