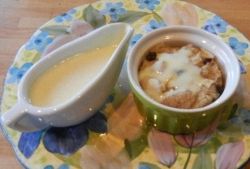 I was in the mood for a warm dessert… something that fills you with a sense of comfort and well being. A dessert that you could eat in front of a fireplace and feel cozy. And a little rum couldn't hurt...The Best Apple Raisin Bread Pudding Recipe is loaded with  chopped tart Green Apple and Raisins soaked in Rum… and it exactly what I need! I served it with Vanilla Sauce (also prepared with a hint of rum…grin). YUM!
This is a warm dessert that will fill your home with the smells of cinnamon and vanilla. I find it best served straight from the oven (with a bit of cool down time… say 15 min). You can make it in advance and store it in the fridge. Pop it in the oven for a bit (say 15 to 20 min) to warm up.
If you don't want to use rum to soften your raisins …you can use brandy… hee hee
For those of you who don't want to use alcohol at all…. just soften the raisins with Apple Juice.
This is a great way to use up stale bread, in fact, stale bread holds up better. I just used regular old french bread with the crusts removed. You can use Challah or Brioche Bread… if you have it.
Serve the bread pudding with Vanilla Sauce, or a scoop of vanilla ice cream.
I've provided step-by-step instructions with photos below.
Best Apple Raisin Bread Pudding Recipe
Makes- 6 Custard Dishes, 1 8×8 inch pan
Prep Time: 20 min
Total Time: 1 hour
Ingredients
1/2 cup Raisins (any color)
1/4 cup rum (or apple juice)
4 cups Day Old Bread- cubed
1/4 cup Butter- melted
3/4 cup Granulated Sugar
1 1/2 cups Milk
3 Eggs
2 tsp. Vanilla Extract
1 tsp ground Cinnamon
1 Apple- tart
Instructions
Preheat the oven to 325 degrees Fahrenheit
Butter ( or use spray stuff) on your custard dishes or 8 by 8 baking dish. If you use the smaller custard dishes, you set them on a baking sheet to make them easier to move around.
Cut the bread into cubes… you can decide whether or not you want the crust…I took it off. This is not precision surgery, so don't fret about getting the pieces all the same and pretty. It's going to get mixed up into a custard anyway. Besides… rustic is in.
Spread the bread bits on a baking sheet, and pop into the oven for 10 minutes. You want to toast the pieces up a little bit to give them substance. Then remove from oven and set aside
While this is happening…
In a shallow microwave safe dish, combine the raisins and the rum (or apple juice) and microwave at high heat for 30 seconds. Set it aside to soak together while you prepare the rest of the dish.
Peel, core and slice a tart Apple (I like the Granny Smith… but you can use what you like), then dice it. Set the bits aside.
In a larger bowl, combine the melted and cooled butter, the sugar, the eggs, the milk, the vanilla extract and the cinnamon… whisk until well blended.
Add in the rum soaked raisins (along with any remaining liquid) and the apple bits. Stir until combined.
Add in the toasted bread pieces. Use a spatula to mix it all together. All of the bread should be a bit wet.
Set the bowl aside for 5 minutes to let the bread get a really good soaking.
Fill the custard dishes evenly, or dump the whole mess into the 8 by 8 dish.
Bake at 325 degree for
35 min for Custard Dishes
55 min for 8 by 8 Baking Pan
(you'll know it's done when you can slide a knife in the middle of the baked pudding, and it comes out cleanly)
Remove from oven, serve hot or at room temperature.
Vanilla Sauce Recipe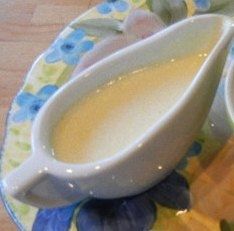 Sweet, creamy, vanilla-y… serve with Bread Pudding
This is a super easy Vanilla Sauce… I serve it with Rum Raisin and Apple Bread Pudding, but it would also be delicious with other desserts like… chocolate pudding, or a bowl of raspberries… It would also be delicious to just spoon up like soup… (yum.. indulgent)
Serves: Makes 1 cup of Vanilla Sauce
Prep Time: 15 min
Total Time: 15 min
Ingredients
1 cup Milk (I used low fat)
3 Egg Yolks
8 Tbl Granulated Sugar
1 Tbl. Vanilla Extract
1 tsp Rum (more or less)
Instructions
Use a small saucepan… bring the Milk to simmer over Medium heat…DON'T LET IT BOIL!! You just want bubbles to start forming around the edge of the pan.
While the milk is cooking., in a bowl, whisk together the egg yolks and the sugar. Whisk until they have blended and lightened a bit. You will see a ribbon of yellow when you lift the whisk.
When the milk is ready, slowly add it to the egg mixture in a thin stream…. WHISKING ALL THE WHILE. Don't just dump it all in at once, or you'll end up with sweet scrambled eggs… and that's so yucky the dog won't even want it.
When the milk is completely incorporated, pour it all back into the saucepan and cook over low heat.
Keep stirring.
It will begin to thicken after a bit. When you can draw a track across the back of a spoon that doesn't blur away, it's thick enough. Take it off the heat.
Add the Vanilla, and if you want to, add the Rum.
Serve warm or cold.
Rum Raisin Bread Pudding With Vanilla Sauce
Step By Step Instructions
Dice up a Tart Apple,I Prefer Green Apples for their tartness.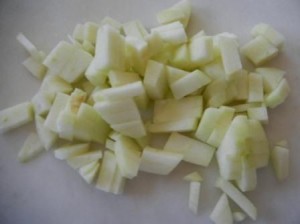 Combine the Egg, Milk, Melted Butter, Vanilla,
Rum-Soaked-Raisins and Apple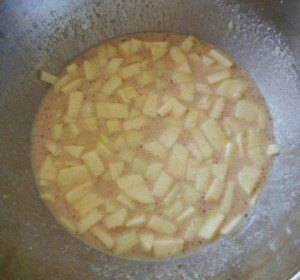 It looks odd… just work with me here.
Stir in the Toasted Bread Cubes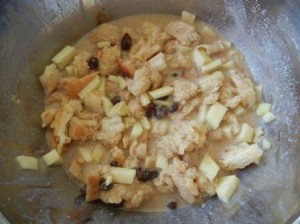 Let it sit for 5 minutes to really soak in… go read a magazine article or something.
Spoon into Baking Dish or Dishes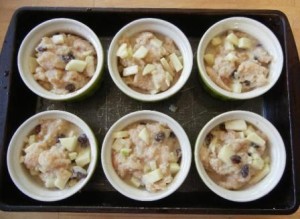 See how I have my little dishes on a baking sheet? It makes it easier to get them in and out of the oven.
All done… Right out of the Oven the Bread Pudding will be Poofed Up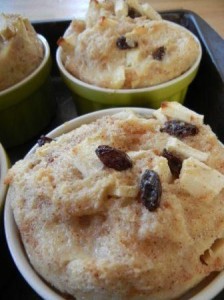 It will sink and settle as it cools
Make the Vanilla Sauce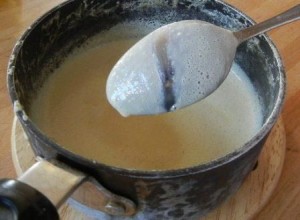 Vanilla Sauce is Done when you can draw a line across the back of the spoon with your finger
If You Can't Eat All of Your Pudding Right Away..
Rum-Raisin and Apple Bread Pudding tastes best straight from the oven… But you can store it for later! Cover the cooled Bread Pudding with Plastic Wrap… and put it in the Fridge. I prefer it re-heated in the oven, but the microwave will do the trick.
And it's fabulous for Breakfast!
But Will the Kids Eat It?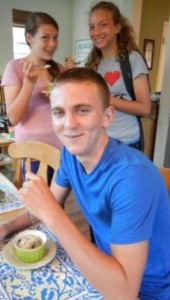 The sign was up and flashing last night. Angry Baker is cooking! Suddenly there are 8 or 9 people for dinner … and dessert…. with more on the way. I was concerned that Rum-Raisin and Apple Bread Pudding with Vanilla Sauce wouldn't appeal to the palates of the younger crowd. (I checked the cookie jar to make sure there was a backup plan) But, I was happily surprised and delighted to get rave reviews from all of my young guests. Some of them had never had Bread Pudding before, others let me know they had… and that this was a particularly good recipe.
And they all slurped up the Vanilla Sauce!
Yum