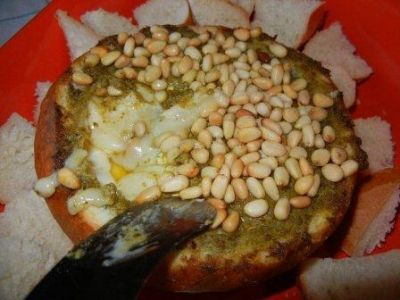 Baked Brie with Pesto and Pine Nuts is a rich, flavorful appetizer that is simple to make. Really, the name pretty much covers the ingredient list… just add bread… I bake the Brie Cheese in a small sourdough loaf… this being the San Francisco Bay Area, Sourdough is practically mandatory… but any bread bowl will do. Or, just use a small casserole dish.
Either way you make it, the creamy, salty, nutty flavors will be a huge hit…. serve it at your next gathering, or make it for yourself (there is no rule that says you have to share if you don't want to). For this recipe, it's best to use a full wheel of Brie Cheese… a small one (unless you are cooking food for MASSES of people). I've never tried using a wedge…. but I imagine it can be done. Let me know if you do… and if it worked.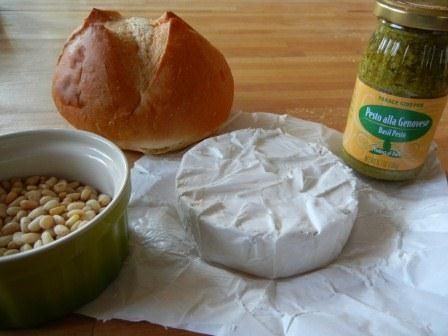 You can make your own Pesto (show off) or just get the stuff in the container at the store. Yes, fresh is better…. but at the moment I'm without Basil in the garden (we had a garden incident… I prefer not to discuss it… let's just say, someone tore out my herbs by accident). Pine nuts are rich and nutty, and are perfect for this recipe. I imagine though, that if Pine Nuts are not available to you, you could use unsalted Cashews or Macadamia nuts…. hmm… might have to try that….
I wrote this recipe for a friend I've never met…. one of my readers , and despite not being a dessert person (she calls herself a Brie and nuts eater), she always has the kindest things to say about my work. This is my way of thanking her.
Baked Brie with Pine Nuts and Pesto Recipe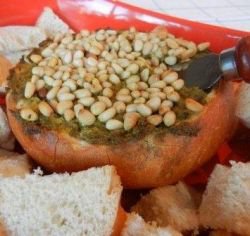 Serves: You, and whoever you want to share with…
Prep Time: 10 minutes… including jar opening.
Total Time: 30 minutes plus or minus
Ingredients
1 small round Loaf of Sourdough Bread
1 small container of pesto (1 cup or less)
1 small wheel of Brie (mine was 8 oz)
1/3 cup Pine Nuts
Baguette slices Crackers or bread
Instructions
Preheat your oven to 350 degrees Fahrenheit
Pull an oven safe dish out of the cabinet.
Cut the top off of a small round loaf of bread.
Cut around the inside of the bread about 1/2 inch from crust…. You want the hole to be the same size as your brie wheel….Just eyeball it, don't fuss about exact measurements… you can always trim it up (or shove the cheese in to fit)
Pull the excess bread out (use for breadcrumbs, or as a mid-prep snack).
Coat the inside of the bread with pesto… get it in there good.
Cut the top skin off of the brie wheel
Shove the brie into the bread
Cover the top of the Brie with pesto
Sprinkle Pine Nuts over the top of the pesto
Put in an oven safe casserole… bake 20 minutes or so…  until the cheese is super soft
Scoop up Baked Brie with an appetizer knife onto cut up bread, crackers or slices of baguette. Then eat the bread bowl…..mmmmmmm
Boston Warehouse Touchdown Spreader, Set of 4
Amco Traditional Spreaders, Stainless Steel Blades, Set of 4
Paperproducts Design Resin Wine Cork Handle Cheese Spreaders, Boxed Set of 4