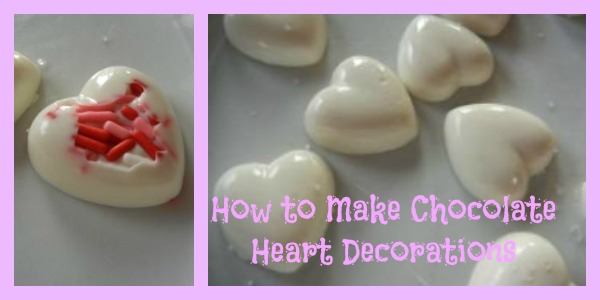 How to Make Chocolate Heart Decorations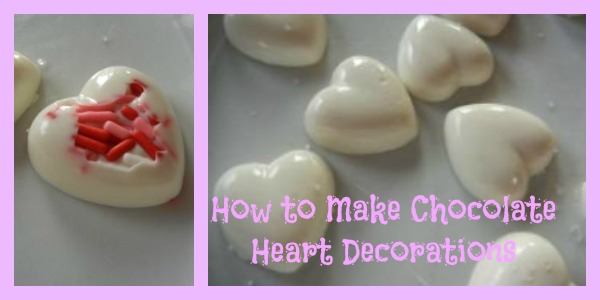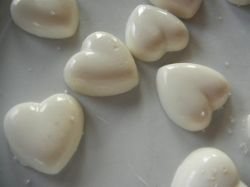 Follow the simple directions, and you will know how to make Chocolate Heart Decorations in no time. It is incredibly easy. And the results? Lots of OOOhhhhs! and AAhhhhss!
What you need to make Chocolate Hearts
Melting Chocolate– you can use chocolate bars, chocolate chips or candy melts. Candy Melts tend to be the most foolproof when working with white chocolate.
Heart Mold–   ( no…not that icky stuff that grows on wet bathing trunks that were accidentally left in the bottom of your son's gym bag over the summer…) Candy molds are nothing more than a sheet of plastic with shapes in it.
How to Make Chocolate Heart Decorations
Melt the chocolate. You can use the double boiler method on the stove top (place a pan of water on the stove, bring the water to a simmer, put the chocolate into a bowl that fits into the pan, without falling in, so the bottom of the pan just touches the water….don't let any water touch the chocolate… stir carefully until chocolate is melted).
You can also just put the chocolate chunks in a microwave safe container, and microwave it for a minutes… stir…microwave a bit more.. stir. Done.
Another alternative is to use a Wilton Chocolate Pot… It melts the chocolate, and keeps it to the perfect temperature while you use it.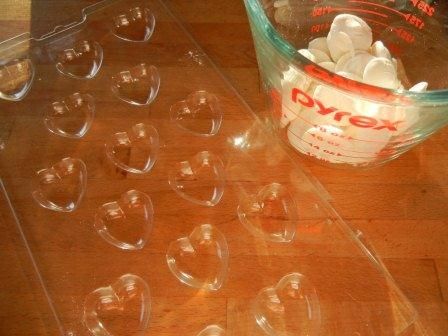 I usually pour the melted chocolate into a plastic bag or piping bag for control, but go ahead and use a spoon. Put the chocolate mold on a cookie sheet (so you can move it without disturbing the contents)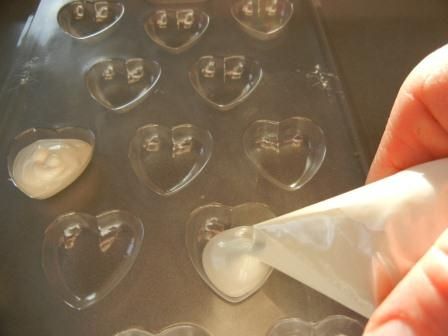 Pipe the chocolate into the mold.
If you want to go crazy and add decoration…put some sprinkles into the mold first…cover with chocolate.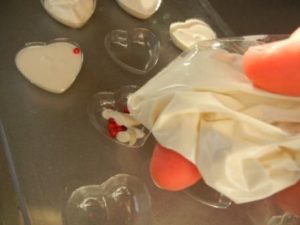 When you have filled the mold… pick it up and tap it down a few times to level it.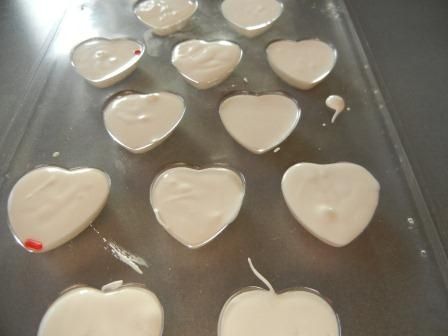 Let it set… if you are in a hurry…stick it in the refrigerator.
When the chocolate is set… pop the shapes out.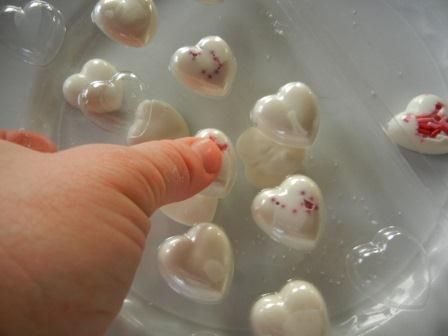 Done…..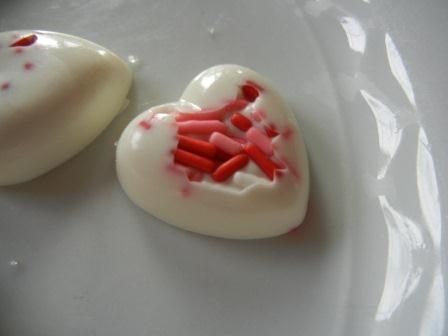 You can also try Piping another color in first.. let it set…then pipe a second color…
Buy Heart Shaped Chocolate Molds
Cybrtrayd V001 Bite Size Hearts Chocolate Candy Mold with Exclusive Cybrtrayd Copyrighted Chocolate Molding Instructions
73% SALE! Limited Time! Makimy Silicone Heart Mold with 12 Chocolate Hearts Recipes
Xcellent Global Mini Heart Shape Silicone Ice Cube / Chocolate Mold Pink M-HG011
Fat Daddio's Dimpled Heart Polycarbonate Candy Mold 28-Piece Tray
Freshware CB-109RD 28-Cavity Heart-Shaped Silicone Mold for Making Homemade Chocolate, Candy, Gummy, Jelly, and More
Need some Melting Chocolate?
Wilton White Candy Melts, 12-Ounce
Merckens Milk Chocolate 2 Pounds
Wilton Dark Candy Cocoa Melts, 12-Ounce
Merckens Ivory Chocolate, White, 2 Pounds
Ghirardelli Chocolate Melting Wafers (for Candy Making and Dipping), 2 Pound Bag (Dark Chocolate)
Wilton Red Candy Melts, 12-Ounce