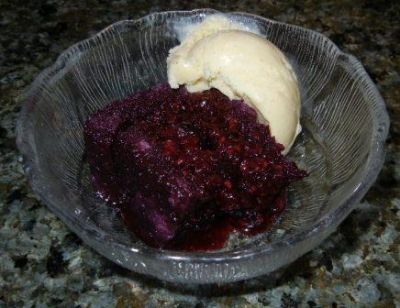 Summer Berry Pudding is a perfect recipe for those hot summer days… and nights. You can prepare it on the stove top in the morning, and let it chill all day. Or prepare it in the cool of the evening, and eat it the next day for an afternoon refreshment. I have altered the original recipe a bit, so now it's a Summer Pudding Frozen Fruit.
I got the recipe from my friend, Michelle, who brought it from her home in England. Who says British food is bland? This refreshing blend of berries is sweet and tart and cool.
There is no actual baking involved in this recipe… you just have to cook the berries a bit. Make this recipe with fresh berries or Frozen ones. It just depends on what you have on hand. (I found Frozen to be much more convenient) I used a Buttermilk Bread.. it's got a bit of heft, but it isn't too dense. Plus.. it comes in a square, so it's easy to cut.
In England it's served with Clotted Cream or Hot Custard. In my kitchen… Vanilla Ice Cream or whipped cream.
Either way, it's a treat!
Summer Pudding Frozen Fruit
Summer Pudding Frozen Fruit

This recipe needs to sit overnight... or at least 8 hours... so plan ahead!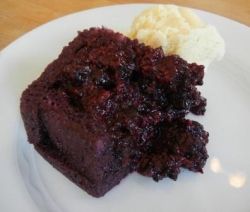 Ingredients
The original recipe calls for
8 oz. prepared Black Currants
8 oz. prepared Red Currants
8 oz. Raspberries
Now... in the USA we don't have fresh currants all that often,and when we do, at least in California, they cost the earth.
Summer Pudding with FROZEN FRUIT:
24 ounces Frozen Mixed Berries- unsweetened
6 oz. (1 cup) sugar
3 Tbl. water
8 - 10 thin sliced White Bread
Instructions
Put the prepared Berries in a large saucepan with the Sugar and Water, bring to a boil and simmer gently for 5 minutes.
Let Cool.
Trim the crust off of the Bread Slices.
Line a 900 ml or 1 1/2 pint Pudding Basin with slices of bread, cutting them to fit (as seen below), mind the gaps... (hee hee British Humor)
** now... if you are like me, and don't have an actual Pudding Basin, I found that a 4 cup square storage container does the trick. You don't get points for beauty, but... it does the job.
Spoon the Berry Mixture into the lined Basin, and top with more bread cut to fit.
Cover the pudding with a plate, and put a weight on it. Stick the whole thing in the fridge where no one will knock it over... let it sit overnight so that the bread is completely soaked through with the berry juices.
To Serve:
Turn the pudding out onto a plate with a lip.
Serve with clotted cream, hot custard or vanilla ice cream.
Looking for a Pudding Mold?
Mason Cash In The Forest Fox Steam Bowl (British Term – Pudding Basin), Cream, 0.95-Quart, 6-1/4 by 6-1/4 by 3-1/2 Inches
Steam Pudding/Cake Mold with Lid – 8 Cup Capacity
7.5cm Set Of 4 Anodised Mini Pudding Moulds
&
Step By Step Photo Instructions for Summer Pudding Frozen Fruit
Line Your Pudding Basin or Container with Bread
Cut the Bread to fit… no crusts. For this I used a Buttermilk Bread… it has a bit more heft, but isn't too dense.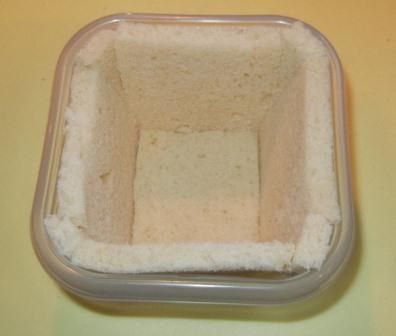 Fill the space with the Berry Mixture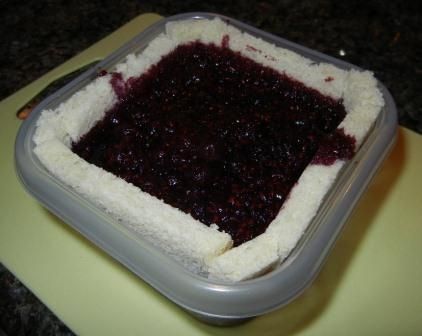 Cut a Piece of Bread to Cover the Top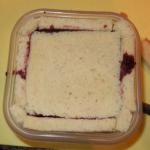 Cover with a plate or something heavy to weigh it down and press it together…
Refrigerate for several hours or overnight
Turn out onto a place….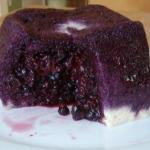 Slice and eat!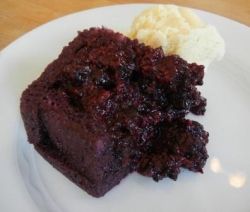 Kids Can Help Make Summer Pudding with Frozen Fruit
Let the kids line the pudding basin or container with the bread. They can use their safety scissors to cut the pieces to fit – like making a 3 dimensional puzzle.