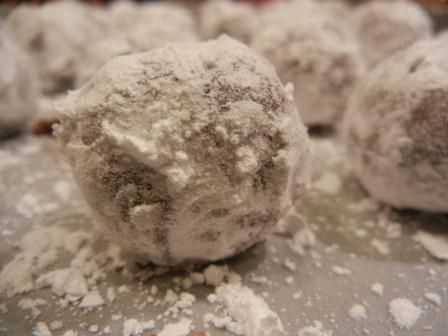 Easy Bourbon Balls Recipe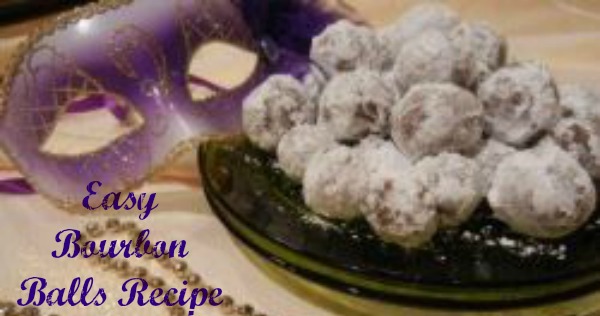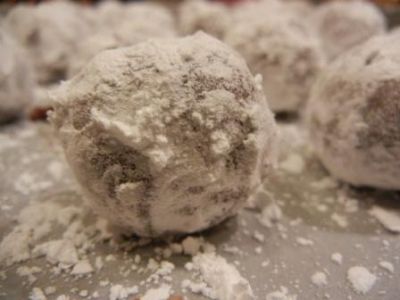 This easy Bourbon Balls recipe falls into that hybrid space between a cookie and a candy. And hybrids are "in" right now… so that makes this an ideal dessert.
Well, that, and it uses enough Bourbon to light up the kitchen…. In fact my son tells me "you should call these Jim Beam Beans!" (Now don't start to panic… the bourbon spreads out over 3 dozen of these tasty little morsels, and unless you eat all of them in one sitting, you'll be fine) (so… I guess I should put the disclaimer in here… don't eat them all in one sitting).
Made with Nilla Wafers (sort of a plain, sweet vanilla cookie), ground pecans, chocolate and Bourbon… then rolled in powdered sugar… these little treats are a party and holiday favorite.
Not a cookie, not a candy, these no bake treats fall into a wonderful zone of Yumminess. They are easy enough for the kids to make… (but I do believe someone might call social services if you let the kids play with alcohol)…. and delicious enough for a fancy party.
If you live in a place where Vanilla Wafers don't exist,  substitute Plain Shortbread. Should work fine. And yes, I suppose you substitute Pecans for Walnuts… but that's all the substitutions you can make. If you throw in something other than Bourbon, you'll have to call these "something other than Bourbon Balls". And that's a mouthful.
We love serving these at Christmas, but they also make a fabulous Mardi Gras Treat!
Ready… get out your food processor (did I forget to mention you need to grind stuff up?) And here we go….
(as usual, I've included photos for you to follow along at home)
Easy Bourbon Balls Recipe
Easy Bourbon Balls Recipe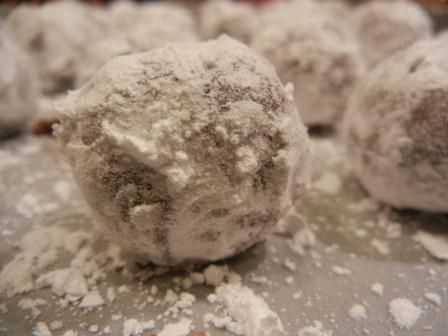 Notes
Now...You can serve these by just sticking them on a plate. And that works. Or you can get little candy papers (my people tend to go through these kind of fast, so making them look extra fancy is silly.) The Paper liner is best if you are serving them in polite society, or at a party where you don't want other people touching all the food. Ick.

Ingredients
Bourbon Balls:
7 oz. (200 grams) Nilla Wafers
5 oz.(140 grams) Pecans-ground
1/2 cups Powdered Sugar
4 oz. Semi-sweet chocolate chips
1 TBL Light Corn Syrup
1/2 cup Bourbon
Coating:
Instructions
Don't preheat your oven, there's no point.
Haul out your food processor (or borrow your neighbor's).
Grind the Vanilla Wafers, Pecans and Powdered Sugar all together... until it's a fine-ish grind. Pour into a bowl, set aside.
Melt the Semi-Sweet Chocolate with the Corn Syrup. Use the microwave and a Pyrex measuring bowl, it's easiest. Go 30 seconds... stir.. 30 seconds... stir....30 seconds.... stir (is is smoothish yet?) Go until the chocolate melts.
It may be a bit stiff (seized) but don't panic, stir it the best you can.
Add the Bourbon.. stir. Now, this part will be a bit irritating..but just when you think it will never come together, it kind of does. Do your best.
Pour the wet stuff into the dry stuff... stir them together until it all looks like wet sand.
Cover with plastic wrap or a plate or whatever...stick in the refrigerator for 30 minutes or so. (This is just enough time to read a chapter or two of that book you started 3 months ago, but can't seem to find time to finish).
OK then?
Set up your work space. Get a cookie sheet... or some other flat place to land the balls... and cover it with waxed paper (no, you don't have do... I just sometimes have this strange disorder that causes me to cover surfaces with wax paper to avoid extra washing)
Put your 1/2 cup Powdered Sugar in a Small Bowl
Get the Bourbon Ball blob out of the fridge
Ready?
With a teaspoon, scoop up a bit of the stuff, and roll it between your hands. How much? hmmm. You want a ball to be about 1 inch in diameter...so, the size of a Pecan?
Drop it into the Powdered Sugar, and roll it around.
Set it aside.
Repeat 3 dozen times.
Done.
If Your Bourbon Balls Start to Look Spotty…
Bourbon Balls like to absorb their powdered sugar coating…. and then sometimes fingers touching the balls make spots.
DON'T Panic.
Just roll them in Powdered Sugar again, they'll be good as new (and a bit sweeter)
Step By Step Instructions with Photos
Use the blade attachment in your food processor to process the Nilla Wafers, Pecans and Powdered Sugar Together… try to get it to look like fine sand.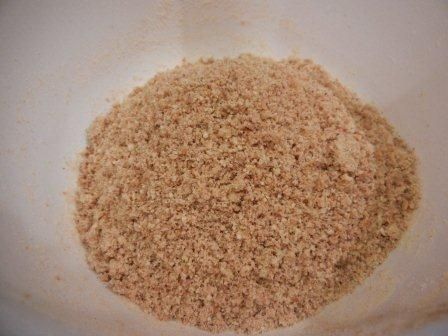 Melt the Chocolate and Corn Syrup Together…Stir them until combined… the mixture will be stiff.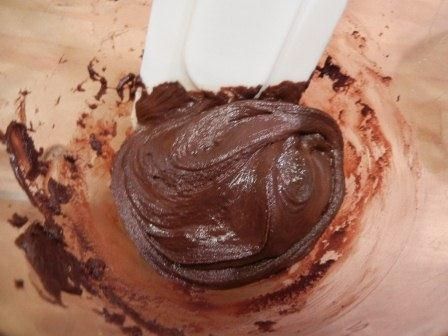 Add the Bourbon… Stir until All Melted Together
Do your best… chocolate and liquid don't like to mix… work it a bit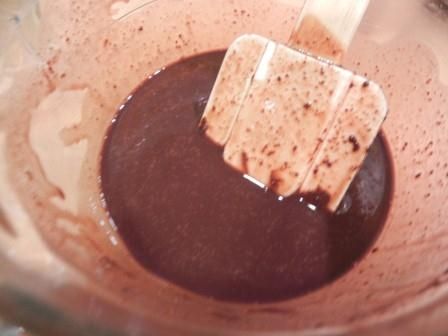 Pour the Wet on the Dry…Stir it up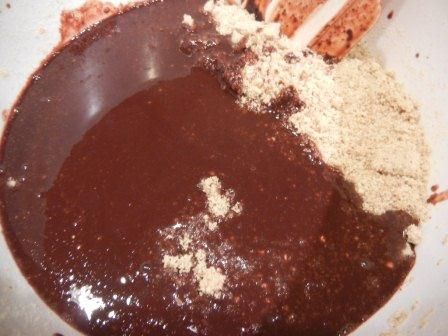 The Bourbon Ball "Dough" Will Look Like This
Cover and Stick and the Fridge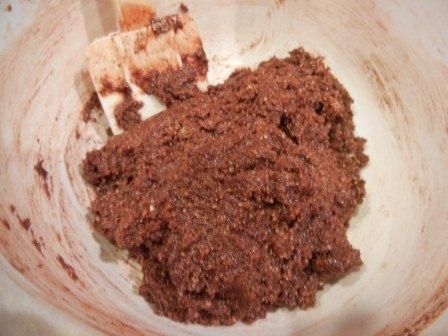 Set Up Your Rolling Station
Dough, Powdered Sugar, and a place to land the Balls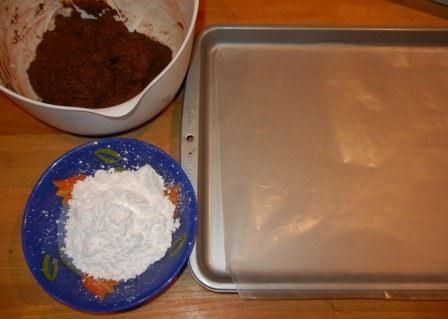 Get a Teaspoon Full of the Bourbon "dough"
Roll it Between Your Hands… Make a neat ball… about 1 inch in diameter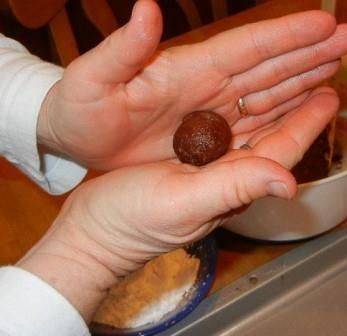 Dip into Powdered Sugar
Roll it around to coat completely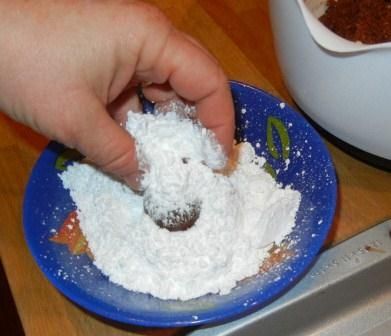 Store Bourbon Balls in an Airtight Container
Put Wax Paper between the Layers