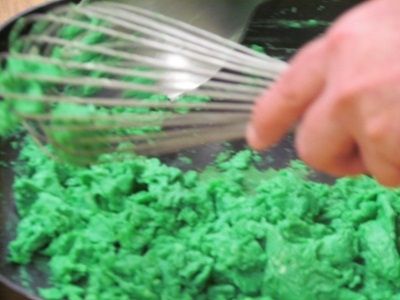 Celebrate Dr. Seuss's Birthday on March 2nd by making this Green Eggs and Ham Recipe Kids will love!
Truly, this looks disgusting, and well… that's half the fun. Getting the kids excited and then watching them eat it.
Don't forget to read the book Green Eggs & Ham first!!!
Side note– I'll let you make the decision on this one… You can make it with green food coloring (looks NASTY, but the kids eat it anyway)… or mix in some thawed frozen spinach.
The Ham can be a cubed ham steak, or you can cut up some ham lunch meat, or you can use Canadian Bacon.
The Kids LOVE cracking the eggs for this, they also enjoy whipping the eggs around.
Bring in an electric skillet to make it easy.
Green Eggs and Ham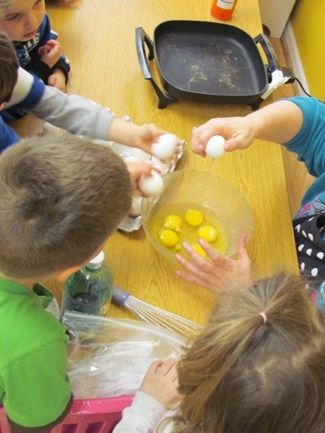 Prep Time: 10 to 15 min teacher prep
Total Time: 15 to 20 min kid time
Ingredients
Eggs
Ham or Canadian Bacon
Few drops Green Food Color or Thawed Frozen Spinach
butter
salt
Instructions
Heat up the Electric Skillet… Keep the kids away from the hot part.
Let the kids break the eggs into a bowl… each kid gets a turn with an egg.
Then Whisk the eggs up.
Add green food color or some thawed frozen spinach.
Melt butter into skillet
Pour in the eggs, let cook until setting…. use a spatula and keep it moving… add a dash of salt…. add the ham or Canadian bacon pieces.
Let each kid have some!
Presto 06852 16-Inch Electric Skillet with Glass Cover
DenadaDenada Cooking Utensils Gift Set – 4 Silicone Kitchen Tools – Red Spatula, Green Spoon, Yellow Brush, Multicolored Whisk
Children's Artists Fabric Aprons – Kitchen, Classroom, Community Event, Crafts & Art Painting Activity. Safe Clean 12 Pack Assorted Colors by Super Z Outlet®
Green Eggs and Ham