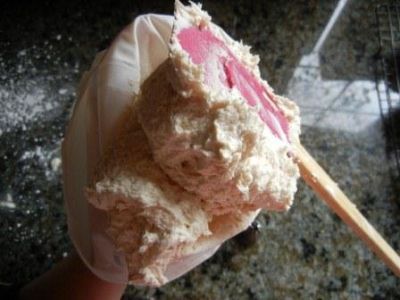 This is a basic Vanilla Buttercream frosting recipe that I use often. Simple and delicious… you can add whatever color you want or need.
(This frosting is naturally off-white because of the butter and vanilla extract.)
White Buttercream Recipe
Makes 5 cups Frosting
Ingredients
1 Cup Butter- room temp
4 cups Powdered Sugar
3 Tbl Vanilla Extract
few Tbl Milk
Instructions
Make sure your butter is soft by leaving it out at room temperature for an hour or so.
Put 1/2 cup of the Butter into the stand mixer with a whisk attachment… turn it on to smash it up a bit.
Add 1 cup of Powdered Sugar… whip
Add 2 teaspoons Vanilla Extract… whip
scrape down sides
Add another cup of Powdered Sugar
Add the rest of the Butter
Add the rest of the Vanilla
Add the rest of the Powdered Sugar
Scrape
Whip
Ok… now look at what you have… you probably need to add some milk to smooth it out. Start with 2 teaspoons.
Whip, scrape, whip
Is it smooth? Fluffy?
If it is too stiff, add more milk
If it is too soft, add more powdered sugar.