Stuffed Cookie Pops!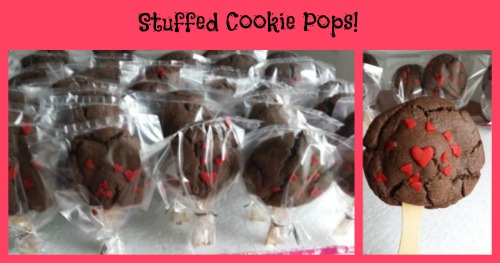 Stuffed Chocolate Cookies on a STICK!
Ok, I admit it… sometimes I need to bakes something showy or spectacular, and I don't feel like jumping through hoops. That's when I whip out this fairly simple recipe…
Stuffed Cookie Pops!
You read that right… Stuffed. Umm… but what are they stuffed with?
Candy bars.
That's right… candy INSIDE a cookie ON a stick.
And to make it even more exciting (as if you aren't already swooning from the wonder of it all… this recipe uses  ONLY 4 ingredients…. (Including BOX CAKE MIX, so it's kind of a cheat, but, um, did I mention that there are candy bars INSIDE the cookies?)
Go ahead and make them "fancy" by adding sprinkles…because, you know… sprinkles are the key to happiness and smiles. These heart ones make them perfect for a Valentine Party treat. (Of course, that raises the ingredient list up to 5… but sometimes you just need to go nuts).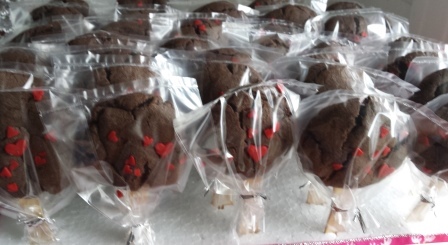 Any caramel type candy bar can go inside. I chose Milky Way bars (chocolate covered caramel and nougat) because they are my favorites, but you can use Snickers bars, Three Musketeers or whatever (wonder if Abba Zabbas would be good? Wonder if they still make Abba Zabbas??)
Easiest is to use the little bite sized candy bars… but… I just had fun size, so I cut them in half. (Using that logic, you could probably just cut a regular candy bar into pieces… although the probability of cookie blow-out may increase…)
Also, since this particular batch was going to a bake sale, I put them on a stick. Everyone loves food on a stick (heck, you could probably sell cold Brussels Sprouts if you put them on a STICK). But, if you don't HAVE sticks… just bake them as cookies. They are just as yummy, and it's one less step for you.
Stuffed Cookie Pops Recipe
Ingredients
1 Box Chocolate Cake Mix (I used Devil's Food… but I imagine most any will do)
2 Eggs
1/3 cup cooking oil Oil (not Olive)
Candy bars…. 12 Fun Sized or 24 minis or 1-2 regular….
Instructions
Preheat the Oven to 350
In a mixer, combine the box mix, eggs and oil. It will be stiff and dry looking… just keep working it until it comes together.
Cut the Candy bars into around ¾ inch by ¾ inch pieces. This is not nuclear physics or brain surgery, don't get out a ruler, just kind of eyeball it. (Bigger means a bigger cookie, but less of them, so you decide).
If you are putting them on a stick, now is the time. I used popsicle sticks… use what you have (just be aware that wooden skewers for kabobs may be too thin). Jam the stick INTO the chocolate bar. This way it will be more secure.
Now, grab a glob of the cookie dough and pat it into a disk about 2 inches around.
Wrap the disk of dough AROUND the chocolate on a stick. Pinch to make sure all the candy is covered.
Sprinkle with the appropriate sprinkles…
Then place it on a cookie sheet. Some people like the insurance of a sheet of parchment paper underneath… just in case….
Repeat
And Again
And Again…. Until all the dough is used up.
Bake for 8-9 minutes… the edges should be set…
Let the cookies rest on the hot cookie sheet (out of the oven) for another 10 minutes before transferring them to a cooling rack.
Note… a few cookies might have blow-outs (caramel seeping out)… this is not fatal. It's actually quite delicious, so set those aside for yourself.
I chose to wrap the cookies individually for sale, but you can just push the stick end into a piece of clean foam so they stand for serving.
https://angrybakery.com/stuffed-cookie-pops/
Gather Your Supplies
Norpro Wooden Treat Sticks, 100 Pieces
Milky Way Fun Size Chocolate Bars, 10.65 oz
Wilton Jumbo Hearts Sprinkles, 3.25oz
200 Treat Bags with 200 4
&
 Step By Step Instructions… with Visual Aids
The Dough will be stiff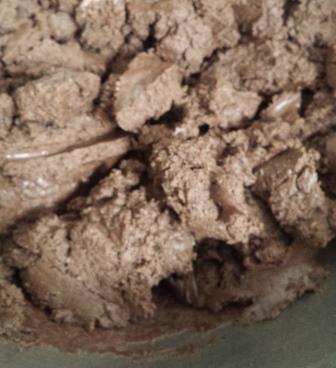 Prepare the Candy Stuffing by Jamming a Stick into a Candy Bar Piece
Pat a Gob of Cookie Dough into a 2 inch round circle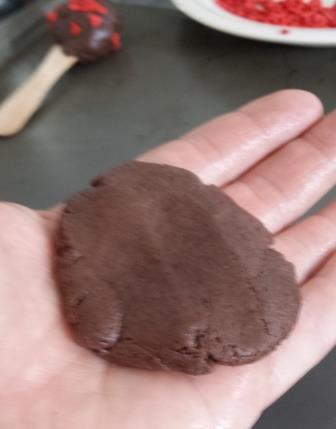 Lay a prepared Candy Bar (with or without stick) on it.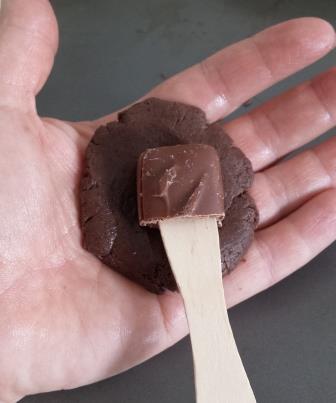 Pinch the Dough around the Candy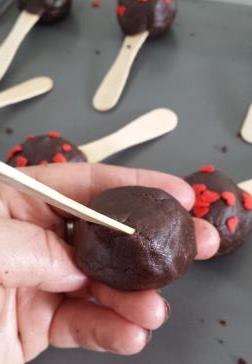 Cover with Sprinkles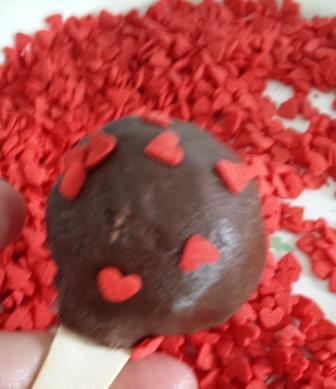 Bake 8-9 minutes… the edges should be set, and they may begin to crack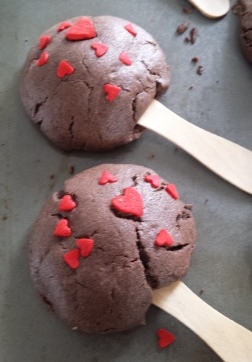 Sometimes blowouts happen….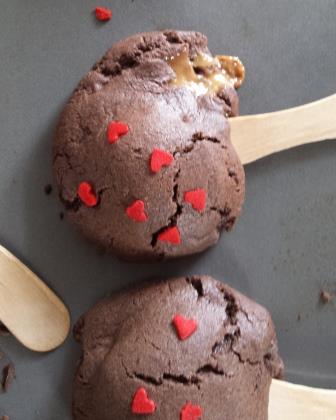 Most will be Beautiful
Ready to GO!!