Ginger Apricot Sandwich Cookies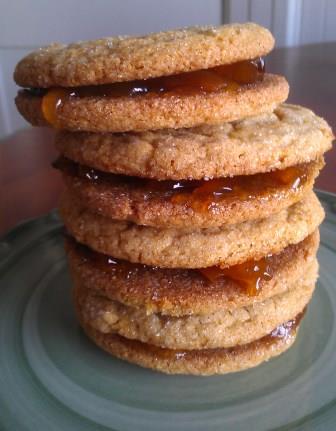 Once again, cookie jar is empty (I think elves come into my house on midnight raids), and I ask everyone in earshot….
"what kind of cookies should I make?"
Oddly enough…. "anything without chocolate" was the response. (WHAT?  Who are you people??) "something new" (HA! A challenge!)
So I start digging through cookbooks (yes, I have a few cookbooks….. for those of you who've been in my home STOP LAUGHING, several hundred is still a few). Mostly I'm looking at pictures… then comparing with ingredients I have in the pantry… then evaluating whether or not my people would eat these in a million years if they weren't tied to a chair. I found a recipe in an old Martha Stewart cookbook for these filled Ginger Cookies. Hmmmm…. They looked good on paper… and I have apricot jam in the fridge… Shoved the books back on the shelf… modified the recipe a bit (I like sugar, but HOLY COW does Martha LOVE sugar).
And here they are.
These Ginger cookies are not quite gingersnaps, and they bear a passing resemblance to Snickerdoodles. Go ahead and eat them as they are… (no one counted how many you made)… or take the next step and spread apricot jam on the bottom on a cookie, and sandwich it with another. MMmmmmmm
Sweet, tart, exotic and familiar.
Best of all, the kids love them… and grown ups do too, so these are a great cookie for a bake sale or party.
Note-These cookies get soft after a day… it's not a mushy soft, more of an yummy soft.
Also- You CAN add substitute different types of Jam…. Whatever you feel goes best with ginger (pineapple or cranberry could be good).
Ginger Apricot Sandwich Cookies
Ingredients–
1/2 cup Butter (room Temperature, unless your room is above the Arctic Circle… you want soft enough to beat)
1/4 cup Shortening (yup… that white fatty stuff….try not to think about it, it helps with the texture)
1 1/2 cup Granulated Sugar (divided)
1 large Egg
¼ cup maple syrup
2 cup Flour (I like unbleached, but all-purpose works)
1 tsp Baking Soda
1 tsp. Ground Cinnamon
1 tsp. Ground Ginger
1 cup Apricot Jam
Makes approximately 30 cookies
Makes approximately 30 cookies
lInstructions
Preheat oven to 375 degrees Fahrenheit
I have non-stick cookie sheets… if you don't, then ine cookie sheets with Parchment Paper (because these cookies are rolled in sugar before baking, you stand a serious chance of sticking cookies if you don't).
In the bowl of a stand mixer… beat the butter, shortening and 3/4 cup of the sugar at medium high speed until fluffy. Scrape the sides down.
Add the egg… beat on medium speed to combine.
Add Maple Syrup, beat on medium speed to combine… scrap sides, beat a bit more.
Combine the dry ingredients (flour, baking soda, ground cinnamon, and ground ginger) in a large measuring cup…. With the mixer on low, slowly add the flour mixture.
When completely combined, scrape down the sides and the bottom of the bowl one more time.
Beat another 10 to 20 seconds… stop.
Put the remaining ¾ cup of sugar in a small bowl.
Use a small cookie scoop to scoop out a blob of dough… roll it to a ball between your palms (no, you don't HAVE to use a scoop, I just find it makes the cookies uniform in size, which is kind of a big deal when making sandwich cookies). Dough balls will be around 1 inch in diameter (do not get out your ruler… eyeball this)
Drop the ball of dough into the bowl of sugar…. Roll it around a bit to completely cover in sugar. Then set on the cookie sheet.
Repeat
You want the cookie balls to be around 2 to 3 inches apart… don't crowd them, they spread a bit.
Bake 11 minutes
Let cool 2 minutes on the cookie sheet… then cool completely on a rack.
BTW – If you are using parchment paper, You CAN use it more than once. If you are baking the same type of cookies, go ahead and use the same side…. If it's getting crusty, go ahead and flip it over to use the back.
When the cookies are cooled…. Spread a spoonful of apricot jam on a cookie, and sandwich it with another cookie.
Repeat until all the cookies are sandwiched.
EAT