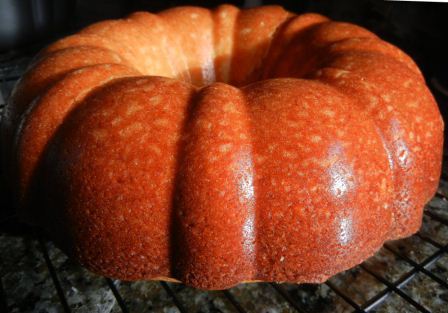 Homemade Rum Cake Recipe (Scratch)


I love Making Homemade Rum Cake (Scratch). It's cold and foggy again. But then, this is the Bay Area, and cold and foggy is the norm. Winter is the worst though. It's dark and cold and foggy… and sometimes it rains. I realize that you people in Minnesota laugh at our version of winter… but still.. I'm a Southern California girl at heart – and there, when the temperature there drops to 70 degrees Fahrenheit, we'd all shiver, and pull our winter coats out of the closet.
So, I've been thinking about the Caribbean. I have strong desire to be on a warm beach sipping a rum drink. Instead, I'm home…. it certainly isn't the Caribbean, and it turns out that sitting around drinking rum drinks all day will give you a reputation (and you'll be asked nicely to leave the PTA).
Luckily… Rum isn't just for drinking…. it makes a great cake… mmmm Rum Cake. So, I set out to bake a Rum Cake, but all the recipes I ever cake across start like this…."open a box of cake mix"…
sigh
Not that there is anything wrong with cake mix…. I just wanted to make the cake from scratch.
Ah Ha! A challenge! I grabbed the bottle of rum, and headed to the kitchen. After a few tries (turns out that drinking the rum affects your thought process and slows things down a bit)… I got it…. A Homemade Rum Cake Recipe from Scratch!
The cake is light and moist, with a vanilla and rum flavor baked right in. Then it is given a soak of a rum and sugar syrup. Ohhhhh…. sweet.
No need for frosting, it's delicious plain, or you can jazz things up by serving it with a bit of whipped cream and berries. And as always, I've included step by step instructions….so it's pretty much foolproof.
Then take a bite, close your eyes… and dream of the warm Caribbean Sun.
Homemade Rum Cake Recipe Scratch!
Rum Cake Recipe (From Scratch)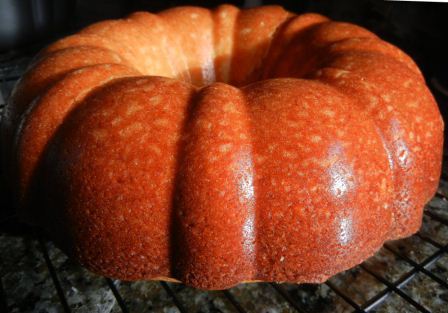 Rum Cake from Scratch is simple to make... I know it seems like the mix kind is easier... and I"m not knocking mixes (I've been known to use them myself) but give this a try. If you really like a saturated rum cake... make extra Rum Syrup, and after soaking the cake with the basic amount, brush more rum syrup on the top of the cake...
Ingredients
Cake:

1/2 cup Butter- room temp
1 1/2 cup Granulated Sugar
4 Eggs
2 Tbl. Vanilla Extract
2 cups Unbleached Flour
1 1/2 Tbl Baking Powder
1/2 cup Vanilla Yogurt
1/2 cup RUM
RUM SYRUP:

1/2 cup Sugar
1/2 cup Rum
1/4 cup Water
Instructions
Preheat Oven to 325 degrees Fahrenheit
Spray the heck out of a Bundt Pan with some Non-stick Spray. (Or use my Oma's trick... when you get the butter out of its wrapper, rub the buttery side on the inside of the pan) Whatever you do... prepare the pan.
Put the room temperature butter into the bowl of a stand mixer (room temperature means soft-ish, so it blends easily.... so if you live in the Arctic, you may want to microwave it for a few seconds), add the Sugar.... mix a few minutes until it's lighter colored and combined.
Add the eggs one at a time.... let each one mix in before adding the next (for bonus points, crack your eggs by knocking them on the counter, not the side of the bowl.... the side of the bowl method could cause shards of egg shell to fall into your cake! and don't get me started about the introduction of bacteria into the cake batter.....)
Scrape sides... add vanilla... mix.
Combine the flour and baking powder.... just mix them up a bit in the measuring cup... and add them to the butter/egg mix. Go slowly on this part.... every time I hurry, I have to change my shirt and sweep the floor.
Now add the yogurt (lowfat is ok) and slowly add the RUM (why slowly? read the note about the flour above.... getting splashed with rum is kind of a mess... and a drag if you have to run to school and pick up the kids...) Mix until combined.
Ok.. batter all smooth and yummy looking? (yes, you may stick in your finger to taste it...no one is looking)
Pour the batter into the prepared pan.
Stick the pan into the oven, and set the timer for 1 hour.
Now... dance a little in your kitchen... read a magazine... oh wait! time to pick up the kids from school!... maybe clean that flour that hit the ground... and wipe up the rum that splashed the cabinets....
Bing!
Cake done? You can tell by sticking a toothpick into it... if it comes out without goo on it, you're good.
Take it out of the oven, and let it cool for 15 minutes on a cooling rack.
While it's cooling, make the Rum Syrup:

In a small saucepan over low heat, combine the Sugar, Rum and Water... stir or whisk to until the sugar is melted. Bring to a boil... then turn off the heat, and let it sit a few minutes.
Now comes the moment of truth... the part I dread.... you have to turn the cake out onto the cooling rack.
Maybe loosen the edges with a plastic spatula a bit...
Take a deep breath....
Cover the top of the bundt pan with the cooling rack... and FLIP!! (sometimes I slam it a bit to the counter for emphasis)
Ta DA!!!!
um... if it didn't come out perfectly, don't panic.... patch. Then disguise later with whipped cream and fabulous conversation.
Now the soaking part.... put the pan back over the cake and flip it back in. (I know... you just got it out... work with me here)
Poke the bottom of the cake a bit with a fork....
Slowly pour the warm Rum Syrup over the cake. All over... round and round.... make it an art form....
Let it sit for 5 minutes while you hunt up your favorite serving plate. (no more than 5 minutes... the syrup tends to stick the cake to the pan if it sits to long.... NOTHING is more frustrating than having your cake stick and then break in half. Not even whipped cream will cover that up. Tears are an appropriate response at that point.)
Flip the soaked cake onto a serving plate.
For bonus points... you can brush some rum syrup on the top of the cake with a pasty brush.. How much? Up to you...
When the cake cools... cut yourself a slice...maybe make yourself a daquiri...
Eat.
Bliss
Notes
Recipe Notes
I went through a few incarnations of this recipe... let me share with you what I tried-
Yogurt ... keeps the cake moist but firm enough to not collapse when removing from the pan. Greek Yogurt ... makes the cake sturdier (maybe best if you are transporting it) Milk works..but cake will be fragile
https://angrybakery.com/rum-cake-recipe-from-scratch/
Looking for more Recipes with Rum?
Rum and other spirits add fabulous flavors to your cooking and baking…
 The Gourmet's Guide to Cooking with Liquors and Spirits: Extraordinary Recipes Made with Vodka, Rum, Whiskey, and More!
 Boozy Dessert Recipes: 101 Boozy Dessert Recipes – Desserts With Alcohol
 Never Cook Sober Cookbook: From Soused Scrambled Edggs to Kahlua Fudge Brownies, 100 (Fool)Proof Recipes
&
Step By Step Instructions with Photos
Beat Your Batter Until It's Light and Delicious
Take Your Time… Get the Batter Right, or the cake will not work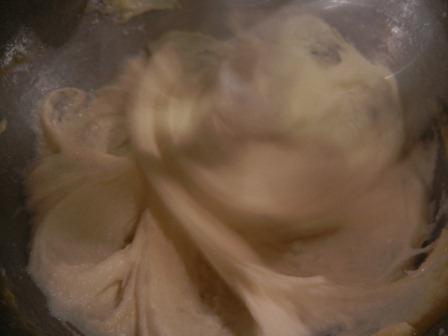 Combine Rum, Sugar and a bit of Water
Whisk until the sugar is melted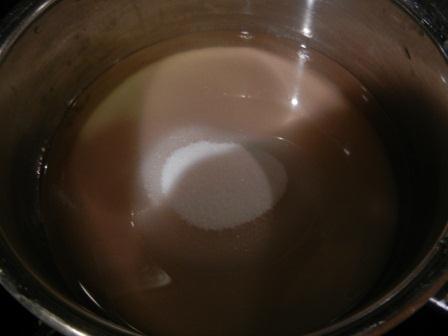 15 Men on a Dead Man's Chest….
Yo Ho Ho!! And a Bottle of RUM!
Bring the Rum Syrup Briefly to a Boil
Then Set it Aside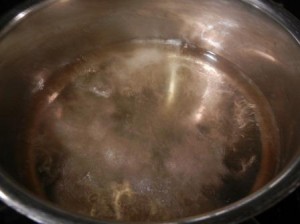 15 Minutes after it's Done Baking…. Flip out the Cake
Yum! Now put it back in the pan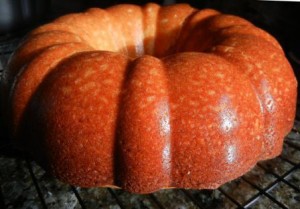 Prick Cake with a Fork
You Are Making Little Holes…NOT RIPPING THE CAKE TO PIECES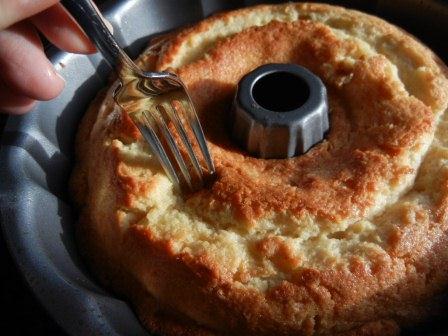 but… if a little piece breaks away… no one will stop you from tasting it.
Pour the Rum Syrup over the Cake
Let it Sit for 5 minutes… then flip it on to a Serving Plate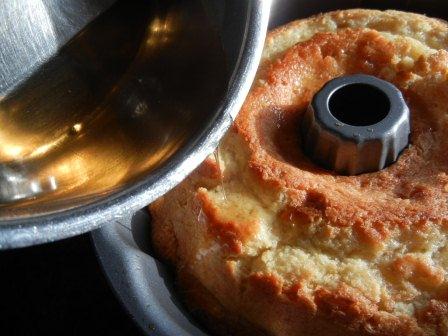 When You've Tipped the Cake Back Out of the Pan
Brush it with more Rum Syrup
This is optional… I suggest doing it for extra flavor
TA DA!!