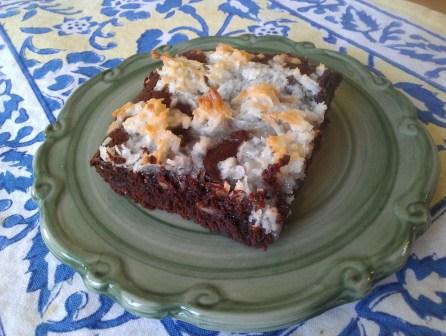 Chocolate Coconut Brownie Recipe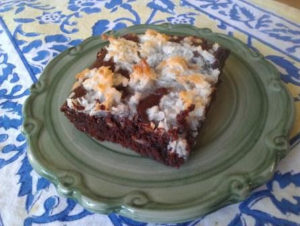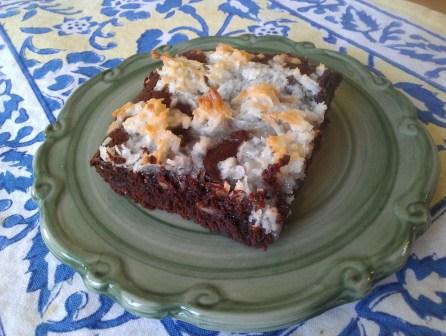 This delicious Chocolate Coconut Brownie Recipe makes a delightful Brownie that reminds me of a candy bar. They are as gooey as a Brownie can get … without falling apart in a pile of chocolate mush. The coconut topping is flavorful and sweet… toasted just a bit for extra coconutty goodness. (My daughter says that there should be more coconut, so, if you want to double it, go ahead… let me know what you think).It's not hard to make these brownies, but there is a little trick to them… you need a sauce pan and a heatproof metal bowl. What you want to create is a sort-of double boiler… but it isn't a real double boiler (although, I suppose if you HAVE a double boiler, you can use it). You'll be using this to cook the coconut topping a bit… and to melt the chocolate and butter. Other than that… this is a simple, mix-it-by-hand sort of recipe.
Eat them warm… eat them cooled… either way, so good.
Makes a 9 inch square pan of Brownies (so, you can feed one teenage boy, or 32 supermodels) in about an hour.
Chocolate Coconut Brownie Recipe
COCONUT TOPPING–
1 cup shredded sweetened Coconut
¼ cup granulated Sugar
1 tsp Vanilla Extract
1 Egg White
BROWNIE-
½ cup Butter (unsalted is best)
4 ounces unsweetened Chocolate
1 cup Granulated Sugar
1 tsp Vanilla Extract
2 Large Eggs (straight from the fridge)
½ cup unbleached Flour
INSTRUCTIONS
Preheat the Oven to 350 degrees Fahrenheit
Line a 9 inch square pan with aluminum foil or parchment paper… spritz with some non-stick stuff, or smear with the inside of the butter wrapper (that's what my Oma always did).
Either get out your double boiler, or set up a large sauce pan with simmering water, and set a metal bowl into it. It's ok if the bowl sits on the bottom of the pan.
For the Coconut Topping-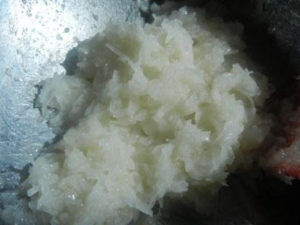 Put all of the coconut Topping ingredients into the pan… stir stir stir with a wooden spoon. It should get mixed up… and maybe a bit opaque (that means, the egg white will cook a bit and get to looking like glue, not like scrambled eggs). Cook stirring for another minute… then take the bowl off the pan, and set aside to thicken more while you make the brownie part.
Chop up the Unsweetened Chocolate… it's easier to melt when it's in small pieces.
Got another metal bowl? If not, scoop the coconut stuff into a temporary other bowl, lick the spatula (yum) then clean the metal bowl for round two.
For the Brownie part-
Melt the chocolate and the butter together in your double boiler, or metal bowl over simmering water, stir until smooth (you want a homogenous blend… no separation of chocolate and butter).
Take the bowl off the heat, add the sugar and vanilla… stir them in to the chocolate. Then add the eggs, and stir like crazy until they are mixed in. Add the flour, and stir until they it is smooth.
Some Assembly Required-
Scrape the brownie batter into the prepared pan…. Spread it out.
Dribble the coconut topping over the brownie part… use your fingers to get it kind of even.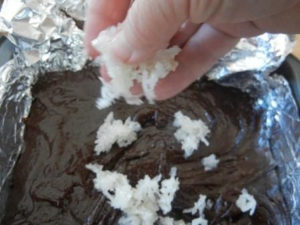 Stick the pan into the oven for 25 minutes… the coconut will get a little brown-ish, and the brownie will puff up a bit.
Set the pan on a cooling rack to cool.
Now, officially, you are supposed to let these cool completely…. But… they are EXCELLENT warm.
You can easily cut these brownies by lifting the foil or parchment out of the pan, and onto a cutting board. When they are cool, you can cut them into as many pieces as you want. If they are still warm, you might want to consider just leaving them in the pan and eating with a spoon.
Enjoy!