Lime and Coconut Pie with Macadamia Nut Crust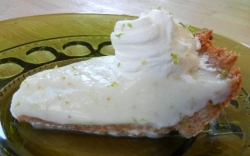 Summertime… It finally got hot today… well, hot for here… 80 degrees F. (I can hear some of you laughing) Feels good.
Ahhhhh
Lime and Coconut Pie with Macadamia Nut Crust takes me on as Island Vacation in my mouth… If I take a slice out to the patio, I can feel the warmth of the sun, taste the cool tang of the pie, and I'm almost…. almost…. there. Lime, Coconuts and (if I concentrate really hard) an ocean breeze…..
The Lime and Coconut Pie with Macadamia Nut Crust reminds me a lot of Key Lime Pie… only it has Coconut mixed in to make it just a little less tart. The macadamia nut crust is rich, sweet and crunchy.  It's the perfect dessert for hot summer days when you just DON'T want to do the laundry, clean the bathrooms or run the 9000 errands that are on your to-do list.
Bake the crust in the morning, or the night before you want it…. fill it up… stick it in the fridge until you are ready to eat. The cool refreshing flavor of this refrigerator pie will take you away….at least, in your mind.
YUM
Lime and Coconut Pie with Macadamia Nut Crust
makes a 9 inch pie
Ingredients
Crust

around 35 Vanilla Wafers (5oz)

1/2 cup Macadamia Nuts

1/3 cup sweet flaked Coconut
1/4 cup melted Butter
FiILLING
15 oz Cream of Coconut
2/3 cup Vanilla or plain Yogurt low fat
1/2 cup Fresh Lime Juice
2 heaping tsp. grated Lime Peel
3 Tb. Cold Water
2 tsp. Unflavored Gelatin

TOPPING

1/2 to 1 cup Whipping Cream
2 – 3 tsp. Superfine Sugar
**or**
Pre-made Whipped Cream
Grated Lime Peel
Instructions
Preheat Oven to 350 degrees Fahrenheit
CRUST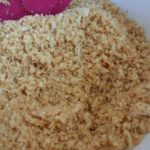 In the Food Processor pulverize those Vanilla Wafers and Macadamia Nuts to crumbs. (Alternatively, stick them in a bag, and bash it up with your rolling pin…. prepare for the bag to break and spill some crumbs. Perhaps it would be best to double bag …)
Pour the crumbs into a medium bowl.
Add the coconut and mix things up.
Pour the melted butter over and stir until all is combined.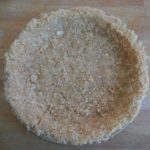 Press the crumb mix into a 9 inch pie dish. I use a glass one, but metal is fine.
Bake for 15 to 18 minutes. Should be brown, but don't burn.
FILLING
In a Medium bowl, combine Cream of Coconut, Yogurt, Lime Juice and Lime Peel. Whisk it all together until smooth.
Set aside.
This next bit needs a sort of double boiler. Put 3 tablespoons of cold water in a small metal bowl. Sprinkle 2 teaspoons of unflavored Gelatin over it. Let soften for 10 minutes. Then put the bowl over a small saucepan of simmering water. Wisk until gelatin is completely dissolved.
Pour Gelatin into Coconut Mixture, whisk together completely, then pour into baked and cooled crust. It should fit perfectly, but don't let it spill over.
Put the pie to chill in the refrigerator for at least 4 hours.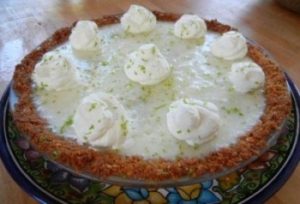 Decorate pie with whipped cream using a piping bag or a spoon.
**or** squirt on the pre-made whipped cream from a can
Grate some lime peel over the top for added punch.
Serve