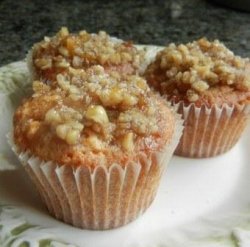 Honey Walnut Muffin Recipe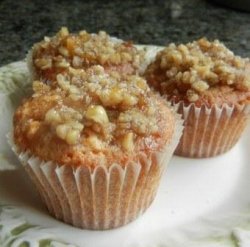 These Honey Walnut Muffins are great for Fall. They are rich and moist, with a hint of orange and spice. The nut topping is poured on to the hot muffin to sort of gild the lily (or top the muffin…).
The technique for baking is more like cupcakes than muffins…. the butter and sugar are creamed together… but, they feel more like a breakfast or snack than a dessert. You can decide for yourself.
The secret to these muffins is soaking them while they are still hot. While the cupcakes are baking…make the honey/orange juice/nut soak, this way it's ready to go when you pull them out of the oven. Let the cupcakes sit a few minutes soaking in the pan… then serve them warm…
So Good!
Honey Walnut Muffin Recipe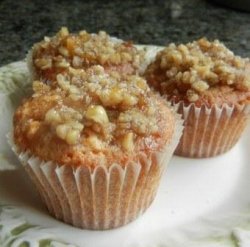 These muffins are best when still warm.
Ingredients
3/4 cup finely chopped walnuts- toasted
1 cup Butter (8 TBL
2/3 cup Granulated Sugar
2 Tbl Honey
1- 2 tsp Orange Zest (1 orange)
2 Eggs
1 cup Unbleached Flour
1 tsp Baking Powder
1/2 tsp Ground Cinnamon
1/4 tsp. Ground Cloves
Soaking Liquid/Topping
4 Tbl finely chopped walnuts- toasted
1/2 cup Orange Juice (from your naked Orange)
1/2 tsp ground Cinnamon
4 TBL Honey
Instructions
Preheat your oven to 350 degrees Fahrenheit
Line a Muffin Pan with liners for 12 regular sized muffins
Are you walnuts Toasted? No? This is a good time for that... I toasted the Walnuts first to give them better flavor. Just put them on a baking sheet or in an oven proof dish, and bake at 350 for a few minutes (like 4 or 5). They will smell nutty when done... burnt when you've gone too far. (Toast before chopping... unless they come that way... then, be EXTRA careful, toasting goes FAST). Take out and chop. I use an Alaska Ulu Knife and Chopping Bowl Set ... but a food processor will do it (just don't turn it in to walnut butter).
In the bowl of a stand mixer.... beat the softened butter and sugar for 2 to 3 minutes until light and fluffyish.
(how do you soften butter? let it sit on the kitchen counter for 40 minutes OR soften it in the microwave... don't melt it.. soften it)
Add the Honey... beat to combine.
Add the Orange Zest (I just zest it over the mixing bowl)
Add the eggs, one at a time... beat to combine.... scrape sides..... beat until smooth.
In a separate bowl (or measuring cup) combine the flour, baking powder, cinnamon and ground cloves... whisk them together with a fork a bit.
Slowly, with the mixer on low... add the dry stuff to the butter/egg mixture.
Beat on low until combined.
Scrape down sides
Beat a few more seconds (count to 15....one one thousand, two one thousand...)
Stop
Use your spatula to mix in the 3/4 cup chopped walnuts.
Grab your ice cream scoop, or a spoon. (Now, I found out that you don't actually need to fill the entire scoop with batter/dough.)
Fill the muffin cups only HALF full.
Bake at 350 for 20 minutes.
While the cupcakes are Baking.... Make the Soaking Liquid/ Topping
In a small saucepan, combine the orange juice, honey, cinnamon and walnuts.... stir over medium heat until it bubbles.... then reduce to low and stir occasionally until the muffins come out of the oven.
BING
Muffins done? (They should NOT be wet on top)
Set the pan on a cooling rack
Poke holes into the muffin with the tines of a fork.
Spoon the Soaking Liquid/Topping over the muffins.... distribute it as evenly as possible.
You want around the same amount of nuts and liquid for each one.... just do your best (no one will complain if they get a bit less) (maybe)
Leave the muffins in the muffin pans for 2 to 3 minutes... then pull them out and put them on a cooling rack until you are ready to serve them.
https://angrybakery.com/honey-walnut-muffins/
Use an ULU Knife to Chop nuts!
An Ulu knife set keeps the nuts from flying around the counter while you chop them. Also, you won't over chop them like in a food processor (and it's quicker to clean!)
&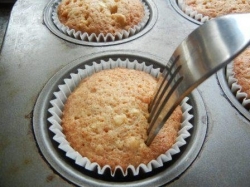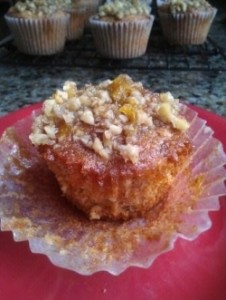 Honey Walnut Muffins taste fabulous warm… but they are still pretty darn good after they cool off.