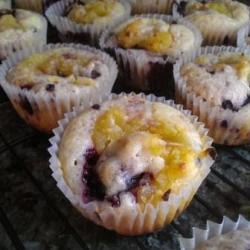 Berry and Lemon Curd Muffins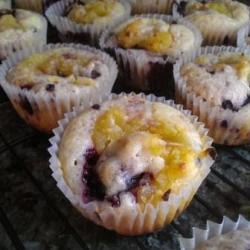 Oh my… Berry and Lemon Curd Muffins are good.
I had a lot of lemon curd  lying around (see… I made multiple batches when I was writing up the recipe.. and it's really good, so I couldn't see the point in stopping)… then I got some berries (ok, still not sure if these are boysenberries or blackberries… guess it doesn't really matter) So, I decided to make Boysenberry Lemon Curd Muffins.
What a nice way to start the day. House smells good… tummy is happy… I can face ANYTHING after one (ok, two) of these.
The muffins are LOADED with sweet Berries, and get a smooth tart finish form the Lemon Curd.
Go ahead and use any berry you have lying around, and you can make your own lemon curd, or use stuff from the store…
Whatever you choose, these muffins will come together in no time
Mix up the batter, stir in the fresh berries, scoop them into the prepared muffin pans… then dab and swirl in lemon curd (either your own home made lemon curd, or store bought).
Bit tart, bit sweet, these berries are a great start to your morning, or a nice pick-me-up mid day.
Berry and Lemon Curd Muffins Recipe
Ingredients
· 1 1/2 cup Flour
· 1 1/2 TBL Baking Powder
· 1/2 cup Sugar
· 5 TBL Melted Butter
· 1 egg
· 1/2 cup Plain or Vanilla Yogurt
· 1/2 cup Milk (regular or low fat)
· 1 -2 TBL Lemon Juice
· 1 -2 TBL Lemon Zest
· 1 cup Boysenberries or Blackberries
· 1 cup Lemon Curd
Instructions
Preheat the oven to 350 degrees Fahrenheit
Line muffin pan with 12 muffin liners.
Melt the butter (I use the microwave, but you can do it stove top if you wish) then set aside to cool a bit (you just don't want it hot)
Rinse your berries, and put them on a towel, or paper towel to dry.
Get out a medium bowl, and pour in the dry stuff (flour, baking powder and sugar)... give it a quick stir to combine.
Get out a smaller bowl.... in goes the egg, milk, yogurt, lemon juice, lemon zest, and the butter. Stir well to combine.
Here comes the important part.... add the wet stuff to the dry stuff.
Use a spatula and fold the wet and dry together (what does that mean? Take your spatula and run it down the side of the bowl, then up through the middle of the stuff. Rotate the bowl 1/4 turn and repeat. And again)
You want the ingredients just combined, so some dry spots are ok.
Add the berries... give the mix a few turns with a spatula to get them coated in muffin batter
STOP
Please don't over mix, you will make your muffins gummy
Get out your handy thumb release ice cream scoop.... fill the muffin cups (yes, you can use a spoon)
Now.. use a spoon to drop a spoonful of lemon curd on each muffin.... swirl the lemon curd in a bit (I used a chop stick, but a toothpick or the handle of a teaspoon will do it) Just a quick stir. You want it in the muffin, and on the muffin, but you don't want it to vanish.
Bake the muffins for 25 minutes.
Cool a few minutes in the pan... then set them on a cooling rack ... just long enough so they are not too hot to touch and eat.
Enjoy!
https://angrybakery.com/berry-and-lemon-curd-muffins/
Keep Your Muffins Fresh with These Muffin Storage Containers
Sistema Klip It Collection Bakery Box Food Storage Container, 14.75 Cup
Snapware 2-Layer Cupcake and Cookie Carrier
&
Step By Step Photos