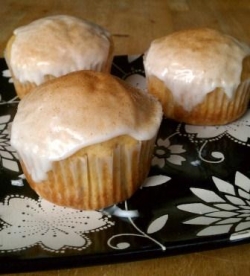 Eggnog Muffins Recipe with Rum Icing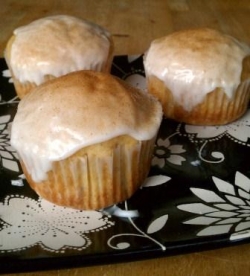 This Eggnog Muffins Recipe is a great way to use up that eggnog that you bought…
Admit it, quick show of hands…. who's gone grocery shopping for Thanksgiving or Christmas, and in the frenzy of making sure you get enough packages of dinner rolls and green beans… you spot it, Eggnog, and you think to yourself…. "everyone loves eggnog"… and you buy it.
But it doesn't all get drunk, does it? There's always some (maybe even lots) left over after the last turkey sandwich is eaten, and the last bit of ribbon is yanked out of the vacuum sucker.
Now what?
Try Eggnog Muffins with Rum Icing. They are a snap to make… the house smells delicious while they are baking… and the rum glaze adds a nice zip to the muffin.
Plus… you'll use up that Eggnog that you bought with such good intentions…..
This Eggnog Muffin recipe is straightforward…you can mix them up in no time.
I used light eggnog, but you can certainly use the full fat stuff. Not to say that these are diet muffins… honestly, there's butter and sugar and EGGNOG in this recipe… so don't be fooled that using "light" eggnog will suddenly erase the memories of stuffing and gravy (man, I do love stuffing). But they are good…. and a muffin for breakfast, or coffee break, is a lovely way to start your day.
As for the Rum Icing… you can make it either with actual Rum or Imitation Rum Flavoring (sigh… anything called IMITATION RUM makes me sigh). Anyway… the first time I made the rum icing I grabbed the 151 Rum… well… it tasted flammable. So, regular rum is fine, and so is the fake stuff. You're looking for flavor, not spontaneous combustion (plus you want the kids to eat them).
I've included step by step directions with photos below…
Enjoy!
Eggnog Muffins Recipe
Use up your leftover Eggnog with these delicious Eggnog Muffins topped with a tasty rum icing. Perfect for Holiday Muffin Baskets!
Ingredients
MUFFIN:

2 cups Unbleached Flour
1 Tbl Baking Powder
1/4 tsp Ground Nutmeg
1/2 tsp Cinnamon
1/2 cup Melted Butter
1 Egg-beaten
1/2 cup Granulated Sugar
1 1/4 cup Eggnog (reg.or light)
1 tsp. Vanilla Extract
RUM ICING:

1 cup Powdered Sugar
1 tsp. Rum or Rum Extract
1 to 2 tsp. Milk
Cinnamon Sugar for Sprinkling
Instructions
Preheat Oven to 350 degrees Fahrenheit
Line a muffin tin with 12 regular paper muffin liners
Melt the butter in the microwave (or stove top) and set it aside to cool.
Get out 2 medium mixing bowls...
In the first mixing bowl, put the flour, baking powder, nutmeg and cinnamon... whisk them together.
In the second mixing bowl, put the melted butter, eggnog, egg, vanilla and sugar.... whisk them together.
Pour the liquid stuff into the dry stuff. Fold together with a spatula (fold is where you run the spatula down the side of the bowl and up the middle, then rotate the bowl 1/4 turn, then repeat) until it's just combined.
Using one of those ice cream scoops with a lever (yes, you can use a spoon... but you'll get batter on your thumb) fill the paper liners about 3/4 full.
Bake the muffins for 20 minutes. Stick a toothpick in to see if anything gooey sticks to it (it shouldn't) if it does, go another minute.
Cool muffins in pan for a few minutes... then set on a wire rack to cool completely. (If you choose to ice warm muffins....it will get messy, but it will still taste good.)
Meanwhile....you can make the Rum Icing:

Put the powdered sugar in a bowl...add rum or rum extract and 1 tsp of milk . Stir. Add more milk if needed. Stir more. You are looking for a goo the consistency of glue. If it's too thick... add more milk or rum... if it's too liquidy... add more powdered sugar.
Spoon over the muffins. It'll drip down the sides a bit... that's ok.
(to make cinnamon sugar... mix 2 tsp of granulated sugar with 1/2 tsp ground cinnamon..)
Sprinkle a bit of cinnamon sugar over the top.
Now EAT!
https://angrybakery.com/eggnog-muffins-recipe/
Serve Your Eggnog Muffins in a Cute Bread Basket!
Decorative Wire Basket Tabletop Home Decor – Elegantly Designed Wire Metal – Dining Table, Countertop, Office or Bathroom – Holds Fruit, Breads, Gifts, Knickknacks, and More – 8 inch in Size – Silver
Keilen Bread Warmer and Basket
Spectrum Diversified 39110 Scroll Bread Basket, Black
Bun Warmer – Insulated Bun and Bread Warmer and Basket – Keeps Warm for up to One Hour (Blue)
&
Step by Step Instructions for the Eggnog Muffins Recipe with Pictures!
Dry Ingredients Go in One Bowl- That's your Flour, Baking Powder, and Spices No… Sugar isn't considered a dry ingredient. I can give you a long explanation using a lot of big words I learned in Chemistry class… but then we'd have to start in on the "is a tomato a fruit or a vegetable?" and"is a Banana a fruit or an Herb?" arguments. Sigh. So, let's just leave it at… Sugar is not considered a dry ingredient.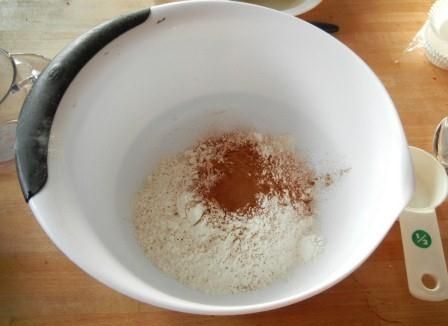 All the Wet Ingredients Go Into Another Bowl
Yes, Sugar too… we already had this discussion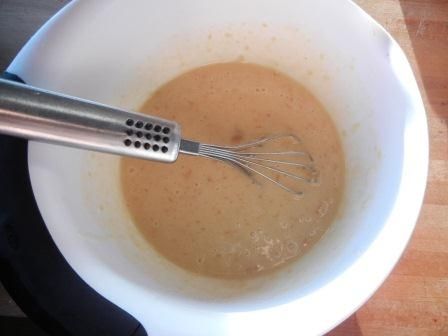 Pour the Wet Stuff into the Dry Stuff
More or less in the middle… but don't get obsessed.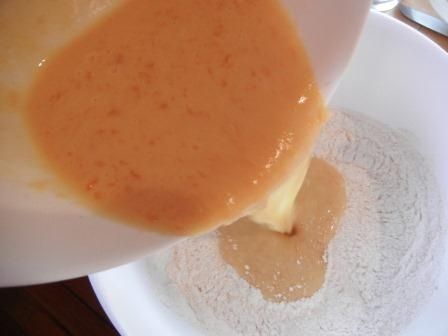 Use a Spatula to Fold the Ingredients until Just Mixed
Fold is where you run the spatula down the side of the bowl, and up through the middle of the ingredients . Rotate the bowl 1/4 turn. Repeat. And again…. and again… and again…. and again… and again….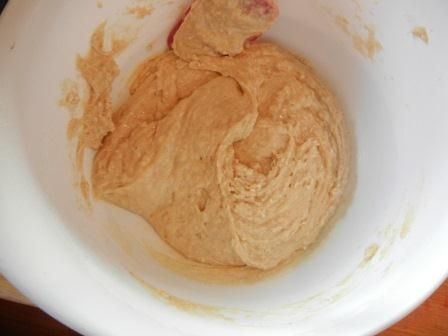 Looks like this? ok, you can stop.
Use an Ice Cream Scoop to Fill the Muffin Liners
About 3/4 full is good….. Bake 20 Minutes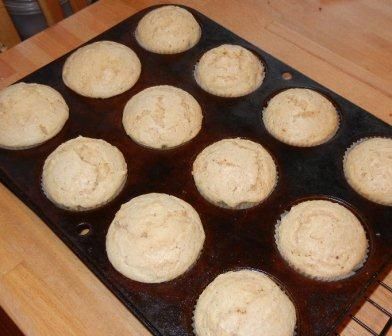 For Rum Icing, Combine Powdered Sugar with Rum (flavoring) and Milk
This will take a bit of stirring
(If you want to use real rum, you can. Seriously, 1 to 2 spoonfuls of rum over a dozen muffins isn't going to send your kids to school reeling. HOWEVER… I will leave that entirely up to you. Probably using the 151 is a bad idea though. Just saying….)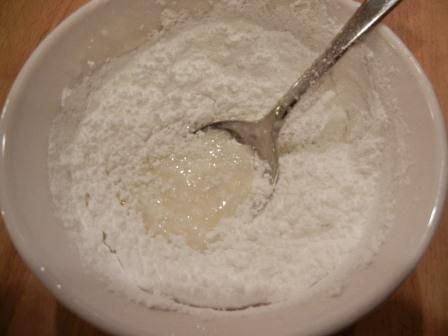 Stir The Icing Ingredients Until You Have Something About the Consistency of Elmer's Glue
(For those of you who don't know what Elmer's glue is…. you want it to be slightly thicker than a liquid yogurt)
You can test it out…. spoon some over a muffin… if it slides slowly down the muffin? you are good. If it runs off in a thin stream? add powdered sugar. If it sits on the muffin like a bad toupee? add more rum.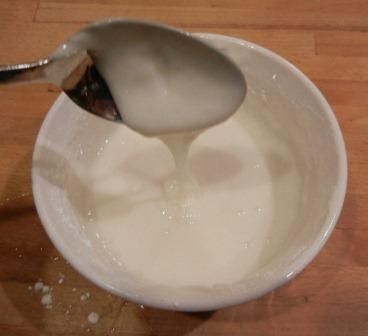 Drizzle Icing On the Muffins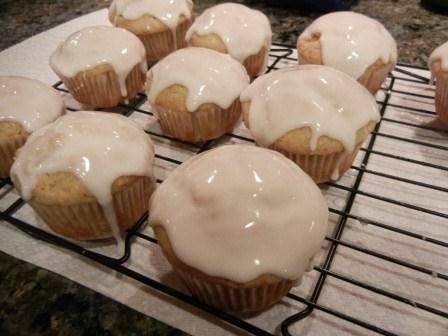 Sprinkle with Cinnamon Sugar
Then Eat!