Lemon Raspberry Whoopie Pies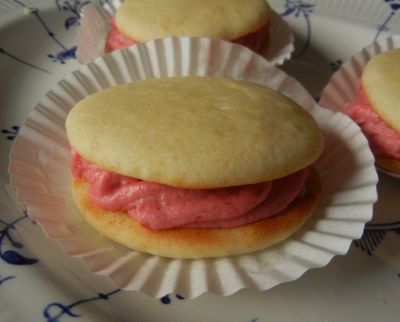 Lemon Cake surrounding a delicious Raspberry Buttercream… so GOOD!
I absolutely adore the flavor combination of Lemon and Raspberry… sort of a perfect fit (like peas and carrots, peanutbutter and jelly, and chocolate with about anything). It's a flavor profile that makes me think of summer vacation (the good part of summer vacation where you are lying on a lounge in the shade while a pool boy brings you a cool drink…. not the icky part where you are stuck at the airport for an extra 7 hours because of flight delays).
The cookie/cake part of the Lemon Whoopie Pie is made with a load of fresh Lemon zest, and a bit of fresh Lemon Juice, to give it some punch. I used frozen Raspberries to make the puree for the filling (that's what I had)… you can use fresh if you have them.
It really is better to use a piping bag to fill these Whoopie Pies, the cookie/cake part is a bit more fragile than other whoopie recipes… a knife or spatula might tear them up, and give you fits (and you are back in the airport for 7 hours…only now you have a screaming baby too).
Serve these up in cupcake liners for that extra touch of fancy.
And eat!
Lemon Raspberry Whoopie Pie Recipe
Makes 15 to 18…. depends on how big you make them
Total Time: 1 1/2 hours if you include cooling time… (I would)
Ingredients
CAKE
1/2 cup Unsalted Butter
1 cup Granulated Sugar
1 1/2 to 2 Tbl Lemon Zest
1 tsp Vanilla Extract
1 Egg
2 1/4 cup Flour
3/4 tsp Baking Powder
1/2 tsp Baking Soda
1 cup Buttermilk
1 Tbl Lemon Juice
FILLING/ FROSTING
1/2 cup soft Butter
1/2 cup Raspberries (fresh or frozen)
3 to 4 cups Powdered Sugar
Instructions
Preheat Oven to 350 degrees Fahrenheit
Cover 3 Cookie Sheets with Parchment Paper…. (you really should get parchment paper, it keeps things from sticking. You can flip it over and use it again)
In the bowl of a stand mixer…mix the butter, sugar and lemon zest. Beat for four or five minutes on medium high, until it is light and fluffy.
Add the Vanilla Extract and the Egg. Beat until thoroughly combined.
Scrape down the sides of the bowl.
Beat again.
Combine the Flour, baking powder, and baking soda in a bowl… Add half of the flour mixture to the butter (slowly……don't want to wear it) while beating.
Add the Buttermilk… I find it easier to run it down the side of the bowl while the beater is going.
Add the rest of the flour… beat.
Add the lemon juice… beat… scrape the sides and the bottom of the bowl
Beat some more…… make sure it's all mixed together …. done.
Using a OXO Good Grips Small Cookie Scoop
" title="cookiescoop">small cookie scoop (yes, you can use a spoon… but a cookie spoon will make everything the same size, so it's easier to match the tops to the bottoms…put a cookie scoop on your wish list) scoop the dough out onto the parchment paper. Be mindful, this batter spreads more than your average whoopie pie, so let them have some space. A dozen fit on a standard cookie sheet.
Bake for 11 minutes..
When you pull them out of the oven, let them cool on the parchment paper, on the cookie sheet… on a cooling rack.
The Cake MUST BE COOLED COMPLETELY! before you fill them.
(Ok, time for the filling… You did wash the mixing bowl, right?)
Puree the Raspberries (stick them in a food processor to make this easy… or mash them with a potato masher hard)
Stick the Butter into the Mixing bowl… whip it up for a few minutes on high.
Then turn the mixer on low, add the Powdered Sugar, one cup at a time, until you get to 3 cups.
Whip on high speed
Scrape sides and bottom
Whip a bit more
Add most of the Raspberry puree
Whip well
Now look at the filling, and taste it…
Is it too wet? Add more powdered sugar
is it too dry? Add more raspberry puree
I like to add a bit of the puree, and stir it in with a spoon when the filling is done… adds color, and a spike of flavor.
Fill a piping bag with the filling, pipe the filling onto half of the cakes (don't have a piping bag? use can a spreader or knife, but these are kind of delicate, so be careful)
Top the frosted cakes with the other half of the cakes.
Step By Step Instructions with Photos!
Grate the Lemon Zest Into the Butter

By beating the Butter, Sugar and Lemon together, you boost the flavor
You Want the Butter/Lemon/Sugar light and Fluffy
Takes about 3 to 5 minutes

After You Add all the Rest of the Ingredients… Beat Until it Looks Like This…
Sort of a Medium Thick Batter

Use a Small Cookie Scoop… Or a Spoon… to Plop the Batter onto Parchment Paper Covered Baking Sheets
Give the Blobs about 2 to 3 Inches of Space… they Spread

Baked they are Flatter Than My Other Whoopie Pies
Maybe more delicate? But Quite delicious
Mush up the Raspberries…. I had Frozen Ones
Use a Food Processor… or a potato masher

Whip the Butter and Powdered Sugar

Add Some Raspberry Puree
Done Looks Like This

Pretty in Pink…..
I Like Swirling another Tablespoon of Raspberry Puree Through the Frosting
Gives it interesting Color, and Adds a bit of Tartness

Load Up Your Piping Bag
I really DON'T Suggest that you Use a Spatula for these… the cookie/cake things might break

Pipe a Spiral Of Frosting Onto the BOTTOM of the Lemon Cake/Cookie thing

Top with Another Lemon Cookie/Cake Thing
And Serve!

Serve Your Whoopie Pies in Cupcake Liners… Makes things easier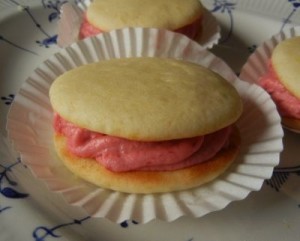 If you are Taking Your Whoopie Pies to a Gathering… Use a Cupcake Holder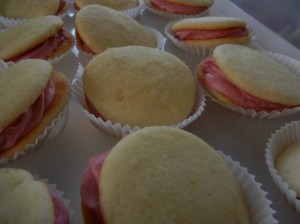 They travel safer….