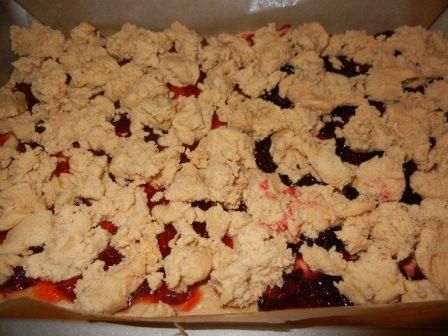 Peanut Butter and Jelly Cookie Bars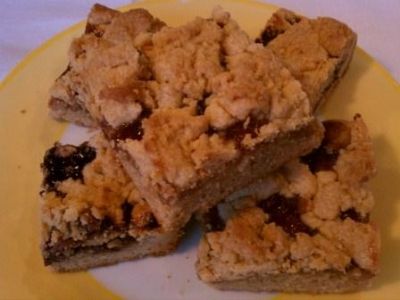 I didn't grow up on Peanut Butter and Jelly, but my people love the stuff. For them, I bake Peanut Butter and Jelly Cookie Bars.
These bars are LOADED with Peanut Butter, and you can fill them with any flavor jelly or jam you like. You can even do what I did… go half and half (some of my people like strawberry, some don't). Strawberry  Jelly is traditional with Peanut Butter, but there is no hard and fast Jelly Rule, so go ahead and use any flavor that you like. I made the bars with half Strawberry and half Black Current… so you can get creative. Just be sure to use lots… I find more Jelly is better. (That's not a Jelly rule, so much as a Jelly Guideline)
The best part of Peanut Butter and Jelly Cookie Bars (besides the flavor) is how EASY they are. You only need to dirty up one bowl. The bottom crust, and the top sprinkle are the same stuff… so these cookies are almost too easy to make.
Bake up a pan, pour a glass of milk (or your favorite cookie eating beverage) and enjoy some Peanut Butter and Jelly Cookie Bars.
As always… step-by-step photos will help you make these bars for yourself and your people.
Enjoy
Peanut Butter and Jelly Cookie Bars Recipe
Makes one pan, you decide how many cookies you want that to be…
Prep Time: 10 minutes (including digging through the pantry for a new jar of peanut butter because someone just left a teeny bit left at the bottom of the other jar.
Total Time: 1 1/2 hours from deciding to bake to eating
Ingredients
3/4 cup Butter
1 1/2 cups Granulated Sugar
2 Eggs
1 tsp. Vanilla Extract
2 1/2 cups Peanut Butter- smooth
1 tsp Baking Powder
2 1/2 cup Flour
1 1/2 – 2 cups Jelly
Instructions
Preheat Oven to 350 Degrees Fahrenheit
Line Bottom of 9 by 13 inch Baking Pan with Parchment Paper.. then give it a little spritz with non-stick spray stuff for extra insurance.
In the bowl of a stand mixer, beat Butter and Granulated Sugar for 3 or 4 minutes, until light and fluffy.
Add the eggs one at a time, beating after each addition, until combined.
Scrape down the sides of the bowl.
Add the Vanilla Extract… beat.
Now comes the sticky part…. Add 2 1/2 cups of smooth Peanut Butter (if you only have crunchy, I suppose you could still try to make these bars… let me know how they turn out.) Beat until smooth.
Scrape the sides.
Combine the Baking Powder and Flour in a large Measuring Cup, or small bowl… slowly add the Dry Stuff to the Peanut Butter Mixture…. little at a time, beating all the while.
Scrape the sides down, then beat some more.
Done.
Ok, now take about 2/3 of the dough and press it into the pan. This isn't brain surgery, don't panic about making it an exact 2/3. Glop it on the parchment with a spatula, then press it in with your fingers. (To keep it from getting too sticky on your hands, rub the wrapper for the butter on your fingers to slick them up.) Press the dough flat-ish.
Top the dough with Jelly. Use whatever flavor you like. I did a half and half… you can be creative.
Now, sort of crumble the rest of the dough over the jelly. Just break it into bits with your fingers.
Bake for 45 to 50 minutes. It should be browning on top.
Bing!
Ok, set the pan on a cooling rack for 10 to 15 minutes.
Use a knife to cut along the edges to loosen any stuck bits. Lift the bars out of the pan.
Cut and eat.
Pack Peanut Butter and Jelly Cookie Bars Along
Going on a Camping Trip? Or a Day Hike? Pack along some Peanut Butter and Jelly Cookie Bars. They aren't super sensitive to heat or cold, and they aren't fragile. Loaded with peanut butter and jelly, they will keep everyone going!
Step By Step Photos with Instructions
Beat the Sugar and Butter until Light and Fluffy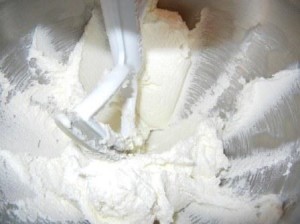 Should take about 3 to 4 minutes.
Cookie Dough will be Stiff and Very Very Very Peanut Buttery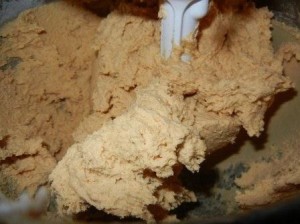 Line Your Pan with Parchment Paper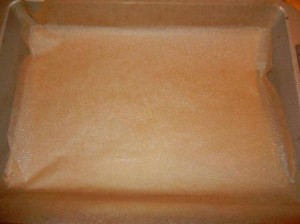 Let the Ends hang over the Edge of the Pan
This way you can easily lift the baked bars out by the parchment paper and set them on the cooling rack to cool.
Press 2/3 of the Cookie Dough into the Pan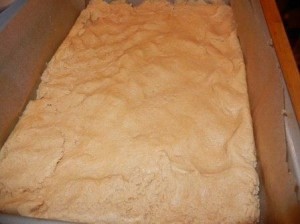 I find that Buttering My Fingers helps
Spread the Jam over the Peanut Butter Dough Base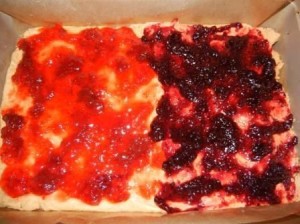 I Used Strawberry and Black Current, but you can use your favorite/ favorites
Sort of Crumble the Rest of the Dough over the Jam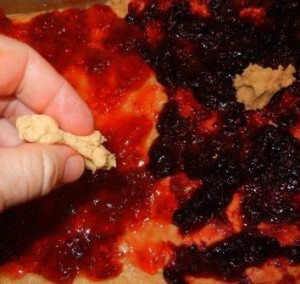 Pinch it Between Your Fingers
Ready for the Oven
Done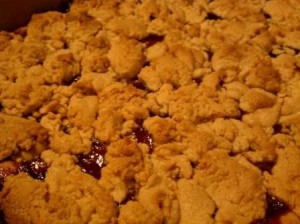 Cool Slice Eat