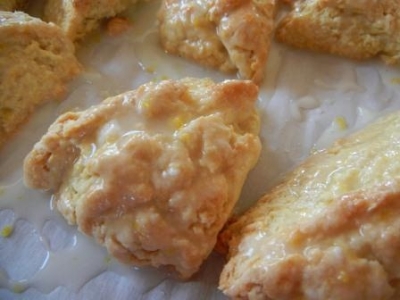 Easy Lemon Scones Recipe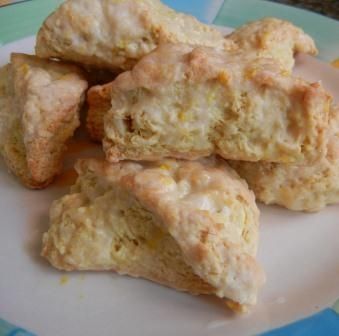 How did I end up with this Easy Lemon Scones Recipe?? Every now and then I have an hour to kill between driving assignments. Generally I carry a book, and just sit in the car and read while the kid plays soccer, gets tutored, or visits the orthodontist. Some days, I get a craving for a little something, so I find a nearby bakery and scope out the competition… 
Last week, I saw these Lemon Scones on a glass pedestal covered in a fancy crystal dome. Now… we all know… anything served under a crystal dome HAS to be good… so I tried them. Turns out, the dome seems to have been specially designed to keep the lemon flavor OUT of the scone.
Ugh.
Boring  Flat  Nothing.
We can do better….. (that's not the royal We… I'm talking about you and me)
This Easy Lemon Scones Recipe is LOADED with Lemon flavor… both in the scone itself, and in the tart icing that covers it. They are simple enough to make in time for breakfast… and you can cut them small enough so that eating one (or two) doesn't feel like a total diet blaster.
I love it when Lemon Scones taste like actual Lemon. The best way to make this happen is Lemon Zest… Best way to get lemon zest? Use fresh Lemon and a Micro-plane Grater. Don't have one? Put it on your wish-list. I use mine a lot! It's great to get the full flavor of citrus. (My daughter likes to redecorated my kitchen with Parmesan Cheese sprinkles …buy a wedge… you'll NEVER go back to the green can)
The secret to light scones?… Cold butter and minimal handling. I keep butter in the freezer, and when it's time to make scones, I grate the butter into the dry ingredients. Rub it in a bit with your fingertips. Minimal effort, minimal heat, maximum effect.
These are Lemon Scones worthy of being served under a Crystal Dome.
As usual, I've added loads of step-by-step photos and tips.
Easy Lemon Scones Recipe
Ingredients
3 Tbl Lemon Zest
1/3 cup Lemon Juice
1/4 cup Plain or Vanilla Yogurt
2 cups Unbleached Flour
1/4 cup Granulated Sugar
1 Tbl. Baking Powder
1 tsp Baking Soda
1/2 cup (1 Stick) Butter...Frozen is Best
Lemon Glaze Ingredients:

1 cup Powdered Sugar
2 Tbl. Lemon Zest
1/3 cup Lemon Juice
Instructions
Preheat the Oven to 350 degrees Fahrenheit
Lay a sheet of Parchment Paper on a Baking Sheet. Yes, you can just grease the pan, I just find clean up much easier with Parchment Paper (and you can use it more than once)
In a small bowl or large measuring cup, combine the Lemon Zest, Lemon Juice and Yogurt. Stir until it's lumpy-smooth and mixed.
In a medium bowl, combine the dry stuff... Flour, Sugar, Baking Powder and Baking Soda... kind of stir or whisk it together.
Using the large holes on a standard grater, grate the butter into the dry ingredients. Use your fingertips to rub the butter into the flour... you want it to look like damp lumpy sand.
Pour the lemon juice/yogurt mix into the dry stuff. Stir together a bit... Dump the dough onto the counter (on waxed paper or lightly floured surface), then knead it a few times until the dough comes together.
Pat the dough into a rectangle... about 1 inch thick, 4 to 5 inches wide.... 12 inches long. (Please don't get out the ruler... eyeball it)
Cut the dough rectangle into 8 squares then cut each square diagonally into a triangle.
(If you prefer larger scones, pat the dough into a circle, around an inch thick, then cut to 8 wedges)
Set the triangles on the prepared baking sheet. Bake for 12 to 14 minutes... longer if you are making big scones.
Let the scones cool on a cooling rack while you make the glaze.
Mix the Powdered Sugar, Lemon Zest and Lemon Juice... add more powdered sugar if you like it thicker...
Spoon or brush the glaze over the scones....
Notes
***Warning... if the scones are still warm, the glaze will run off, but still taste good. If you are looking for a nicer presentation, let the scones cool before glazing
Eat
https://angrybakery.com/easy-lemon-scones-recipe/
Step By Step Lemon Scone Instructions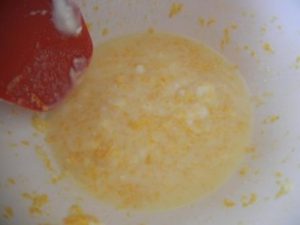 Combine Lemon Zest, Lemon Juice and Yogurt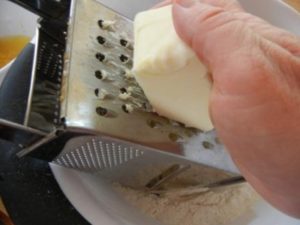 Grate the butter into the Dry Ingredients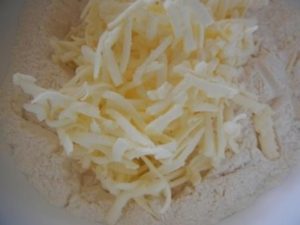 Looks like this…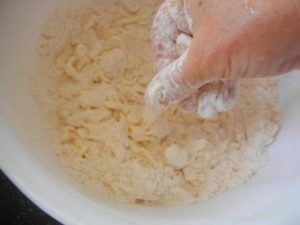 Pinch the Butter into the Dry Stuff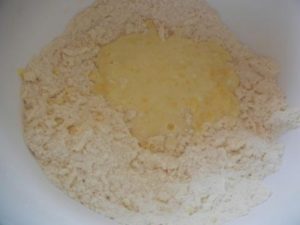 Dump in the Wet Ingredients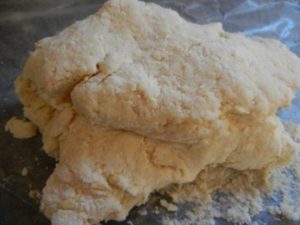 Then carefully knead the whole thing together with cold hands and limited touching
It's tricky, yes, but worth it!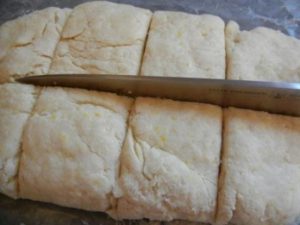 Pat the dough into a rectangle… and cut into 8 squares (or 4, or 6….)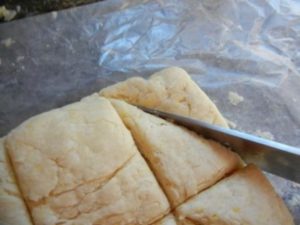 Cut the squares to triangles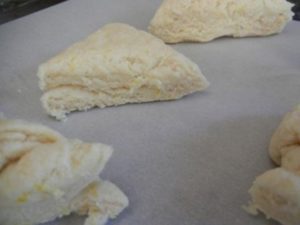 Put the Triangles on a parchment covered baking sheet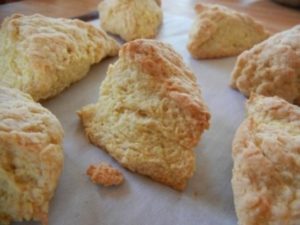 Bake until Brown
For the Glaze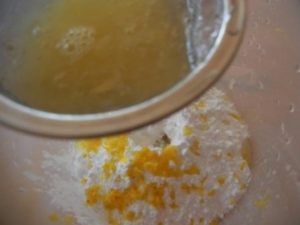 Put powdered Sugar and Lemon Zest into a bowl… add lemon juice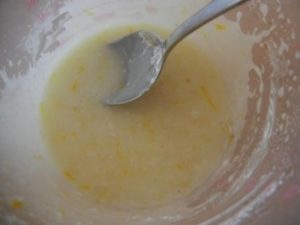 Stir until it's the right Consistancy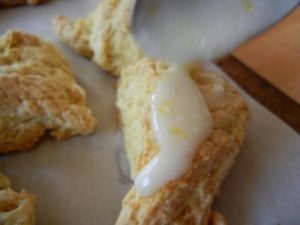 Brush or Spoon over Scones