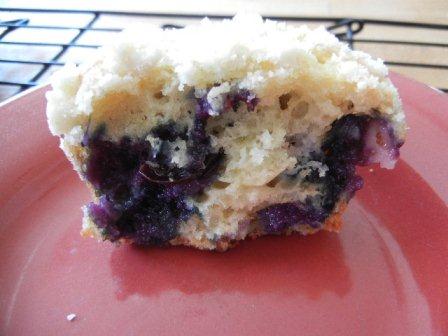 Best Blueberry Muffins Streusel Topping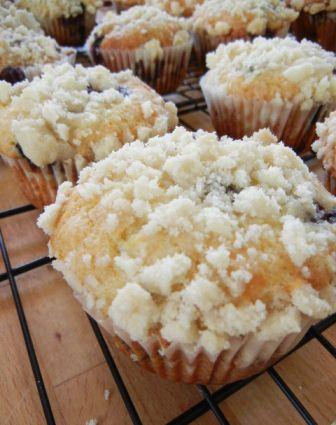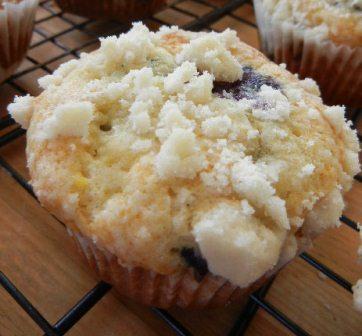 Feels like I've been baking more than usual lately… going through my flour, sugar, butter and eggs much faster than I usually do. Yet… it seems like everything is vanishing! Where does it go? OH! I know! into the BEST Blueberry Muffins & Streusel Topping EVER!
Of course, with the kids back in school, you'd think that food would stick around longer… but no. They eat breakfast, take stuff for lunch, add an extra after-school-before-practice snack, then add a few extras for their friends, and of course, they need a after-practice-dinner-is-a-whole-20-minutes-away snack to keep them from passing out from hunger.
It's all good.
You know how sometimes you get into ruts or cycles? Well, this week I'm on a breakfast baking binge. It must be related to the kids going back to school. I feel that the good mother would have something besides cereal for them before they leave… but this mom can't seem to get up early enough to make eggs or pancakes (besides… my people aren't early risers, they are more "grab something as they run out the door types"… clearly, a family trait)… and it's hard for the kids to juggle eggs and school books as they run for the bus.
And a muffin gives you that quick burst of energy without making you feel logey like a bag of chips. Better for soccer-volleyball-cross-country-hanging-on-street-corners practice….
ANYWAY…. Muffins… I love Blueberry Streusel Muffins.
Granted, they are at their delicious peak about 15 minutes after you pull them out of the oven… but… (we already talked about the early rising thing)…I find that I can easily make them the night before, and then (here's the sneaky kicker) put them in a warm oven for a few minutes in the morning. Ahhhhh
House smells good, kids get nice warm Blueberry Streusel Muffins…. and we all get to sneak in that extra few minutes of sleep.
Perfect
Best Blueberry Muffins Streusel Topping Recipe
Loaded with Blueberries, topped with crunchy sweet Streusel These can be made with either fresh or frozen blueberries.... fresh is best... but work with what you have. I doubt many people would notice once they are baked. If you don't want to take the extra 5 minutes to make streusel, go ahead and just sprinkle decorator sugar over the top of the muffins before baking. (that's that sugar with the bigger crystals... if you don't have any, go ahead and use granulated sugar.... if you don't have any, run next door and borrow some) I find it easier to make the streusel first, and set it aside, so you are ready to top off the muffins just before they go into the oven. You might find yourself with leftover streusel... just stick it in a zipper bag, and you can top other stuff with it. Streusel is one of life's pleasures.
Ingredients
STREUSEL INGREDIENTS
1/4 cup butter (cold)
1/2 cup sugar
1 cup flour
1/2 tsp. ground Cinnamon
MUFFIN INGREDIENTS
2 1/4 cup Unbleached Flour
2 tsp. Baking Powder
1 tsp. Baking Soda
1 Cup Sugar
1/2 cup Melted Butter
2 Eggs
1 cup Vanilla Yogurt
1 1/2 cup Blueberries fresh or frozen
Instructions
STREUSEL PREPARATION:

Food Processer Method- put the streusel ingrediets... butter, sugar, cinnamon and flour... in a food processor. Pulse until it looks like crumbs.
Hand Method- Put the flour, cinnamon and sugar in a mixing bowl. Cube the butter to little cubes.... add to flour / sugar. With your FINGERTIPS... rub the butter into the flour until it looks like crumbs.
Set aside
MUFFIN PREPARATION:

Melt the butter, let it cool.
Put muffin papers into the muffin pans... give them a little spritz with the non-stick spray stuff if you want extra insurance.
In a large mixing bowl, combine the Flour, Baking Soda and Baking Powder... whisk together to mix them up.
In another bowl (I tend to use my large measuring cup for this) combine the Sugar, Melted Butter, Eggs, and Yogurt. (this will look sort of disgusting... but then... most things don't look too great until they are completely done..... this is why I avoid mirrors first thing in the morning).
Now... here comes the hard part... ready?
Using a spatula, scrape the bowl of wet stuff into the bowl of dry stuff. DON"T OVERMIX! You want it just to come together... a few dry bits don't matter.
Add the Blueberries... fold the batter over them a few times.
NOW STOP!
Scoop the batter into the muffin papers using an ice cream scoop with a thumb release. If you don't have one of these, use 2 spoons. Just fill the cup 3/4 full.
Squeeze the streusel ingredients in your fist as you sprinkle it over the muffin cups. This makes the crumbs a little bigger.
Put the pans in the oven. Bake for 18 minutes... or until they are done.. Will be brownish on top, and a toothpick inserted will come out clean.
Let the pans cool on a rack for 5 minutes... take the muffins out of the pans and let cool for 10 more minutes before eating.
https://angrybakery.com/best-blueberry-muffins-streusel-topping/
Make Your Muffins Look Perfect Every Time!
Use an ice cream scoop with a thumb release to put the perfect amount of muffin batter into the pans. If they are all the same size, baking will be even, and they will look great!
American Metalcraft (NSPDS24) 1-1/3 oz Stainless Steel Thumb Disher
OXO Good Grips Trigger Ice Cream Scoop
&
Blueberry Streusel Mini Muffins
These work as Mini Muffins… prepare as for regular… fill the mini muffin liners in mini muffin pans.
Bake 15 minutes.
Step By Step Instructions with Photos
Streusel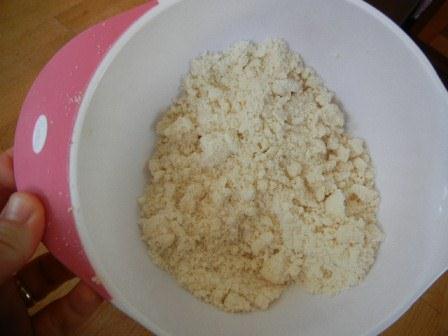 Looks like big Crumbs
Mix Wet Into Dry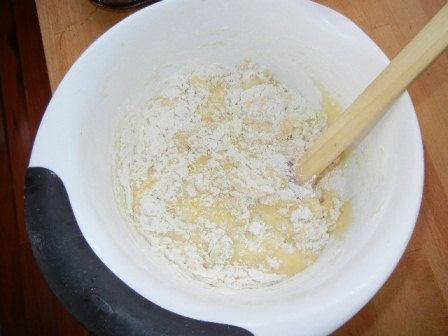 Don't overmix
This is Perfect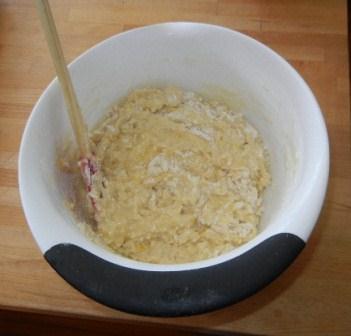 Don't Mix More Than This
Fold In Blueberries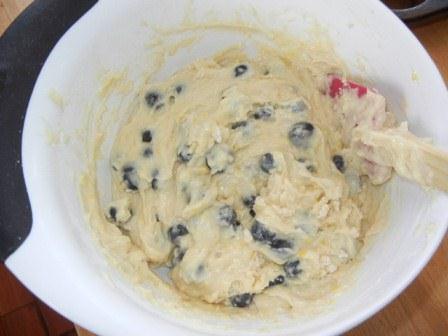 Scoop Muffin Batter into the Muffin Cups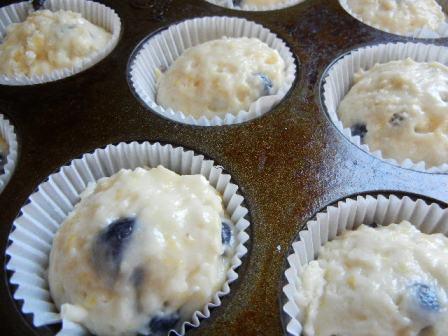 don't overfill… about 2/3 to 3/4 full
Crumble Streusel through Your Fist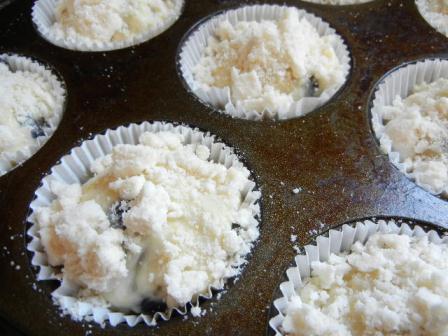 Should Have Big and Little Crumble
Yummm! Hot From The Oven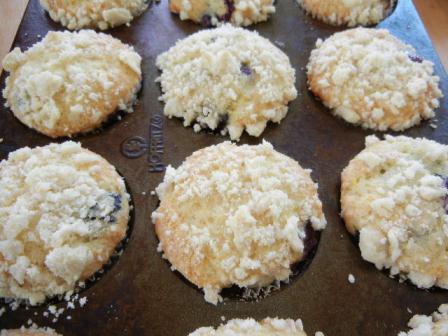 Loaded with Blueberries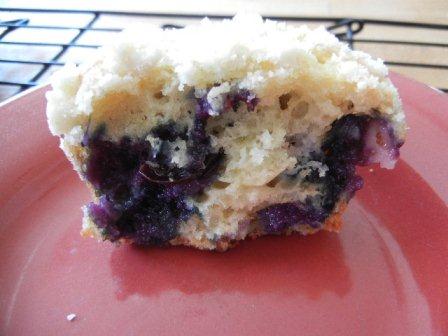 Perfect for Bake Sales/ Potluck Breakfasts
Blueberry Streusel Muffins are a great take seller at Bake Sales… just wrap them up individually in plastic and tie with a bow.
They are also a terrific take along for a Potluck Breakfast. Load them into a basket lined with a pretty cloth or tea towel.
Then stand back and watch them disappear.