Velvety Candy Cane Whoopie Pies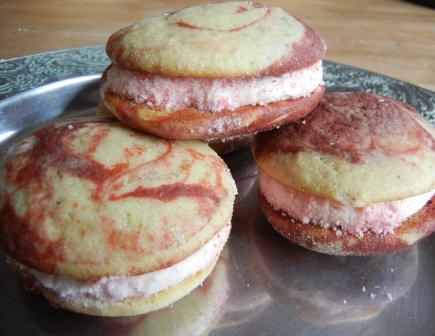 S(thanks for the name Lindsi!) may seem like the creation of a demented Kitchen Scientist… but the combination absolutely works, and the taste is absolutely wonderful.
Don't be intimidated… if I can do this… you can do this.
Take these along to your next holiday party! Or just make them and sit in front of the fireplace with a big pile of them (just wait a minute or two, a crowd will form to help you eat them).
For the Velvet Candy Cane Swirl Whoopie Pies, you have to make two different batters, and swirl them together. This isn't hard. Just make one batter… save it in a bowl, and then make the other batter. When you scoop them up… fill half of the scoop with one batter, then half with the other. Then… using your common kitchen toothpick… swirl them a bit.
If this seems just too complex and fiddly… go ahead and make up the two batters… then make a few pans of Vanilla Cookies, and a few pans of Red Velvet Pies… then put them together with the filling.
I prefer to use a good white chocolate (which means… not the chips) because it melts better for me. But that's just me. Maybe you have better success melting white chocolate chips.
I crushed up Candy Canes in the Food Processor… because I was in a hurry, and feeling kind of mellow. If you don't have a food processor, or you have anger management issues… put the candy canes in a plastic bag, and beat the snot out of them with a hammer. Pulverize if you wish.
Serve them in Cupcake Liners… for that professional finish…
Velvety Swirl Candy Cane Whoopie Pies Recipe
Serves: 3 dozen
Total Time: 2 Hours start to finish… including cooling time and time to run and drop of running shoes at practice for someone who forgot them.
Ingredients
VANILLA BATTER
1/2 cup Butter
1 cup Granulated Sugar
2 Eggs
2 tsp Vanilla Extract
2 1/2 cup Flour
1 1/2 tsp Baking Soda
1 cup Buttermilk
RED VELVET BATTER
3/4 cup Butter
1 cup Sugar
1 egg
2 1/4 cup Flour
1/4 cup Cocoa Powder
1/2 tsp Baking Soda
1/2 tsp Baking Powder
3/4 cup Buttermilk
1 Tbl. Red Food Coloring
WHITE CHOCOLATE PEPPERMINT FILLING/FROSTING
3 oz. White Chocolate- melted
1 cup Butter- soft
3 cups Powdered Sugar
2 tsp +/- Milk
1/3 cup Crushed Peppermint Candy
FINISH
1/3 to 1/2 cup Crushed Peppermint Candy
Instructions
Preheat the Oven to 350 degrees Fahrenheit.
Line baking sheets with Parchment Paper (you don't want the pies sticking…)
For the Vanilla Batter-
In a large stand mixer… combine the butter and the sugar, beat for a few minutes until they are light. Scrape sides.
Add Vanilla Extract… beat to combine
Add Eggs.. beat to combine… scrape down sides
Add Baking Soda, and slowly add the Flour (slowly…..) beat to combined… scrape down sides… mix some more.
Scrape the batter into a bowl. Set aside for a second…
For the Red Velvet Batter-
Put the butter and sugar in a mixing bowl… beat for a few minutes until light and fluffy.
Add Egg… beat, and scrape down sides.
Combine dry ingredients… flour, baking soda, baking powder, and cocoa powder.
Add dry ingredients to butter/sugar mix… alternating with buttermilk… start with dry, add buttermilk, add dry, add buttermilk, end with dry. Mix and scrape as you go.
Add the red food coloring… beat until combined.
NOTE— if you want it to be screaming red… add more color. If you are terrified of red food color… leave it out.
Set the batter next to the vanilla batter.
Making the Whoopie Pie Cookies.
Using a small cookie scoop (about 1 1/2 inches) scrape up 1/2 of the scoop with one batter.. then go in to the other batter and scoop it.
Plop it onto the parchment covered sheet.
Repeat until the sheet is full.
I alternated which batter I took first each time… just to be obsessive compulsive.
When the sheet is full- take a common ordinary toothpick, and swirl the batters together.
Repeat until all the batter is gone.
Stick in 350 degree oven and bake for 9 minutes (yes, 9)
Cool the cookie things on a cooling rack.. they have to be cool before you frost them.
WHITE CHOCOLATE PEPPERMINT FILLING/FROSTING
Melt the white chocolate… let cool
Put the butter in the bowl of a mixer… beat until super soft.
Slowly begin to add the powdered sugar at low speed… when you've added half, add the melted chocolate…. slowly add the rest of the powdered sugar
Add a spoonful of milk… whip the frosting up.
If if still feels dry, add more milk. If it feels to wet.. add more powdered sugar.
Now add the crushed Peppermint Candy
Whip, scrape, whip….. done
SOME ASSEMBLY REQUIRED
Take a whoopie pie cookie…. pipe or spread frosting on it.
Top with another cookie… squeeze together a bit
Now… for that extra something… holding the whoopie pie over a bowl of crushed peppermint…. sprinkle peppermint onto the edges of the whoopie pie.
Done.
Eat
If Velvety Candy Cane Swirl Whoopie Pies Still Seem a little complicated…Try These Short Cuts
Make up the batters as usual…. make half of the cookies plain vanilla, the other half plain red velvet…. make one the top of the pie, the other the bottom.
Only make red velvet batter…. make the frosting as usual.
Use white (or white chocolate) frosting from a can … mix in the peppermint.
Don't have a piping bag? spread the frosting on with a knife.
Step By Step-instructions and photos
Start By Making the Batters
Put them into bowls next to each other…. no sense in running back and forth across the kitchen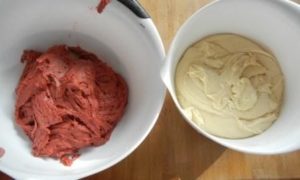 Using a Small Cookie Scoop, Scoop Up a Bit of One Batter
About Half or So full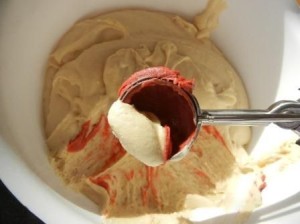 Now Scoop Some of the Other Batter into the Other Side of the Scoop
Yes, it's a little tricky, and may take a few tries to get the hang of it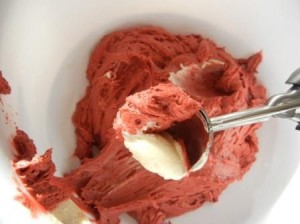 Don't worry if you transfer the other batter into the bowl… it all comes out even-ish.
Don't panic if more of one kind gets in than the other… next time grab them in a different order.
Yes, it is messy, isn't it? But that's fun too….
Plop the Dough Blob Onto a Parchment Covered Baking Sheet
See… when you use a scoop, it comes out neatly.
To help it come out neatly, scrape the excess off on the rim of the bowl before you plop it out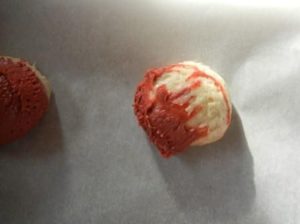 Now… Grab a Common Household Toothpick
yes, pretty much anything pointy will do it… but I'd avoid pencils…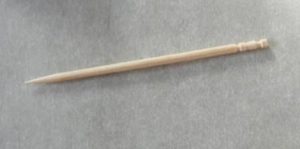 Give the Dough Blob a Little Swirl with Your Toothpick
don't go nuts with this… you want a swirl… not a homogenized mixture
One or two swirls should cover it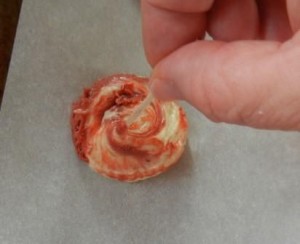 Bake for 9 Minutes
Like Snowflakes… no two are alike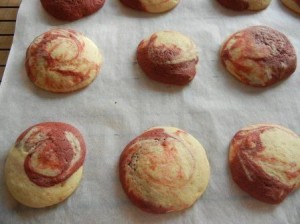 Crush up the Peppermint Candy in the Food Processor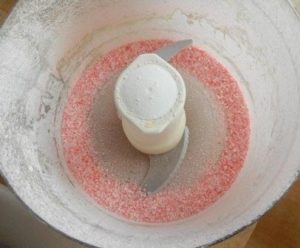 I used 8 candy canes… they are a bugger to unwrap!
So… you don't have a food processor? First… put one on your wish list. Second… put the candy in a plastic zipper bag…. put that bag into another bag…. not smash the candy to bits with a hammer.
Feels good, doesn't it?
You can also use a rolling pin or a small child. (To clarify, you aren't smashing the candy with a small child, you are having the small child smash the candy.)
Whip Up The Frosting…. Add Most of the Peppermint Bits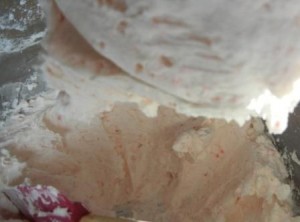 Pipe or Spread Frosting on half of a Whoopie
Top it and make a pie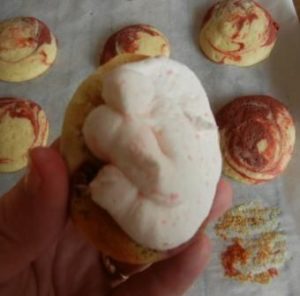 Un-Gilded (or Un-Pepperminted) Swirl Whoopie Pies
You can leave them naked…. tee hee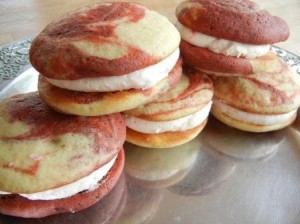 Hold the Whoopie Pies Over the Crushed Peppermint
Rotate as you Sprinkle