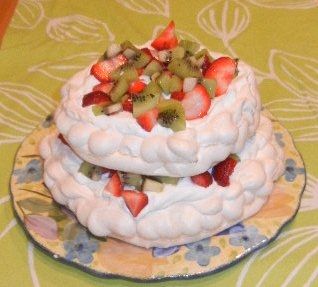 Make a Meringue Pavlova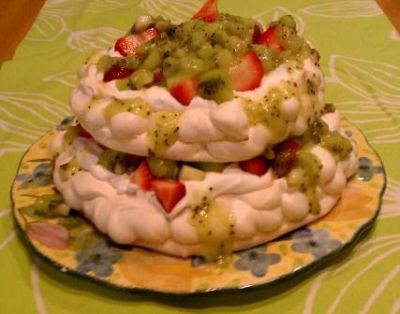 I learned to Make a Meringue Pavlova a few years ago on a trip to Australia. Youu see few years ago… well… when I was in college… (so kids, the wheel had been invented, and there were computers, but not on my desk)… I had a chance to spend the month of December in Australia. It was a fantastic trip… starting in Sydney, and then Newcastle, where I stayed with friends. Together we drove up the east coast of Australia to Surfer's Paradise ,Brisbane, Rockhampton, and then a day boat out to Coral Island in the Barrier Reef. We returned to Sydney via the interior.
I saw so many amazing things! But I also ate some amazing food. One dish I brought back with me? Pavlova.
Pavlova is a meringue based, whipped cream filled, fruit topped, delightful concoction. Easy to make, and delicious to eat. It's light, airy, sweet, and fruity….perfect for summer.
If you can't get all the way to Australia… make yourself a Pavlova…close your eyes… and let the flavors melt across your tongue.
You're almost there.
Where did the name Pavlova come from?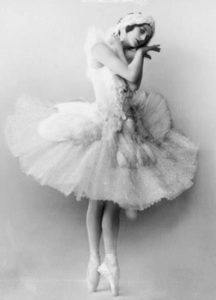 Pavlova is a dessert with a meringue base that was named for the great Russian ballerina, Anna Pavlova.
Both the Australians and the New Zealanders feel that they invented it.
I don't have a dog in that fight…. I just like to eat the dessert.
(she does look like she's tucked into some fluffy meringue, doesn't she?)
Make a Meringue Pavlova
Straight from the Pages of the Australian Woman's Weekly Cookbook When I travel, my favorite souvenir to bring home with me is a cookbook. To me… nothing brings back the memories like the foods. You can make one large Pavlova that can be sliced with a serrated knife, or smaller individual servings. Top with your favorite summer fruits… and enjoy.
Ingredients
3 Egg Whites
3/4 cup Superfine Sugar
1/4 cup Granulated Sugar
1 Tbl. Cornstarch
1 tsp. lemon juice
1 1/2 cups Whipping Cream
2 - 3 Tbl. granulated Sugar
2 cups diced Fruit.. (kiwi, berries, peaches)
plus extra Kiwis if you want to make a Kiwi Sauce to Drizzle over your Pavlova.
Instructions
Preheat oven to 250 degrees Fahrenheit
Prepare a baking sheet:

Get a sheet of Wax Paper or Parchment Paper... trace circles on it the size of your Pavlova
I used an 8 inch and a 5 inch plate, and traced around them to make a double stacked Pavlova
For smaller individual Pavlovas, trace around a 4 inch bowl.
Then flip the paper over (you don't want to bake on the ink)
Meringue Pavlova:

In a mixer, beat the egg whites until soft peaks form. Slowly add the superfine sugar. Beat until completely combined. Now you have a meringue!
In a small bowl or measuring cup, combine the cornstarch and granulated sugar. Then with a spatula, fold it into the meringue.
Fold in the lemon juice.
Now....
Using the spatula, spread some of the meringue into the circles you drew. You want it to be about 1/4 to 1/2 inch thick. This is not rocket science, don't go hauling out rulers and calculators... just eyeball it.
Put the rest of the meringue into a piping bag with a big round or star tip. (I love the Ateco Set... it's super easy to use). Pipe a higher decorative border around the edge of the circles.
Put the baking sheet into the oven.
Let the meringues bake at 250 for 45 minutes. Then shut off the oven... and leave the pan in the oven to cool.
Go read a magazine... fold some laundry... or make a quick market run. It's not going anywhere... especially if the oven is off.
ASSEMBLY:

Whip up the whipping cream adding sugar slowly (taste it to see how sweet you want it). Now.. we are looking for soft peaks here, not butter, so keep an eye on it while it whips. Put down the phone.
Make sure you have some diced up fruit. I used strawberries and kiwis, because that's what I had... but you can use any berry, peaches, apricots, or even canned fruit if needed.
To make a two level Pavlova, carefully peel the larger meringue off of the paper, and put it onto your serving plate. Fill the cavity with whipped cream, and cover with about half of the fruit.
Peel the smaller meringue off of the paper, set it on top of the bigger one. Fill it with whipped cream and the rest of the fruit.
I LOVE passion fruit on my pavlova... it cuts the sweetness so well... but I couldn't find passion fruit in 3 different stores, so I made a sauce by tossing a few peeled Kiwis into the blender....blended it to sauce consistency... then I drizzled it over the pavlova.
That's it!
For small Pavlovas- just fill the cavity of each meringue with whipped cream and fruit. Done.
To serve the large Pavlova.... cut with a serrated knife using a sawing motion. It will look a bit messy.... but it's so good.
https://angrybakery.com/pavlova-a-fruit-and-meringue-treat-from-australia/
Tools You Should Have for Making a Meringue Pavlova
KitchenAid KSM150PSER Artisan Tilt-Head Stand Mixer with Pouring Shield, 5-Quart, Empire Red
Ateco Pastry Decorating Tip, Set of 3
Kirkland Signature Non Stick Parchment Paper, 205 sqft
&
Serve Your Meringue Pavlova on a Beautiful Serving Plate
Now Designs Tin Cake Stand, Aqua
Godinger DUBLIN CAKE PLATE
Mikasa Italian Countryside Footed Cake Plate, 10.5-Inch
&
Step By Step Instructions To Make a Meringue Pavlova with Photos
Trace Your Circles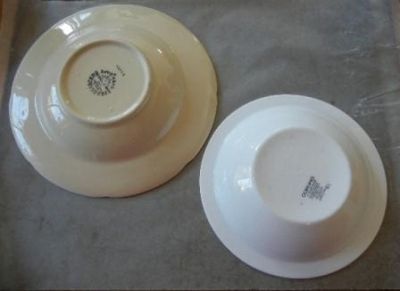 Flip the Paper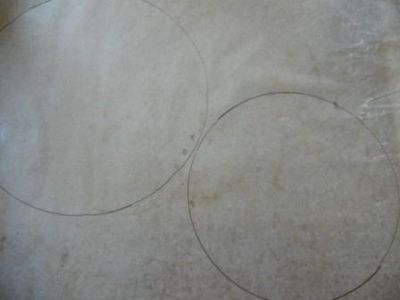 Whip up the Meringue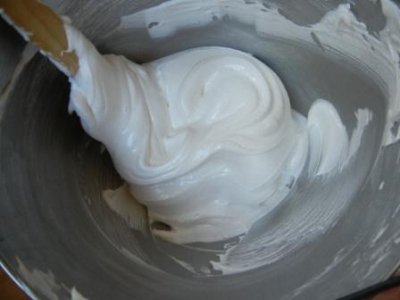 Spread Meringue Inside the Circles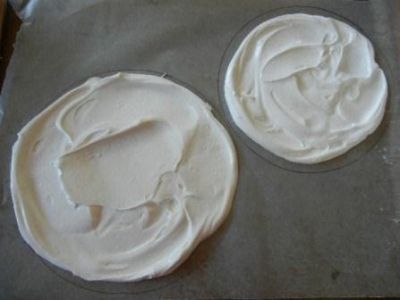 Pipe an Edge on the Meringue Circles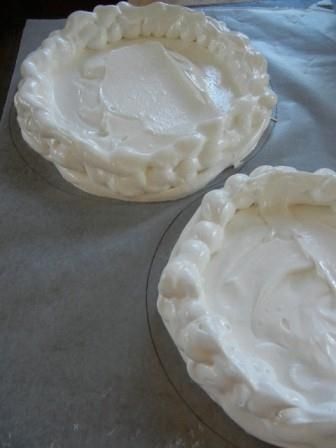 All Baked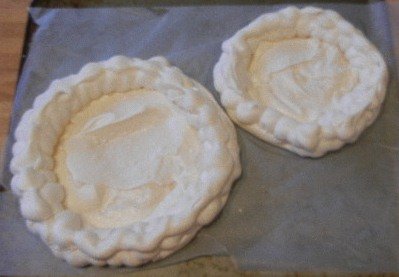 Put the Bottom Layer on a Plate… fill with Whipped Cream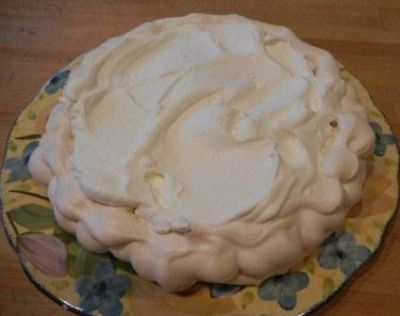 Fill with Diced Fruit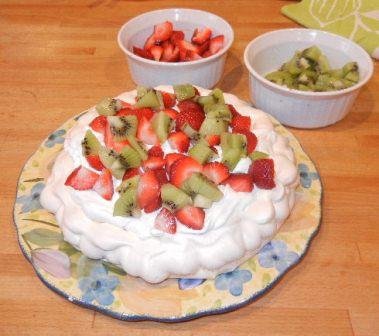 If You are going for a second level… add it now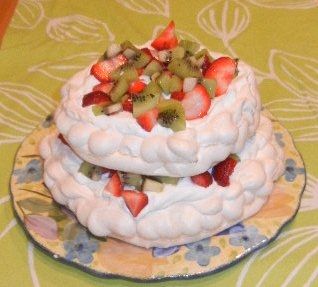 Drizzle with Kiwi or Passion Fruit Sauce if Desired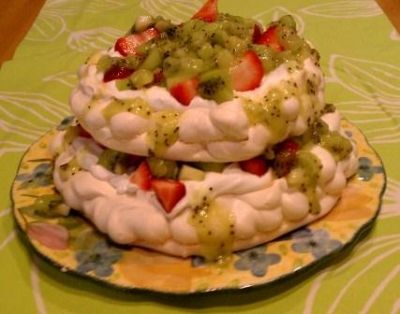 Enjoy!!!