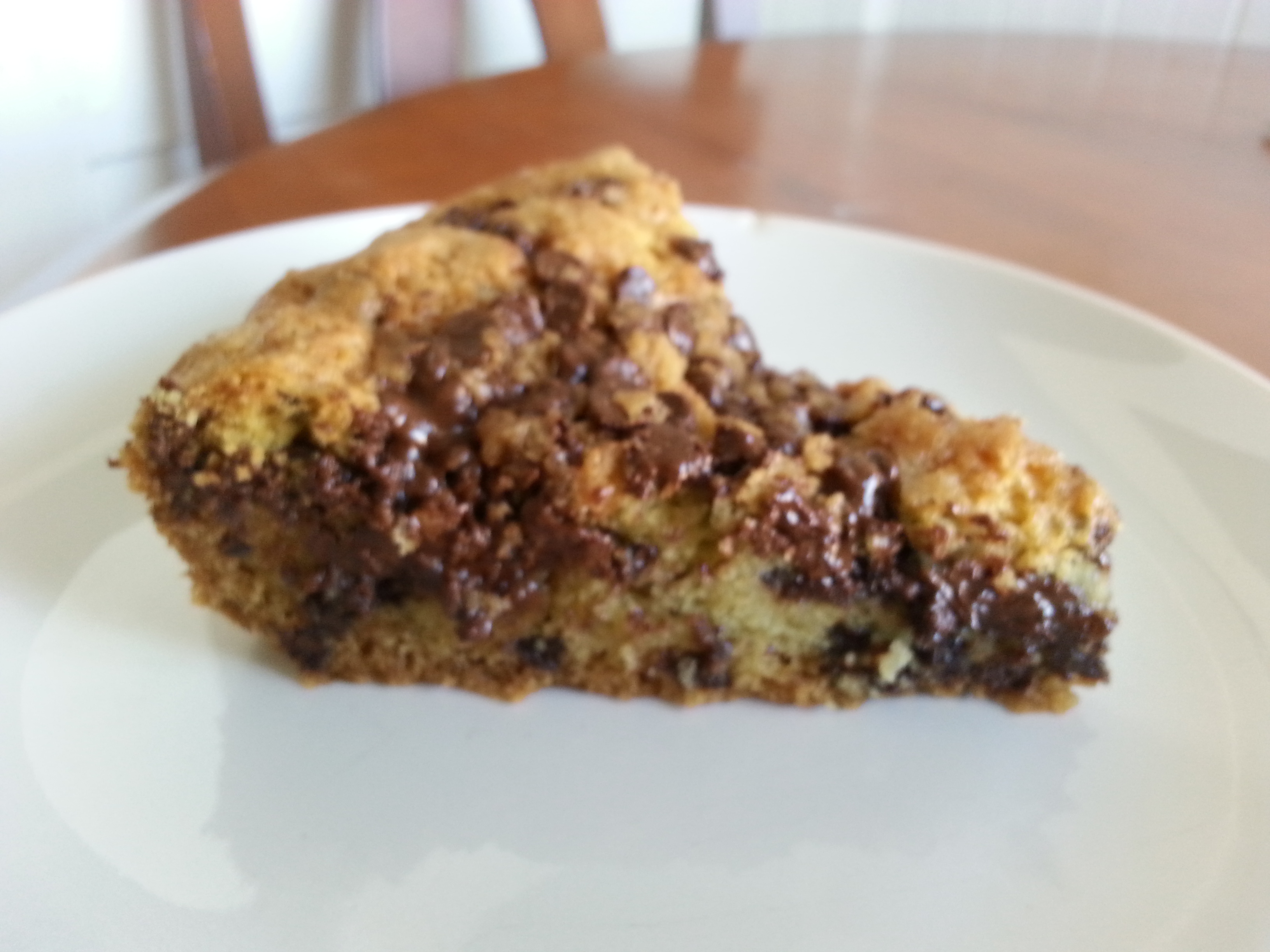 Chocolate Chip Cookie Cake Recipe Easy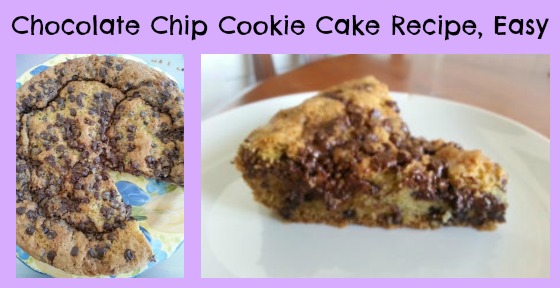 I needed to bake this Chocolate Chip Cookie Cake Recipe… it's quick and easy, and so good! For some reason, things are ramping up around here. Maybe it's the approach of the holidays? I'm crazy busy all the time with work, soccer, school stuff, soccer, laundry and soccer (did I say soccer more than once?) and it seems like I'm constantly in the car. This means less time in the kitchen.
HOWEVER
Hungry people looking for a snack don't want to hear excuses! They want cake.
Now…. the thought of installing a small oven into my glove box did occur to me (briefly, while sitting in stop-and-go traffic while watching that guy in the black SUV try to squeeze in to MY LANE), but it won't work… no place to put the mixer…
So, I've been baking quick things like Chocolate Chip Cookie Cake. I can mix up the batter in under 10 minutes, and then wash up, help with homework, find lost shin guards and toss in a load of laundry while it's baking. In under an hour, we have yummy gooey chocolate chip cake that everyone loves. (No surprise, it kind of looks and tastes like a chocolate chip cookie)
Chocolate Chip Cookie Cake Recipe Easy!
The recipe calls for Mini Chocolate Chips. I've never tried making this with the big chocolate chips, but if that's what you have, it should work ok. You could even try chopping them up a bit first, but that's up to you. It is a 2 part recipe (topping and cake), but the instructions and technique are simple. Give it a try. If you get lost, there are Step-by-Step instructions with photos below the recipe. Enjoy!
Ingredients
Crumb Topping:

1/3 cup Dark Brown Sugar
1 Tbl. Flour
2 Tbl. Butter- room temp.
1 cup Mini Chocolate Chips
1/3 cup chopped Walnuts or Pecans (totally optional)
Cake:

½ cup Butter- softened
¾ cup Granulated Sugar
1 tsp. Vanilla Extract
3 Eggs
1 ¾ cup Flour
1 tsp. Baking Soda
1 tsp. Baking Powder
1 cup Sour Cream
Instructions
Preheat the oven to 350 degrees Fahrenheit
Line the bottom of a 9 inch Round pan with Parchment Paper (the cake will just pop right out if you do.)
Begin with the Crumb Topping:

-In a small bowl, combine the brown sugar, flour, and butter… and cut or mush them together with a fork or a pastry cutter. Once they are mostly combined, add the mini chips and nuts (if you want them), and mix them in. You want it to look kind of crumbly. Set aside.
Make the Cake Batter:

In a mixing bowl of a stand mixer, combine the butter and sugar, and then beat for a few minutes until light and fluffy. Add the Vanilla Extract and the Eggs. Beat to combine.
Scrape the sides, beat some more.
In your big measuring cup (or a bowl) combine the flour, baking powder and baking soda… mix them up a bit.
Now, with the mixer on low…
Slowly add 1/3 of the flour mixture.
Then add ½ of the sour cream.
Then ½ of the rest of the flour
Dump in the rest of the sour cream.
Add the last of the flour.
Beat to combine, scrape down the sides, beat until all combined.
Put the cake batter into your cake pan and smooth it out a bit.
Sprinkle the crumb topping over the cake batter. (Just let it fall out of your hand all over the cake)
Bake for 35 minutes… when you test by sticking in a toothpick, it should come out with crumbs or clean, no batter.
Set on a wire rack to cool for 5 minutes.
Run a knife around the edge of the pan.
Get out your serving platter and another cooling rack
Put the rack on top of the cake and flip it over (now you have an upside down cake on a rack)
Quickly cover the cake with the platter (pretty side toward the cake), and flip it over so the cake ends up on the platter.
Cool as long as you can stand.
https://angrybakery.com/chocolate-chip-cookie-cake-recipe-easy/
 Step by Step Instructions… For People Who Enjoy Visual Aids
Crumb Topping
Put the Crumb Ingredients into a Small Bowl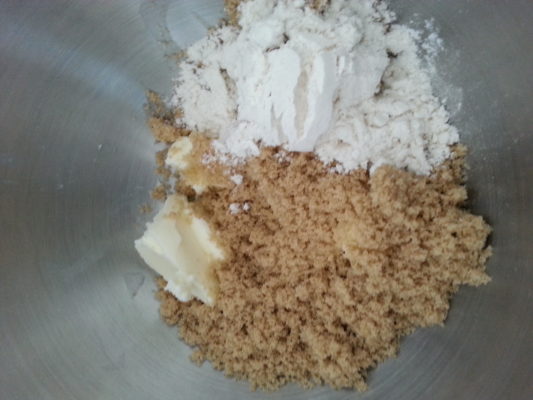 Cut or Mush them Together with a Pie Cutter or Forks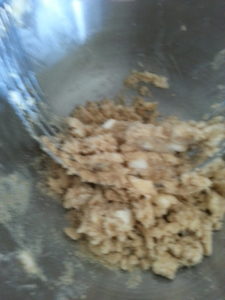 Toss in the Chocolate Chips and Nuts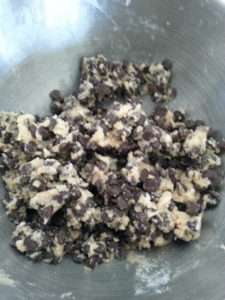 The Cake Batter
Whip the Butter and Sugar, add Eggs, Dry Stuff and Sour Cream, Add Chocolate Chips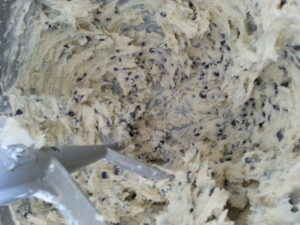 Spread the Batter Out in a Pan that You Prepared with Parchment Paper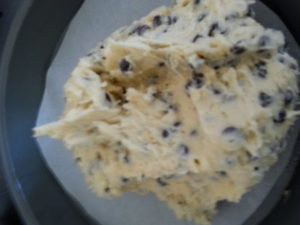 (Yes, you can try using a lot of the spray stuff instead)
Spread it Out Evenly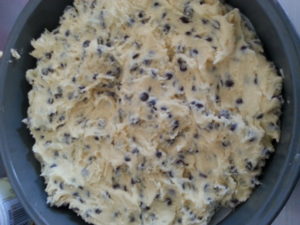 Sprinkle the Crumb Topping All Over the Batter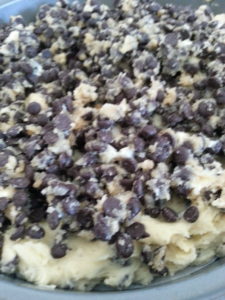 Bake for 35 Minutes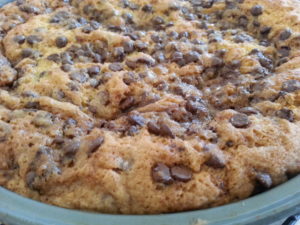 Cool on wire rack
Turn out of Pan and Continue to Cool on Wire Rack
or just slice and eat….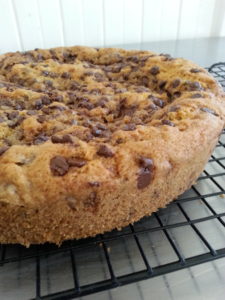 Or Just Slice and Eat…