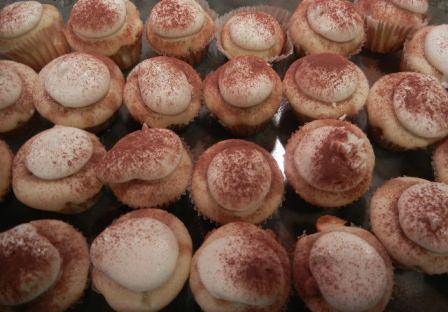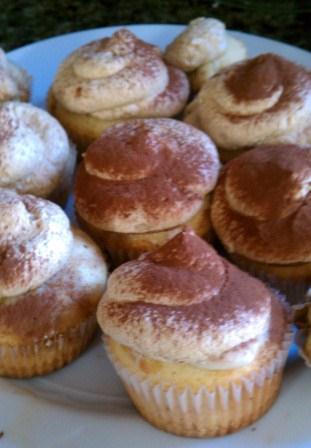 You will love this Tiramisu Cupcakes Recipe, Scratch! Tiramisu itself is a deceptively easy dessert, and the flavors are divine. Whenever we eat in an Italian restaurant… it gets ordered. We'll even make it at home for special occasions. Yum. Coffee soaked lady fingers, creamy coffee flavored mascarpone cheese filling, and a sprinkle of cocoa on top.
But for my daughter, Katy, it is an extra special treat. She asks for it all the time.
Her birthday party is going to be held in a park. Tiramisu for a crowd in the park is sort of difficult to manage.
But… cupcakes… cupcakes are great. Easy to transport and no special equipment is needed to serve them.
These Tiramisu Cupcakes are perfect for a party. They are sweet and delicious, with a taste of coffee and chocolate. I ended up making two sizes… regular for our house party, and mini sized for her friends.
Tiramisu Cupcakes Recipe Scratch
These can be made as regular sized or mini cupcakes. There are slight variations to the technique, but both use the same recipes for the cake, soaking liquid, filling and frosting. I've detailed the steps below with photos. Please don't be intimidated by the list of ingredients or steps. Nothing is too complicated, and the end result is amazing. Try making these Tiramisu Cupcakes for your next party... or whenever you feel like having cupcakes! You can choose whether you want to use alcohol in the soaking liquid. Traditionally, Marsala wine is added to the espresso. I've been known to add Kahlua or Espresso Flavored Vodka. However, since these were primarily for kids... I opted to leave it out.
Ingredients
CUPCAKE BATTER:

1/2 cup Butter
1 cup Granulated Sugar
3 Eggs
2 tsp Vanilla
2 cup Unbleached Flour
1 tsp. Baking Powder
1/2 cup Milk
SOAKING LIQUID:

1/2 cup Espresso
1/4 cup Sugar
**1/4 cup Marsala or Kahlua(optional)
FILLING:

8 oz. Mascarpone or Cream Cheese
1 1/2 cup Powdered Sugar
2 tsp. Instant Coffee Crystals dissolved in
2 tsp Water
FROSTING:

8 oz. Cream Cheese
1/2 cup Butter
1 tsp Vanilla
1 tsp. Instant Coffee Crystals
dissolved in
1 tsp. water
2 1/2 cup Powdered Sugar
3 or 4 tablespoons Cocoa Powder
Instructions
Preheat the oven 350 degrees Fahrenheit
Load of the cupcake pans with paper liners.
CUPCAKE BATTER:

Cream butter and sugar until light. Add Eggs one at a time, scraping down after each addition.
Add Vanilla.
Combine the dry ingredients in measuring cup and add to butter mixture, alternating with milk. Start and end with flour.
(Don't dump it all in at once!! Or you will be wearing it. )
Mix and scrape down again.
When completely combined, scoop the batter into cupcake papers. I love using an ice cream scoop for this. It works well... regular sized scoop for regular sized cupcakes, cookie scoop for mini cupcakes... The batter should fill about 3/4 of the cup.
Bake - 23 -25 minutes for regular sized cupcakes
-15- 18 minutes for mini cupcakes
Until set, and browning a bit.
SOAKING LIQUID:

While Cupcakes are baking, prepare the soaking liquid.
Easy... just mix all the ingredients together.
You can also work on the filling and the frosting.
FILLING:

Combine the Mascarpone cheese or cream cheese with powdered sugar and the dissolved Coffee Crystals.
Make sure completely blended... then transfer to a piping bag or a zipper bag.
FROSTING:

In a Mixer, combine the Cream Cheese and Butter together until smooth, add Vanilla, and dissolved Coffee Crystals.
Slowly add Powdered Sugar. Beat until combined.
This frosting is a bit loose.. it sets up on the cupcakes. If it bugs you, you can add more sugar to stiffen it up.
REGULAR CUPCAKES:

When Cupcakes come out of the oven. Let them cool a few minutes.
Using a melon baller or a small scoop... scoop out a bit of cupcake from the top, then spoon one or two tablespoons of soaking liquid in the cavity. Fill the cavity with a squeeze of filling... about a tablespoon, put the scooped out cake back on top... and drizzle a bit more soaking liquid on it.
Then frost over the cupcake with the frosting... this is easiest with a piping bag, but can be done with at knife or spatula. The frosting is soft, but it does set up.
If you like it... sprinkle the frosted cupcakes with cocoa powder. This is easily done by spooning some cocoa into a small sieve, then shaking it gently over the cupcakes.
MINI CUPCAKES:

When the mini cupcakes come out of the oven, poke them with a fork, then drizzle them with about a teaspoon of soaking liquid.
Using the handle of a wooden spoon, poke a hole into the top of each mini cupcake. Fill the hole with a squirt of the filling. Frost over the top of the cupcake and filling.
https://angrybakery.com/tiramisu-cupcakes-recipe-scratch/
How to Transport Cupcakes
I have tested a lot (I mean a WHOLE LOT) of cupcake carriers over the years. My favorites are squared off (to save space on the shelves), have a sturdy lock (no whoops) and a handle on the top. They also have deep enough insets to keep the cupcakes from tipping over.
I love the 36 cupcake Holder – Cupcake Courier Cupcake Caddy. It holds together well… and keeps my cupcakes safe. You can carry 12- 36 cupcakes easily.
VonShef Snap and Stack Cupcake Storage Carrier 2 Tier – Store up to 24 Cupcakes or 2 Large Cakes
1 X Cupcake Courier Cupcake Caddy – Holds 36 – White
&
Step by Step Assembly Instructions for Tiramisu Cupcakes
My 2 Tbl. Coffee Scoop was the perfect sized for scooping out a bit of Cupcake.

Drizzle in 2 Tablespoons of Soaking Liquid.
Put a Squirt of Filling in the Cavity
Put the Top Back On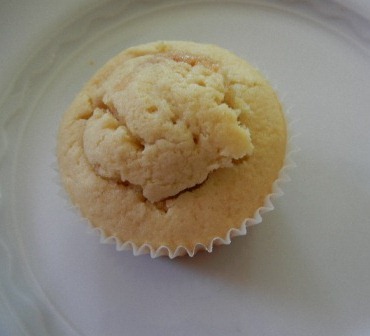 Drizzle with More Soaking Liquid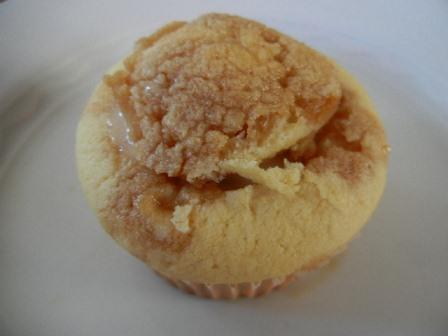 Pipe Frosting on top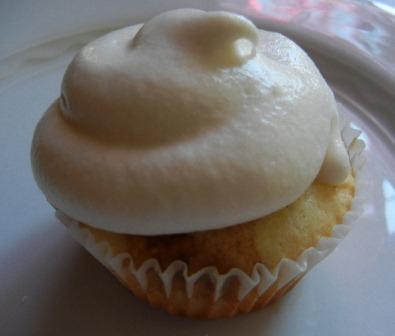 Then Sprinkle with Cocoa Powder if you want
Tiramisu Flavor all the way through 
Mini Tiramisu Cupcake Technique
Mini Cupcakes Get a Drizzle of Soaking Liquid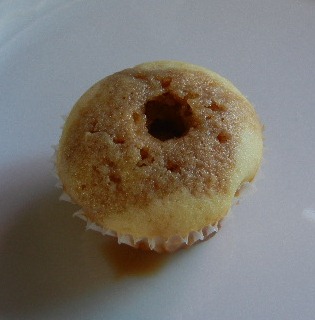 Then Poke a Hole in the Top
I use the end of a wooden cooking spoon to make the hole…. going in about 1/2 inch. This isn't brain surgery, so you can go deeper or shallower if you want…
Fill the Hole with a Squirt of Filling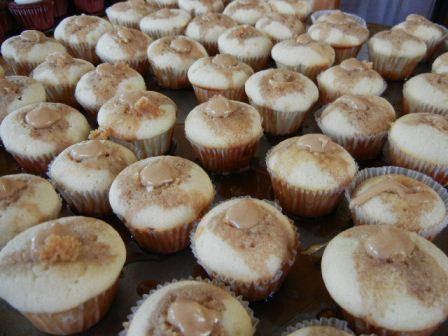 Squirt Some Frosting on Top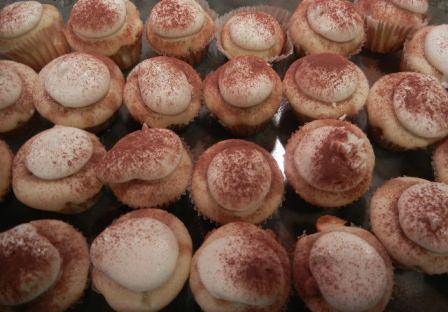 sprinkle with cocoa powder if you so desire
Mini Tiramisu Cupcakes are One Addictive Bite
So Make LOTS